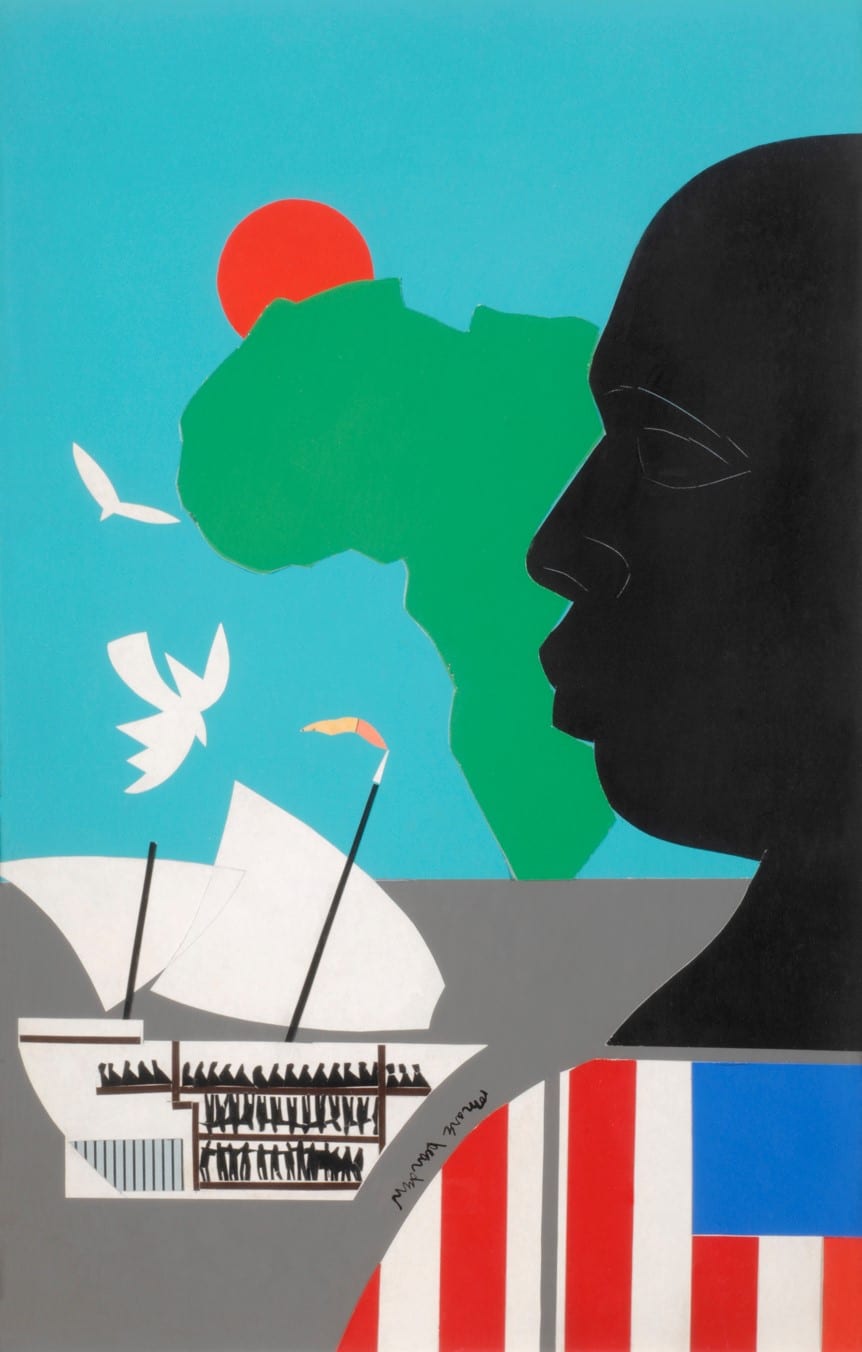 This Romare Bearden collage appeared on the cover of the January 22–28, 1977 issue of TV Guide to commemorate the broadcast of the miniseries, Roots: The Saga of an American Family.
"This week's cover is by Romare Bearden, who, like author Alex Haley, is the descendant of slaves. Bearden is internationally recognized as one of America's most eminent artists. His work hangs in New York's Museum of Modern Art and many other collections, public and private. The cover, commissioned by TV GUIDE, is a collage as are most of the artist's works." (TV Guide 1977, 6–9)
Roots is based on author Alex Haley's life and family, starting with Kunta Kinte, a young man taken from The Gambia when he was seventeen and sold as a slave, and seven generations of his descendants in the United States. In Bearden's collage, we see the profile of a Black male figure overlapping the continent of Africa and confronting a slave ship filled with human cargo. The figure is wearing a shirt of red, white, and blue, seemingly a reference to the American flag.
This original collage hangs at Sunnylands in the main corridor that leads to the Annenbergs' master bedroom.
The Artist
Romare Bearden was born in 1911 in Charlotte, North Carolina. Around 1914, his family joined in the Great Migration north. He was raised between Harlem, New York, where his parents had settled, and his grandmother's home in Pittsburgh, Pennsylvania. Recollections of his experiences in these different settings, along with his interests in world art, music, history, and literature, would inspire his vivid depictions focused on African American life. While he worked with a variety of mediums and techniques, he is best known for his richly textured collages, fusing painting, fabric, and newspaper and magazine clippings. In addition to being an artist, he had a career as a social worker, a writer, activist, book illustrator, and was a founding member of several groups and institutions, including Black Academy of Arts and Letters. He was the first art director of Harlem Cultural Council, and he was elected to the National Institute of Arts and Letters in 1972.
Bearden received many awards and honors during his lifetime, including the National Medal of Arts, presented by President Ronald Reagan in 1987.
The Process
Romare Bearden's signature technique was collage, and in these videos, we aim to deepen our understanding of his work by exploring his process with Elizabeth Zunon, illustrator of the children's book, My Hands Sing the Blues: Romare Bearden's Childhood Journey.
In this video, Elizabeth Zunon discusses her connection to Romare Bearden and, through a demonstration, she explains the basics of collage and offers tips and ideas on how to create one.
In this video, Elizabeth Zunon gives us an inside look into the process of illustrating a children's book and how she used her own style to pay homage to Romare Bearden's life and artistic legacy.
Elizabeth Zunon is an illustrator who depicts a multicultural world through her art. She was born in Albany, New York, and grew up in the Ivory Coast, West Africa. She has a Bachelor of Fine Arts in Illustration from the Rhode Island School of Design.
In this interview, Elizabeth Zunon discusses her upbringing, her style in portraying diverse characters and her work as an illustrator.
To know more about Elizabeth Zunon and her work, read her profile.