Sunnylands in History
Sunnylands emerged onto the world stage when the historic estate was completed in 1966. It has since welcomed eight U.S. presidents and world leaders, noted intellectuals, celebrities, and friends and family. On many occasions, guests have engaged in dialogue that led to efforts to enhance international understanding and civil discourse.
2019
January 3–6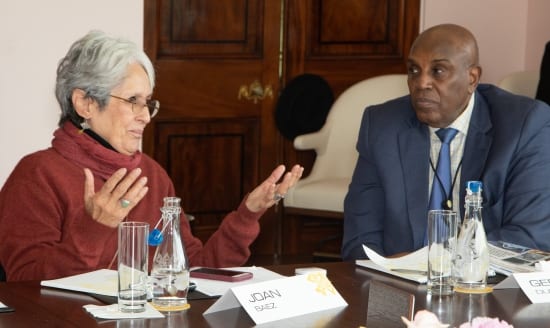 Civil rights luminaries, including members of Martin Luther King Jr.'s inner circle, convene at Sunnylands.
2016
February 15–16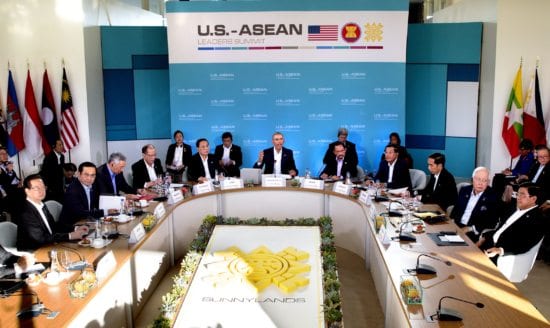 U.S. President Barack Obama convenes leaders of the Association of Southeast Asian Nations at Sunnylands (ASEAN) at the Sunnylands Center.
2014
February 14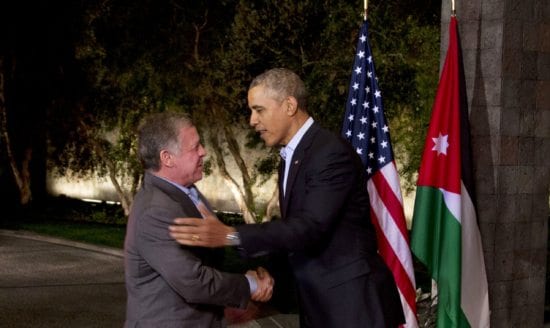 U.S. President Barack Obama greets King Abdullah II of the Hashemite Kingdom of Jordan at the entrance to the Sunnylands residence.
2013
November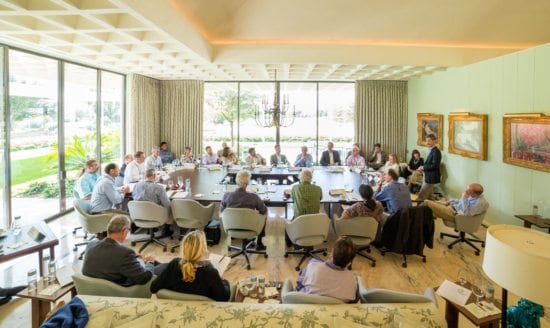 Key leaders from science, government, NGOs, and industry convene in the living room at Sunnylands discussing the future of AIDS research.
2013
September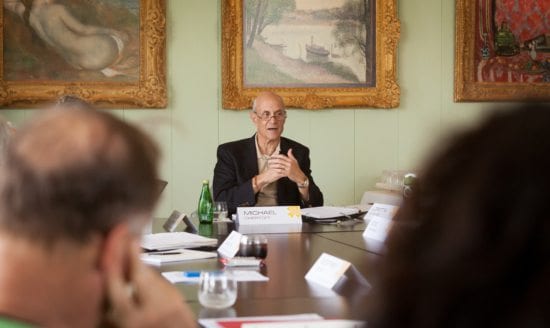 The Sunnylands-Aspen Institute Task Force on Streamlining and Consolidating Congressional Oversight of the U.S. Department of Homeland Security convene at Sunnylands and release a report.
2013
June 7–8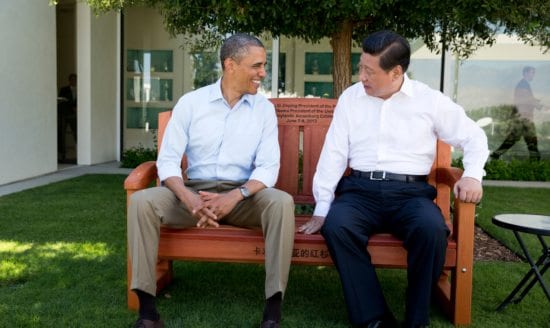 U.S. President Barack Obama hosts President Xi Jinping of China at Sunnylands for an informal meeting deemed a "shirtsleeve summit."
2012
March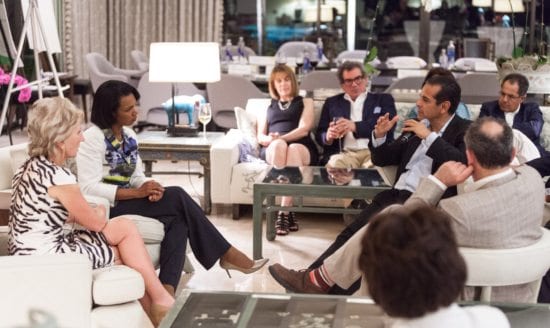 Sunnylands and the Woodrow Wilson Center convene a high-level retreat on U.S.–Mexico relations at the historic residence.
2003
December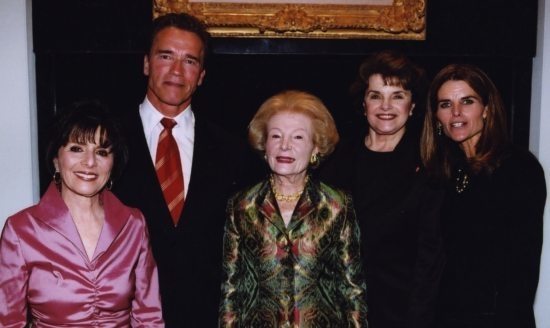 Bipartisan California leaders meet at the historic Sunnylands residence with Leonore Annenberg (center).
1993
December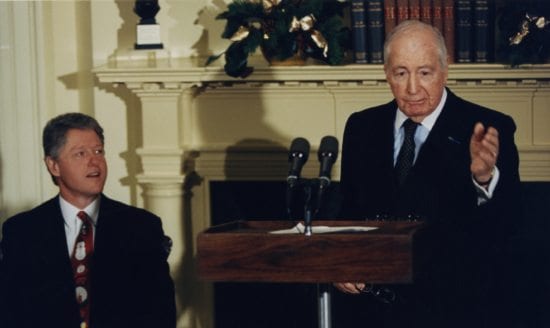 Walter Annenberg announces his $500 million pledge to U.S. public schools.
1990
March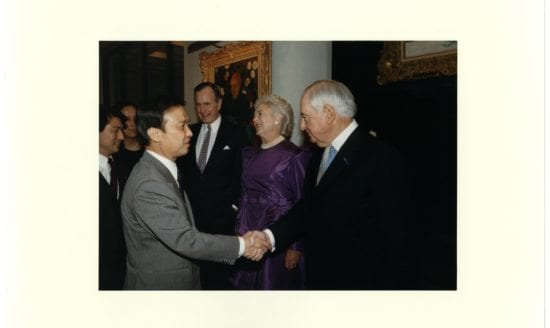 U.S. President George H. W. Bush hosts an official White House dinner at Sunnylands for Prime Minister Toshiki Kaifu of Japan.
1990
March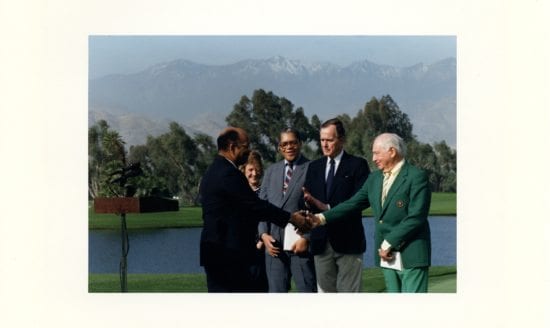 Walter & Leonore Annenberg announce a $50 million grant to the United Negro College Fund (UNCF) in a ceremony at Sunnylands with U.S. President George H.W. Bush.
1988
January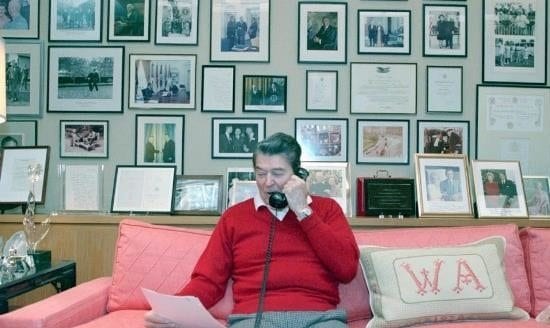 U.S. President Ronald Reagan signs a free trade agreement with Canada, a precursor to NAFTA, and announces it to the nation from Sunnylands.
1986
January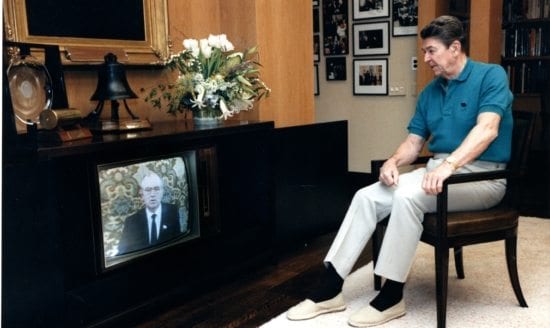 U.S. President Ronald Reagan in the Room of Memories at Sunnylands watching a New Year's greeting to the American people from Soviet Union General Secretary Mikhail Gorbachev.
1983
February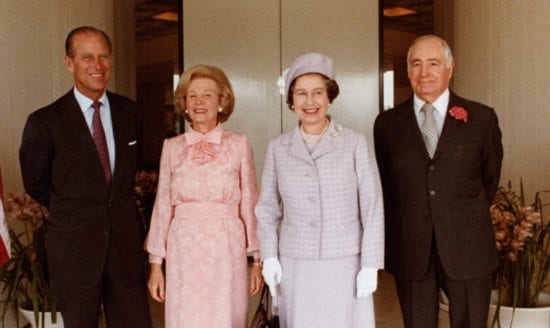 Her Majesty Queen Elizabeth ll and HRH Prince Philip visit Sunnylands.
1976
July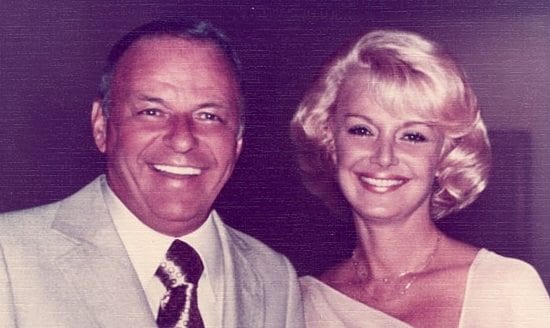 Frank and Barbara Sinatra marry at Sunnylands.
1974
September 8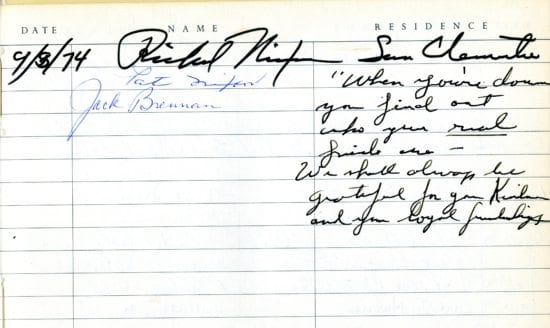 U.S. President Richard Nixon finds refuge at Sunnylands after President Gerald Ford issues a pardon for Nixon's involvement in the Watergate scandal.
1974
January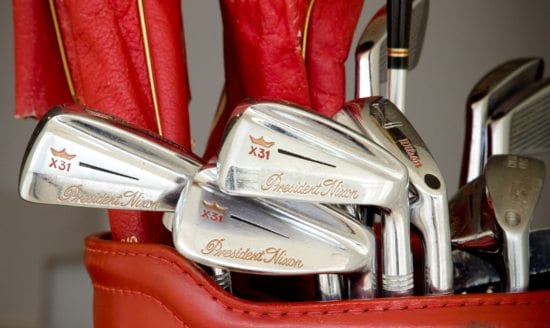 U.S. President Richard Nixon drafts his final State of the Union Address while visiting Sunnylands.
1968
December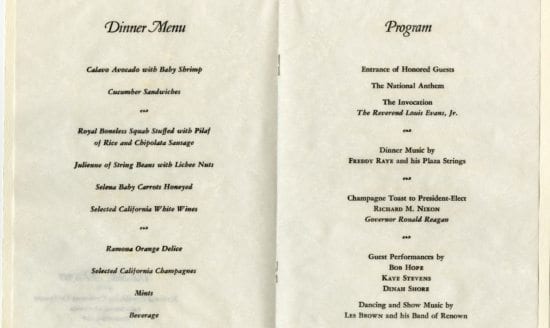 Walter and Leonore Annenberg hosted the Republican Governors Association at Sunnylands.
1966
March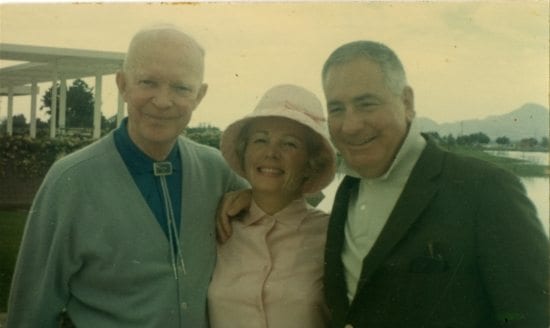 Sunnylands welcomes its first guests, among whom was U.S. President Dwight D. Eisenhower.