Guided Tours
Tickets not available for the following dates:
December 16-17 (no tours, Center & Gardens closed)
December 25 (Sunnylands closed Christmas Day)
January 1 (Sunnylands closed New Year's Day)
January 10-11 (outdoor tours only, no house tours, Center & Gardens open)
January 12-14 (no tours, Center & Gardens open)
Guidelines
Ticket sales open on the 15th day of each month starting at 9 am Pacific time for the following month's tours.
The minimum age for tour guests is 10 years.
Sunnylands does not keep a waiting list for sold out tours.
Group tours are not available (ticket purchases are limited to 7 per transaction).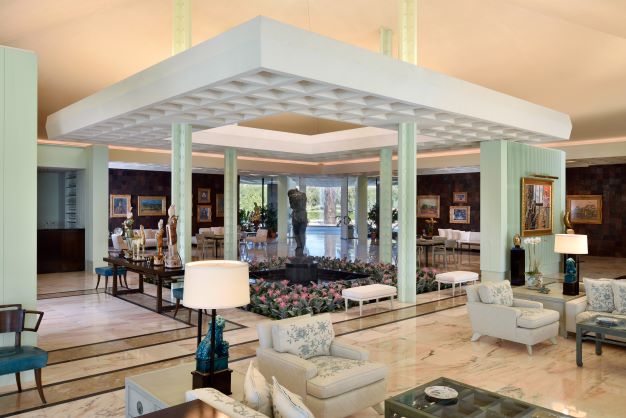 Historic House Tour
Guided 90-minute tour | $55 per person | 7 guests per tour
Explore the Annenbergs' historic winter home—a 25,000 square-foot midcentury modern masterpiece. Walk through the spaces where history took place, including extravagant New Year's Eve parties, nationally and globally important meetings, and intimate moments spent with the Annenbergs' family and close friends.
Note: Guests ride an electric shuttle to the house; walk and stand for a sustained period inside the home.
January ticket sales will begin December 15 at 9 am Pacific time.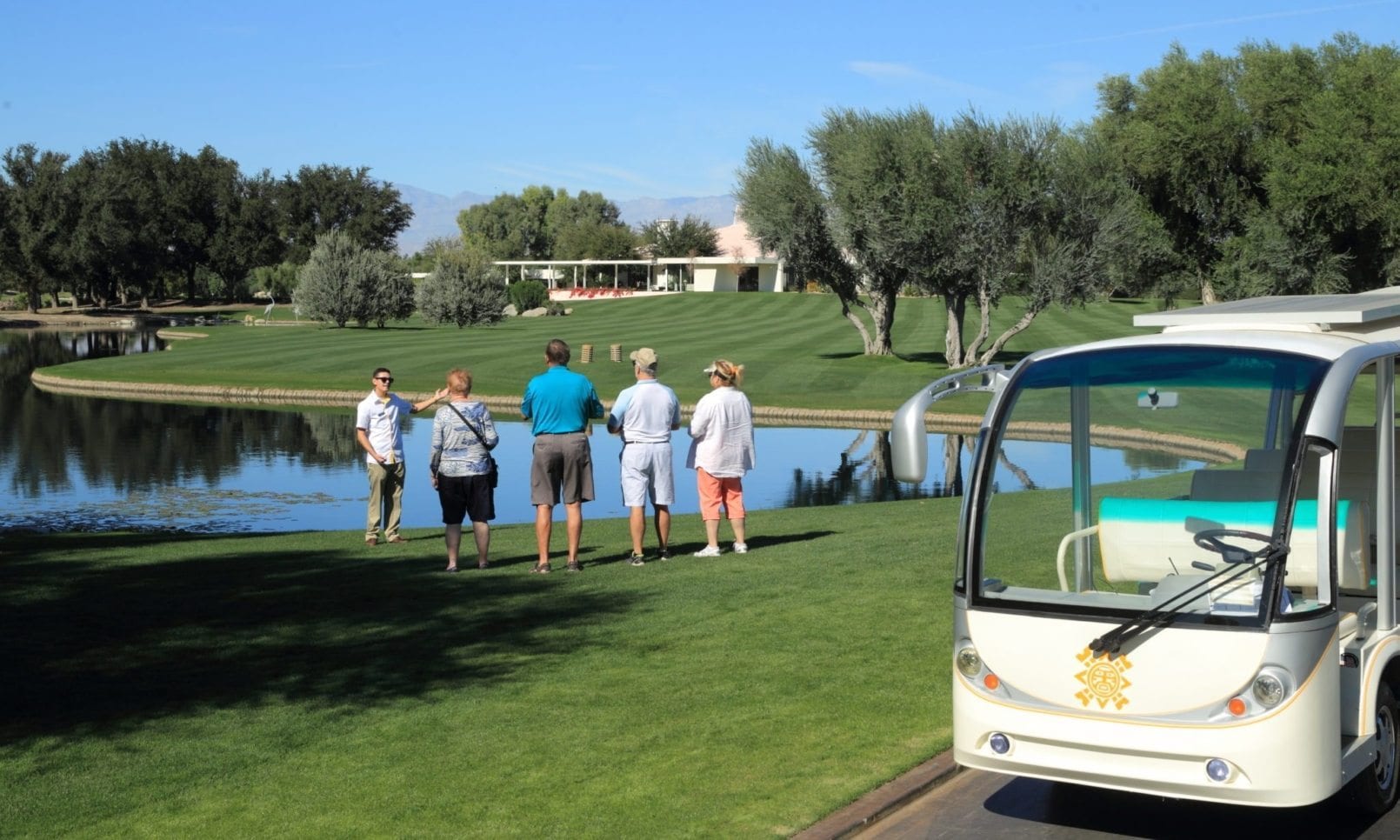 Open-Air Experience
Guided 45-minute shuttle tour | $28 per person | 7 guests per tour
Take a guided shuttle ride throughout the 200-acre estate. Learn about the Sunnylands landscape, outdoor sculpture, nine-hole golf course, and sustainability efforts. This tour brings guests to the doorstep of the historic house but inside access is not permitted.
Note: Walking is not required on this tour; passengers must be able to board a shuttle.
January ticket sales will begin December 15 at 9:00 am Pacific time.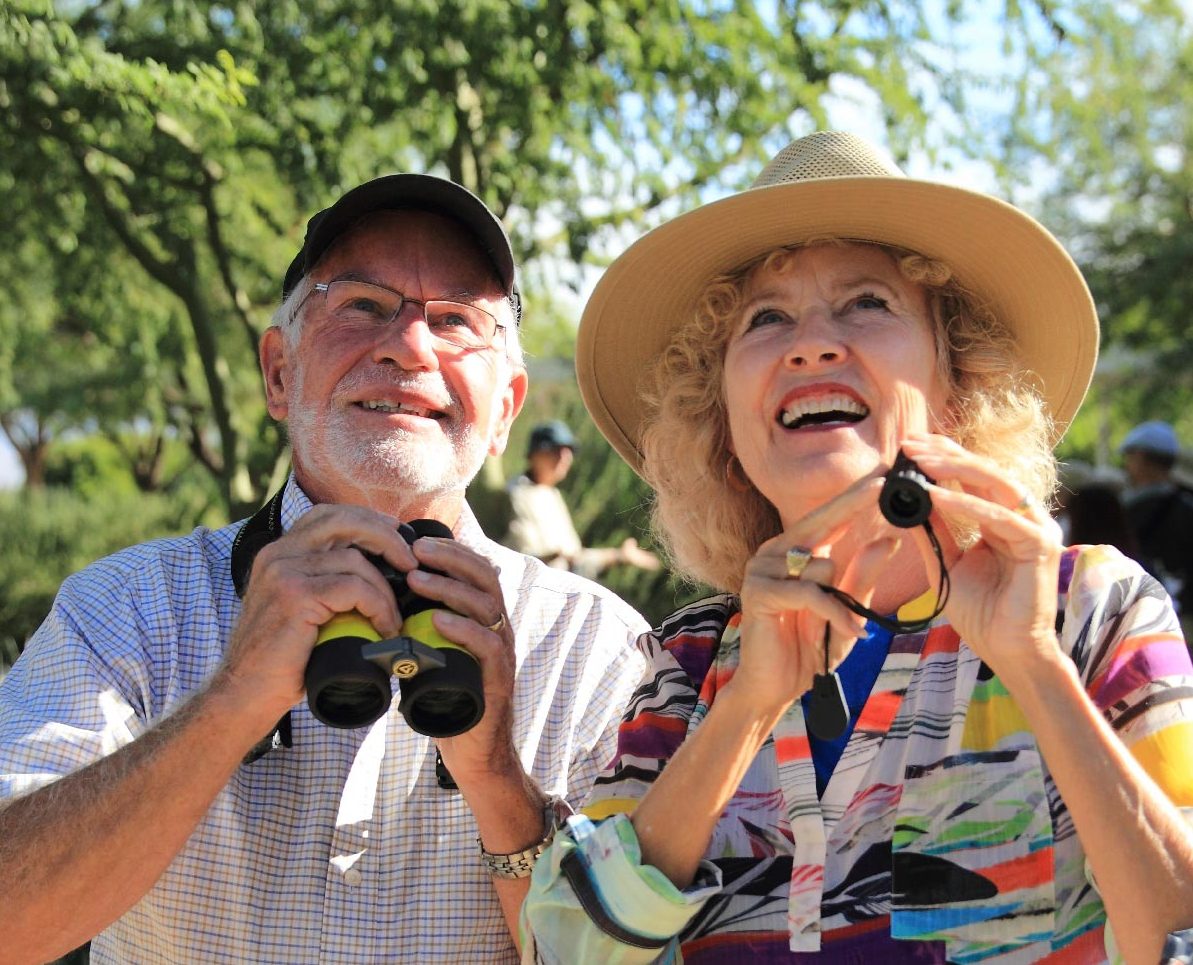 Birding on the Estate
Guided 90-minute shuttle tour | $39 per person | 7 guests per tour
Join an experienced local birder for this birding tour on the estate. Discover the variety of birds that prompted the Annenbergs to dedicate 25 acres of the estate as a sanctuary for resident and migratory birds.
Note: This tour does not include access to the historic house.
OFFERED NOVEMBER THROUGH APRIL
January ticket sales will begin December 15 at 9:00 am Pacific time.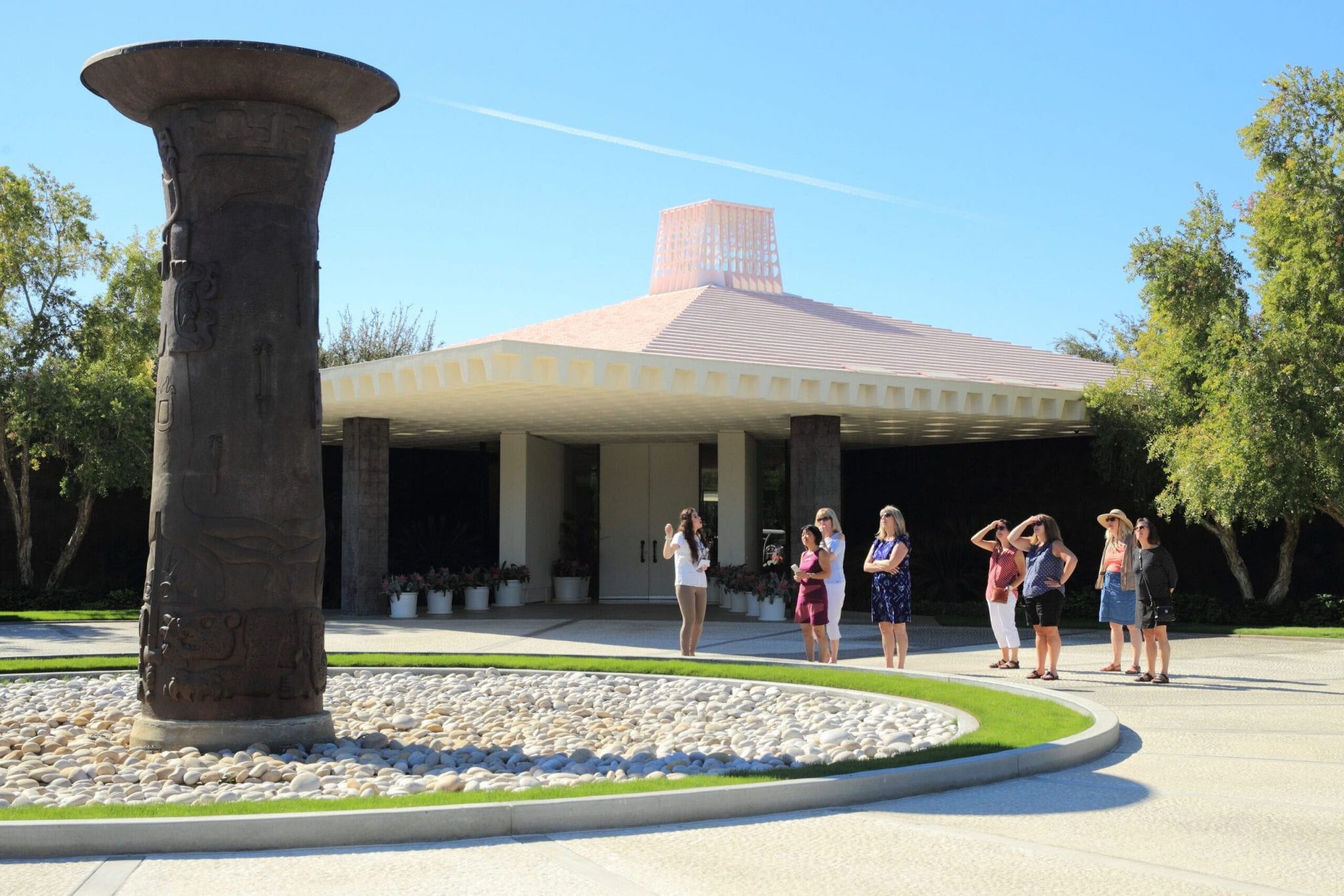 Historic Walk
Guided 60-minute walking tour | $26 per person | 12 guests per tour
Meet a knowledgeable guide and take a leisurely walk onto the estate. This one-mile walk focuses on the history of Sunnylands, the Annenbergs and their guests, midcentury modern architecture, and design.
Note: This tour includes close-up outdoor views of the historic house. It does not include access to the house interior.
OFFERED NOVEMBER THROUGH APRIL
January ticket sales will begin December 15 at 9:00 am Pacific time.
Preview
A modernist estate
In the mid-1960s, Walter and Leonore Annenberg hired interior designer William Haines and Los Angeles-based architect A. Quincy Jones (1913-1979) to create a midcentury modern residence in Rancho Mirage.
Integrated into the Landscape
Jones, who for many years was dean of the School of Architecture at the University of Southern California, was known both for designs that integrated houses into the landscape and for "statement roofs." His signature style is evident at Sunnylands, where he used overhangs to shield the interiors from the direct sun, plus walls of glass to allow the climate's brightness to fill the rooms.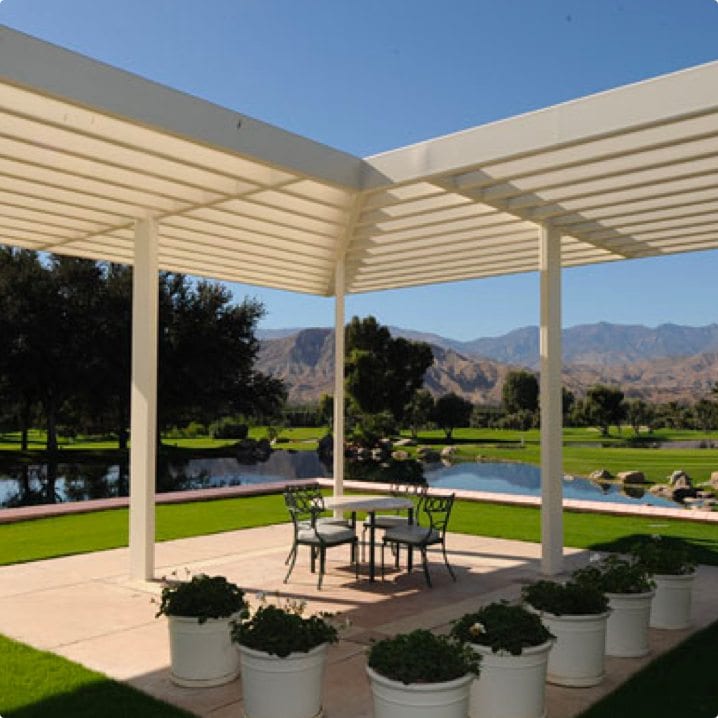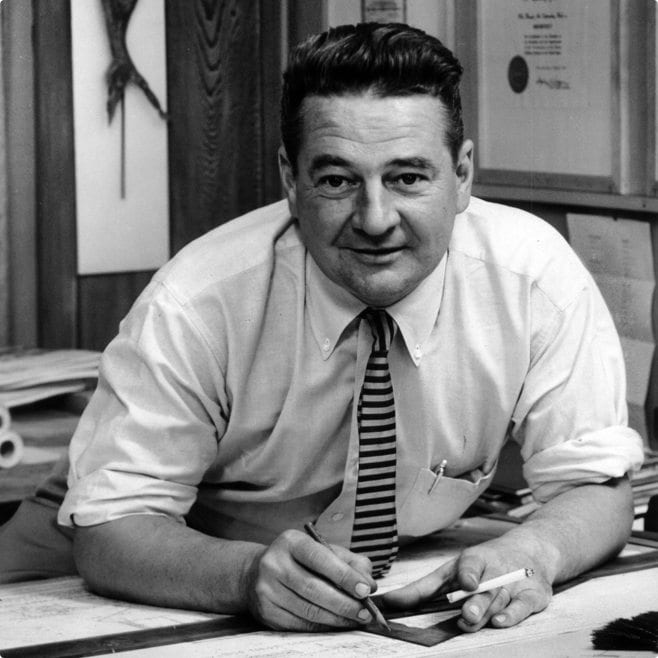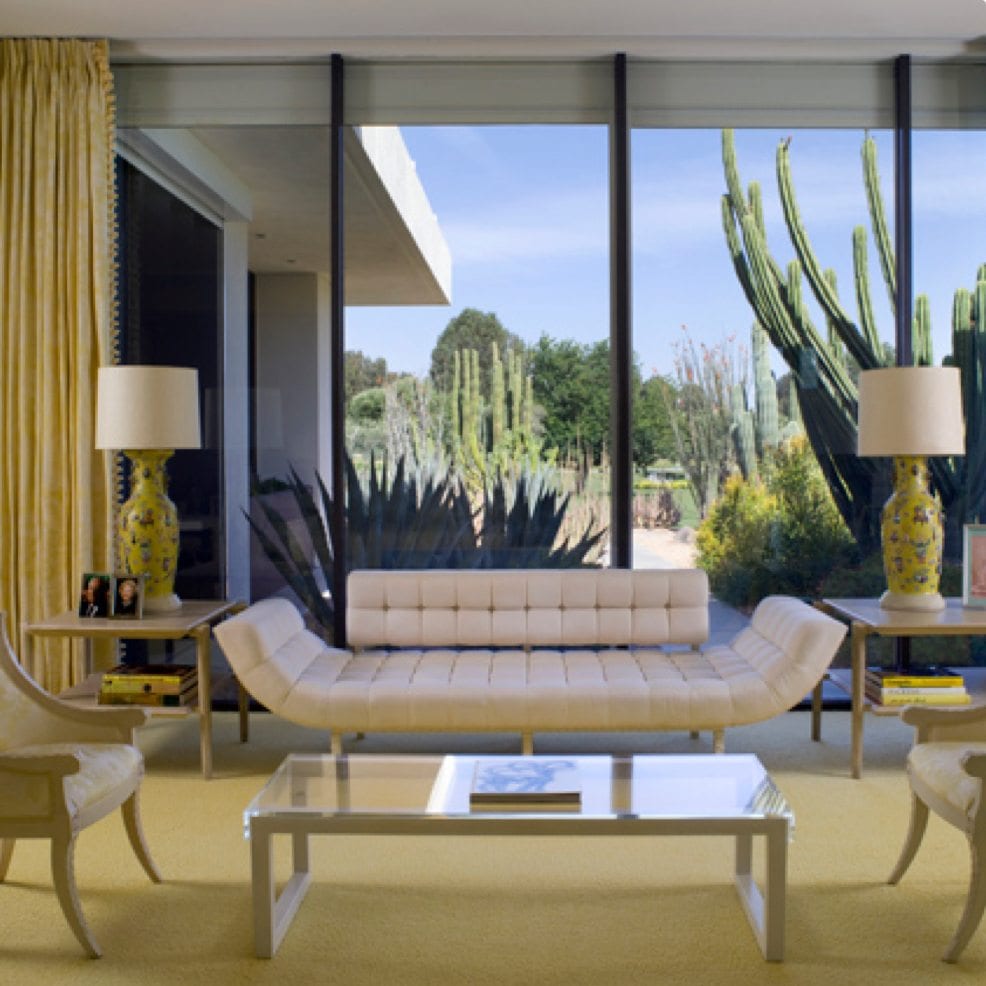 As with most midcentury modern buildings, the house's architectural structure is exposed rather than hidden. Trellises, steel beams, and coffered ceilings are all evident. Mexican lava stone walls on which were hung the Annenbergs' collection of art create a bold style. And that statement roof? An iconic pink pyramid. The color was chosen in accordance with Leonore Annenberg's wish to match the pink glow seen at sunrise and sunset on nearby mountains.
Many key figures of the 20th century enjoyed Sunnylands as guests of the Annenbergs. The list includes seven U.S. presidents, the British royal family, and Hollywood icons like Bob Hope, Frank Sinatra, Jimmy Stewart, Ginger Rogers, and many others.
The Annenberg tradition of being gracious hosts and extraordinary philanthropists extended to their final gift of Sunnylands to the public.
An Historic Course, Famous Golfers
Dwight Eisenhower was the first president to tee off at the Sunnylands golf course, followed in time by Presidents Richard Nixon, Ronald Reagan, and George H.W. Bush, as well as Vice President Dan Quayle and Secretary of State George Shultz. In fact, Shultz and Reagan had a regular game at Sunnylands every New Year's Eve for several years.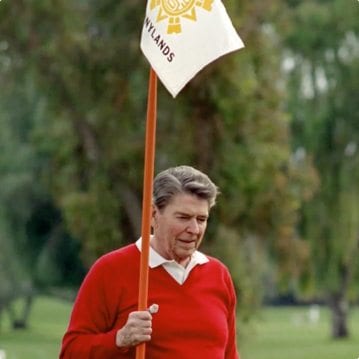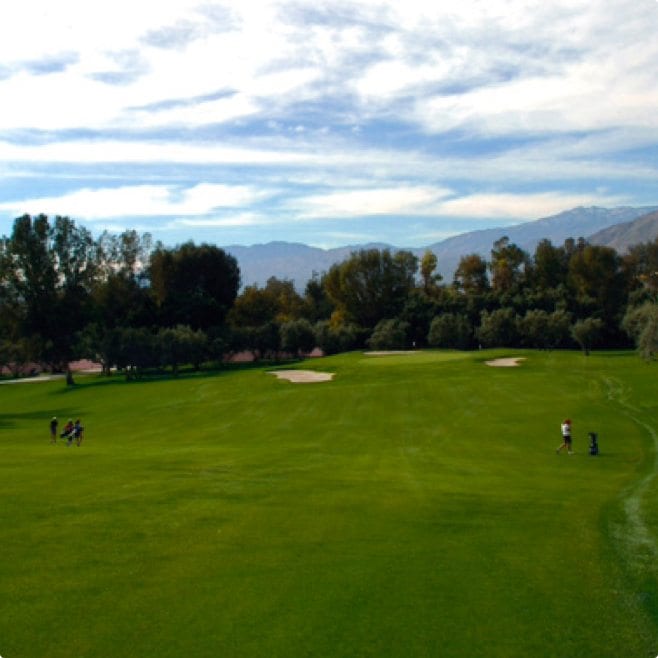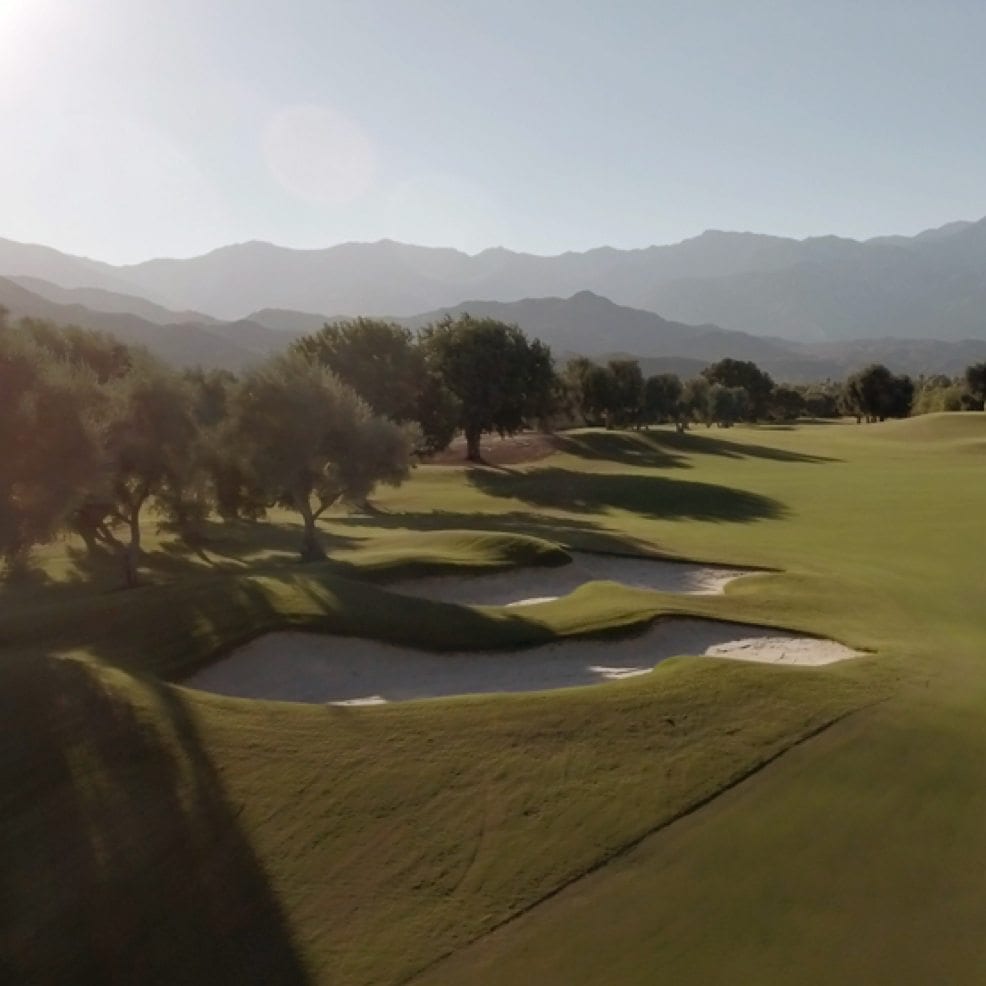 Dick Wilson, a highly regarded golf course designer in the 1950s and '60s, designed the Sunnylands course in 1964 in a parkland style. Golf course designers Tim Jackson and David Kahn, responsible for the course's 2011 restoration, used painstaking research into Wilson's original concept and created greens that average 8,000 to 9,000 square feet, allowing for a double-looping, 9-hole, par 72 course. Moreover, the course's irrigation system was upgraded for efficiency and environmental sustainability and roughly 60 acres of turf grass was removed then to reduce water use.
The Sunnylands course is unique for its distinctive landmarks. A magnolia tree sits on the seventh hole, given to the Annenbergs in 1972 by President Richard Nixon, who kept a set of clubs on the property. The gift was cut from a magnolia tree planted on the White House grounds nearly 200 years ago by President Andrew Jackson. On the fifth fairway is a 30-foot Kwakiutl totem pole. A visiting Canadian official suggested the piece in 1976, and the Annenbergs then commissioned it from Canadian First Nations artist Henry Hunt.