Sunnylands Series—In Motion: Agam at Sunnylands
Past Event
In partnership with the Rancho Mirage Public Library, Sunnylands Series returns for a new season beginning Wednesday, March 2.
The first lecture in the series since the 2020 season features Katherine Hough and Frank Lopez, curators of the exhibition, In Motion: Agam at Sunnylands, now on view at Sunnylands Center & Gardens. Hough and Lopez will discuss the global impact of famed kinetic artist Yaacov Agam and the influence his work had on the private collection of Walter and Leonore Annenberg, the Palm Springs Art Museum's collection, and the Coachella Valley.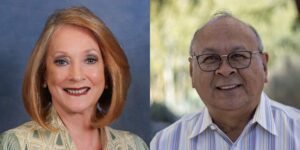 This discussion will be held on Wednesday, March 2, from 2–3 pm, at the Rancho Mirage Amphitheater located at 71560 San Jacinto Drive, Rancho Mirage, CA 92270. Click here for a map view.
All Sunnylands Series lectures are free and open to the public. No reservations required. Please note, this lecture series does not take place at Sunnylands. For more information, please contact our education department at 760.202.2254 or education@sunnylands.org.
Photo Credit: The Annenberg Foundation Trust at Sunnylands. Photo by Mark Davidson © 2020 Artists Rights Society (ARS), New York / ADAGP, Paris