Overview
The exhibition, In Motion: Agam at Sunnylands, recalled the role Leonore Annenberg played in bringing the work of the world-famous artist, Yaacov Agam, to the Coachella Valley.
From 1972 to 1976, Leonore Annenberg was president of the Palm Springs Desert (now Art) Museum's board of trustees, and she oversaw the opening of its E. Stewart Williams building with an inaugural Agam exhibition. Fascinated by Agam's art, the Annenbergs acquired the sculpture Square Waves from the museum's 1976 exhibition and later commissioned Agam to provide sculptures and outdoor paintings for their home. Their wide-ranging collection played an important visual role at Sunnylands.
This exhibition featured selections from the collections of the Palm Springs Art
Museum and Sunnylands to highlight Agam's kinetic art. With its emphasis on
movement, Agam's works pushed the boundaries of visual art and influenced his
own and subsequent generations of artists.
In Motion: Agam at Sunnylands was installed at the Sunnylands Center from September 16, 2020, through June 5, 2022.
Sunnylands is currently on summer hiatus and will reopen on Wednesday, September 14, 2022.
Agam and the Annenbergs
Yaacov Agam is known worldwide as one of the foremost innovators of kinetic art. After moving to Paris in the early 1950s, the Israeli artist drew critical acclaim for his early works. By the 1970s, when French president Georges Pompidou commissioned a room of Agam works at the Elysée Palace, he was recognized as an international star.
He first visited the Palm Springs area in 1963 when he came to visit his uncle, Dr. Samuel Reinhard, who had retired to the desert community. In 1976, after Leonore Annenberg stewarded, the inaugural exhibition of Agam's artwork at the Palm Springs Desert (now Art) Museum a relationship between the artist and the Annenbergs ignited. Agam continued to come to Southern California for the next 40 years.
Between 1976 and 1981, Leonore and Walter either purchased or received as gifts 16 works by Agam of which nine remain in the Sunnylands collection. Some were displayed in the terraces at Sunnylands and others were displayed at Walter's business offices in Pennsylvania. The Annenbergs enjoyed their Agam collection and showcased the art, which stresses illusory imagery, movement of form and time, and vibrant, dynamic color. Although there are no definitive answers as to why the couple collected so many examples of the contemporary art of Yaacov Agam, perhaps a number of elements—artistic, political, and religious—combined to capture their interest.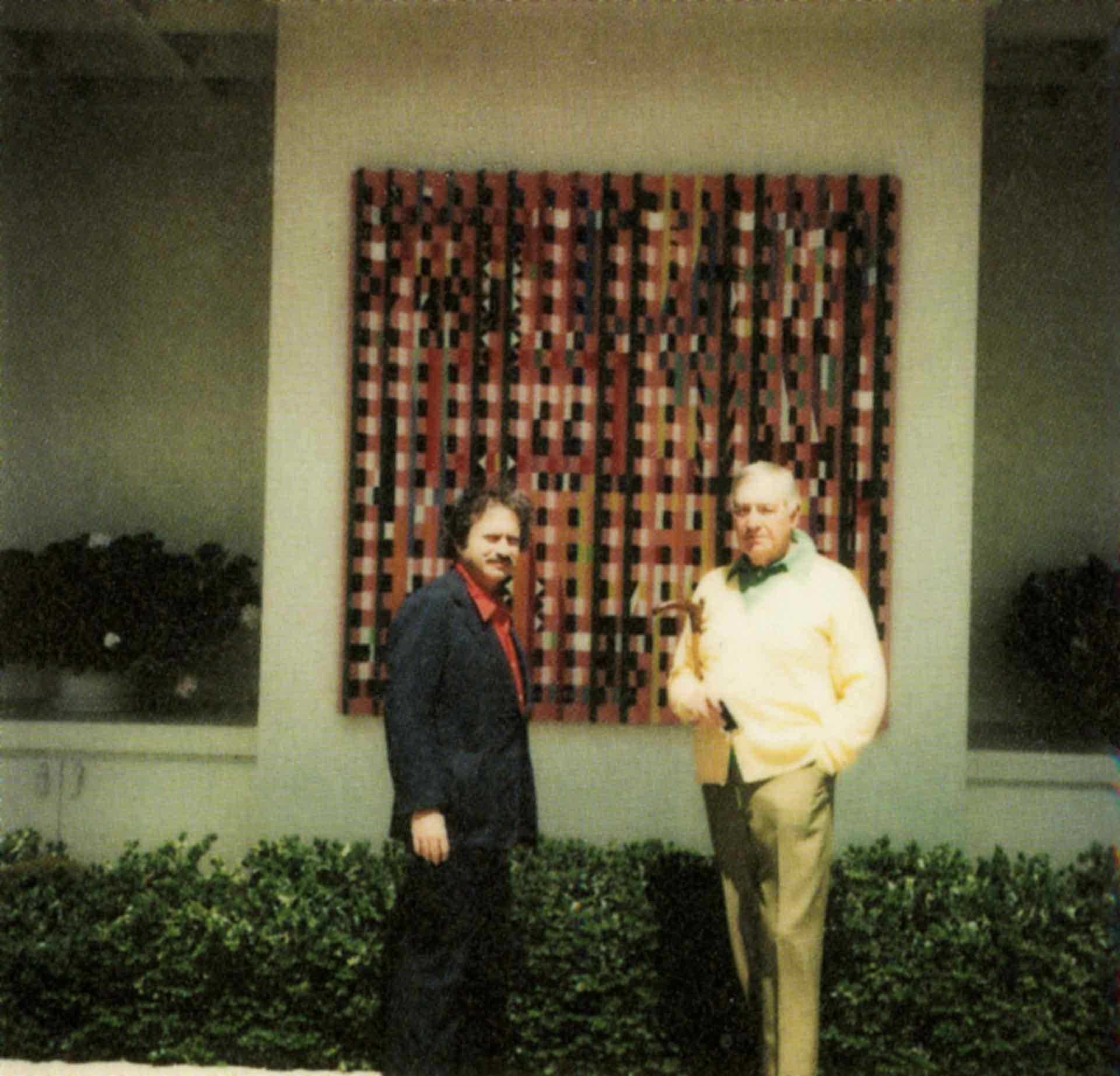 Yaacov Agam and Walter Annenberg stand in front of the artwork Sunnylands (1977).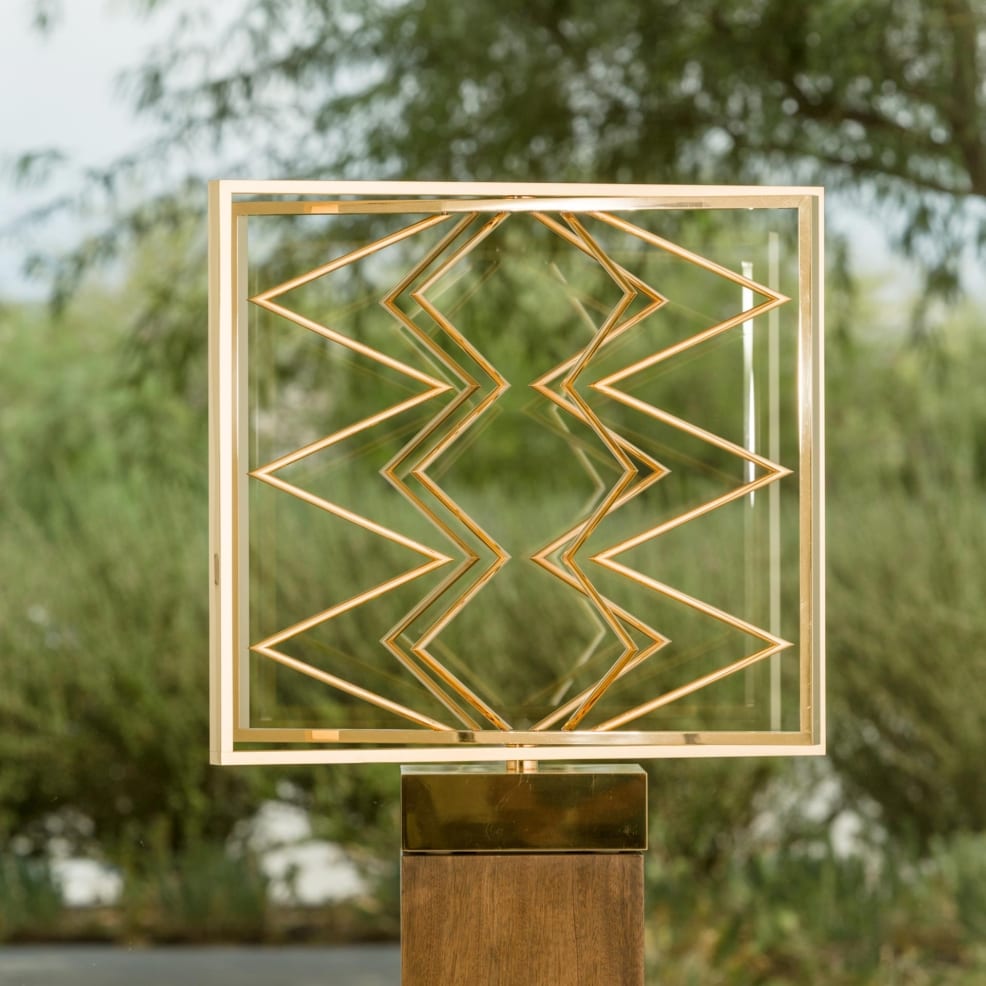 3 x 6 Double Frame Interplay, 1976.
Artforms
AGAMOGRAPH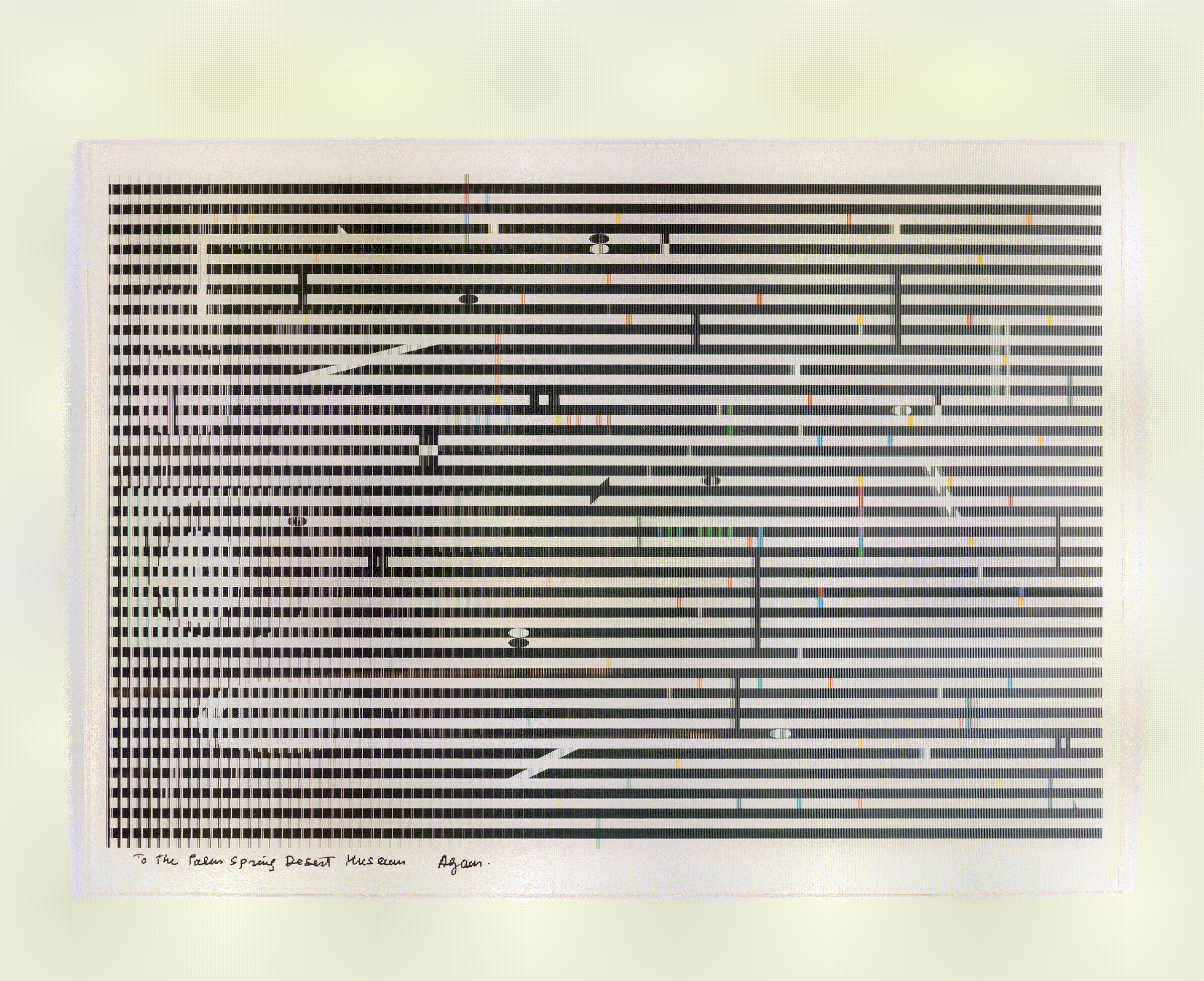 To The Palm Springs Desert Museum, 1981. Collection Palm Springs Art Museum, gift of the artist, 2-1981
These spectacular pieces change every time the viewer moves. Agam developed the process in 1971 and named it after himself.
SERIGRAPH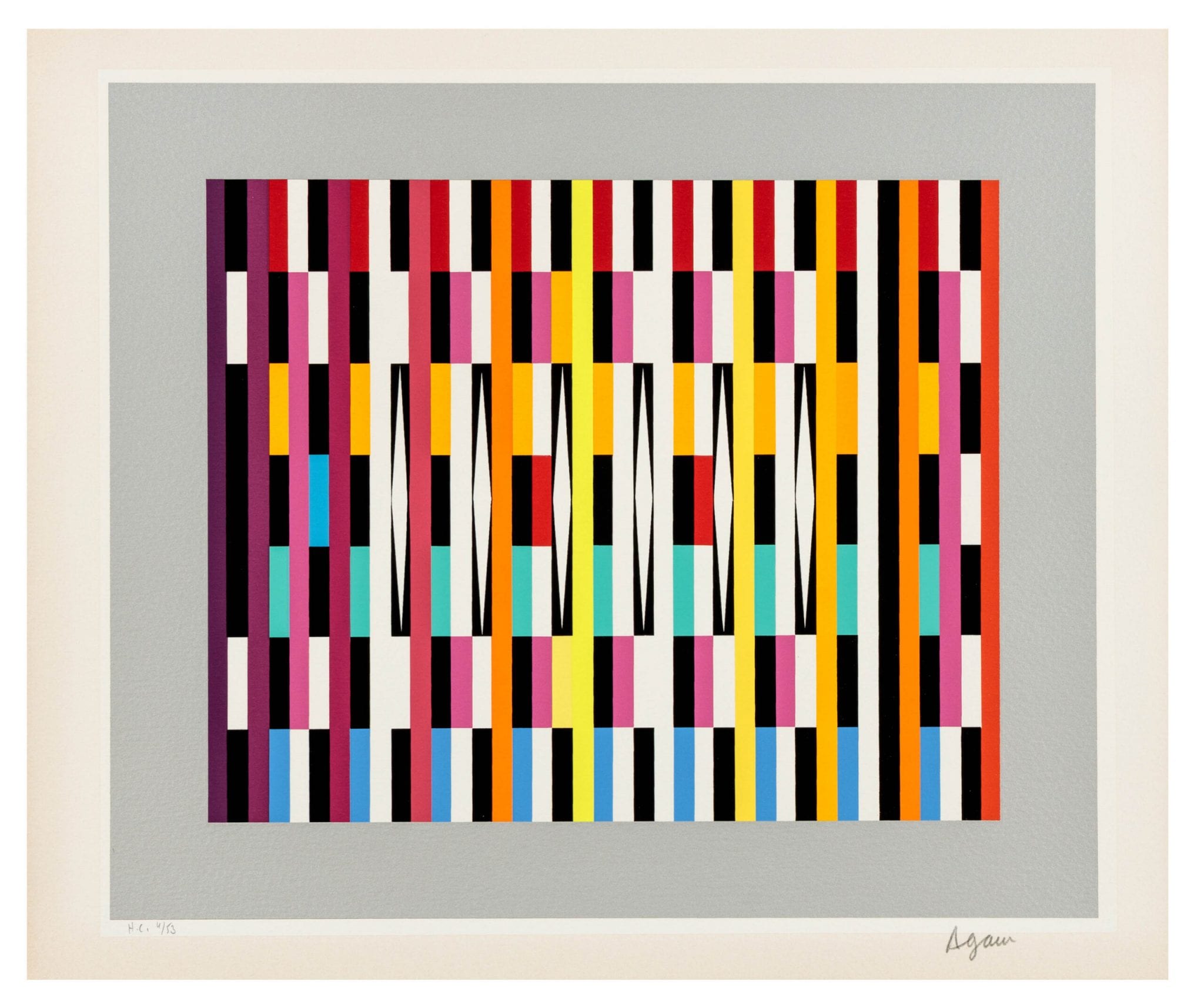 Untitled Serigraph (edition 4/53), Sunnylands Collection 2009.1.4486
Serigraphs are designs produced using a printing technique in which an image is transferred using a mesh and ink.
MULTIGRAPH
Spring, 1979. Sunnylands Collection, 2009.1.96
A moveable grille is added over the serigraph image, allowing the viewer to slide the columns to the right or left, exposing the hidden possibilities of the composition.
POLYMORPH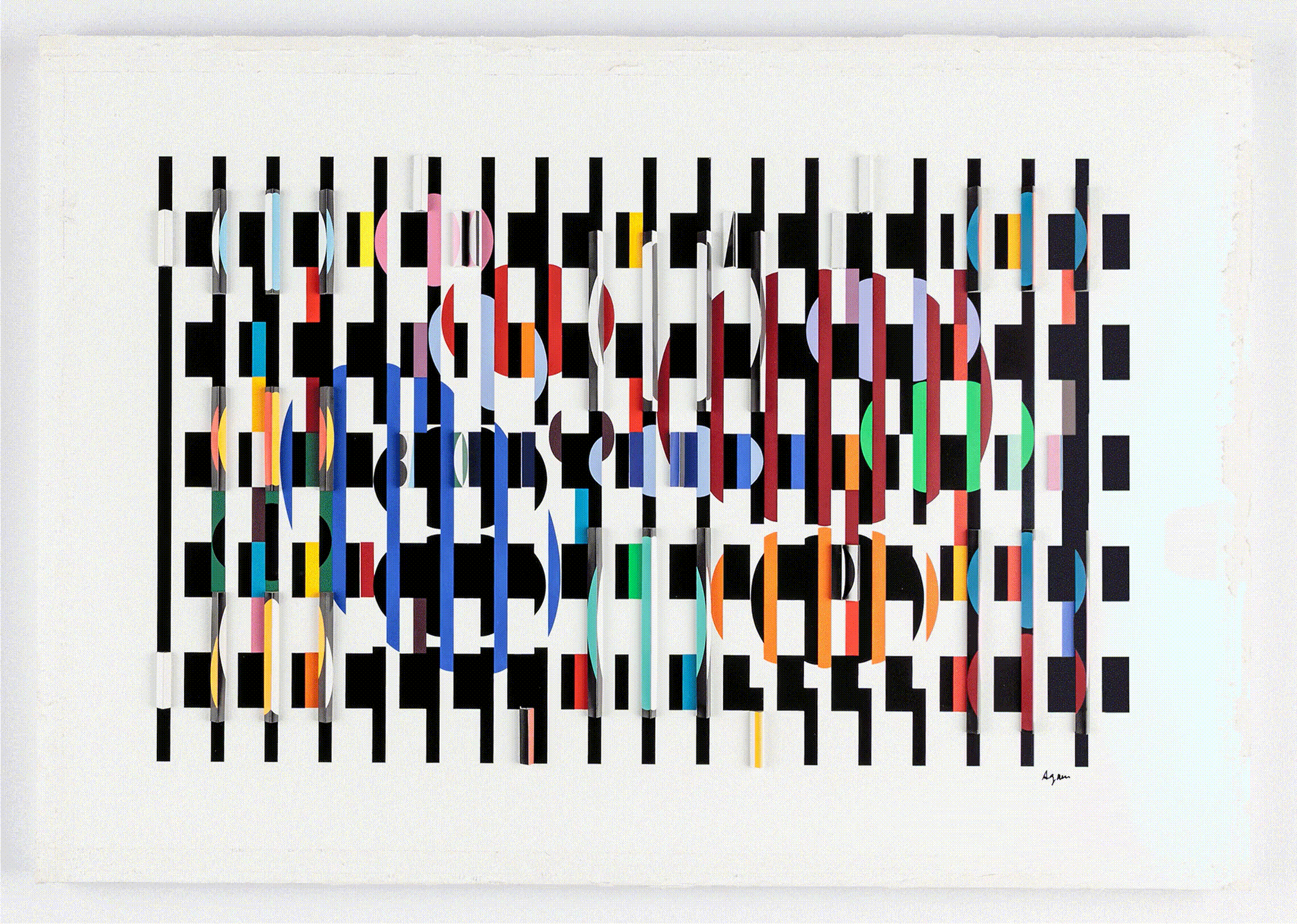 Solo Relief on Visual Orchestration, 1982. Collection Palm Springs Art Museum,
gift of Thomas and Susan Werman, 574-1986
These three-dimensional artworks are made up of numerous triangular pillars. Notable for their changing color and shape, various images appear, transform, and disappear when viewing these works from multiple angles.
Tour
CATALOG
The exhibition catalog, In Motion: Agam at Sunnylands, contains essays by Frank Lopez and Katherine Hough. Lopez has curated two exhibitions at the Sunnylands Center & Gardens since its opening in 2012 and authored the Asian Artists in Crystal catalog. He is a graduate of the master's program in library science at the University of California, Berkeley. Katherine Hough retired as chief curator from the Palm Springs Art Museum in 2018, after 42 years of employment. She has authored 30 publications and organized over 45 art exhibitions, including 14 that traveled
throughout the United States. Hough holds a Master of Arts degree in museum studies & exhibition design from California State University, Fullerton.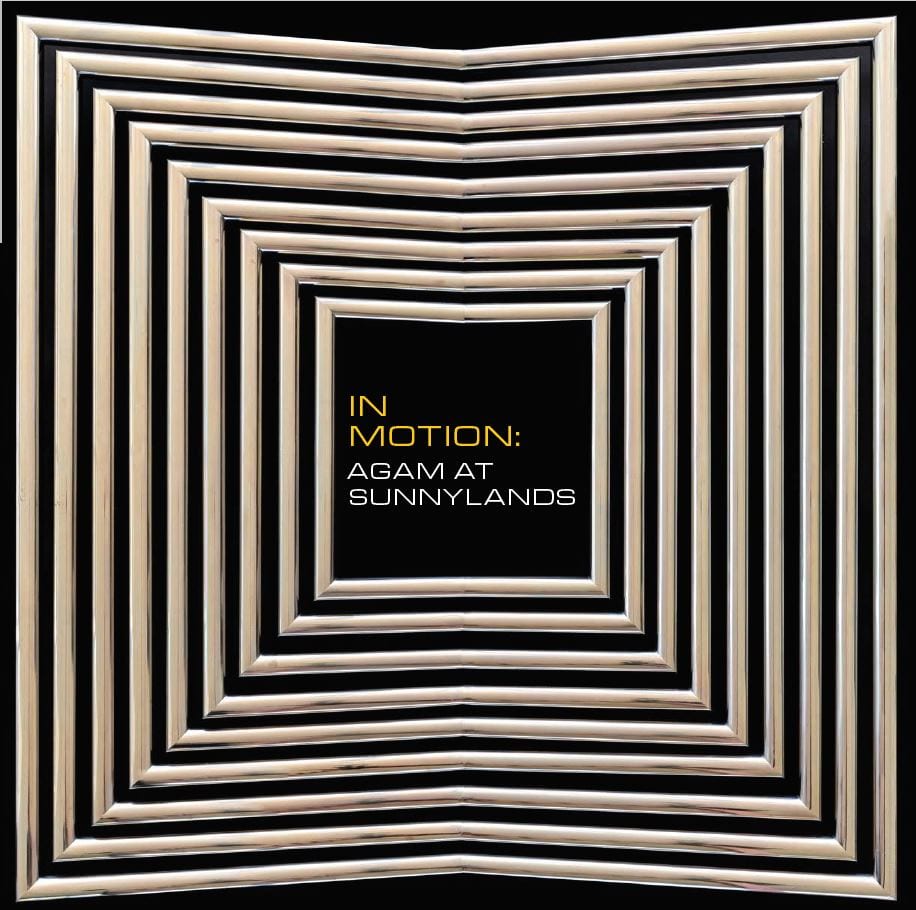 The catalog In Motion: Agam at Sunnylands is available
for purchase through the Sunnylands gift shop.
Image licensing © 2020 Artists Rights Society (ARS), New York / ADAGP, Paris
The digital catalog is available for free download below.