Community Invited to Participate in FIRST Olive Harvest
Wednesday, September 3, 2014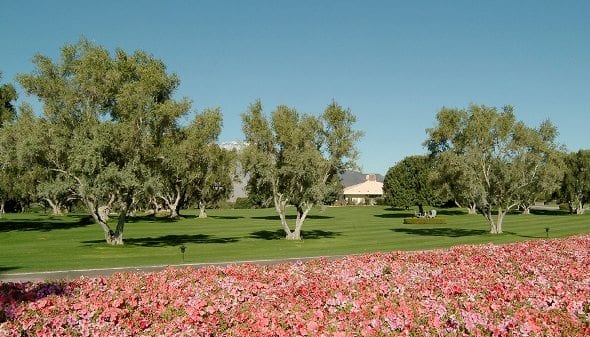 Decades ago, Walter and Leonore Annenberg planted more than 600 olive trees at Sunnylands, their winter home in Rancho Mirage. They chose olive trees to remind them of the first Impressionist painting they purchased for their collection: Vincent van Gogh's Olive Trees, according to Janice Lyle, director of Sunnylands Center & Gardens.
As part of Sunnylands' ongoing sustainability efforts, a decision was made to select a test section of olive trees and allow those trees to fruit, with the intention to harvest the olives. According to Michaeleen Gallagher, director of educational and environmental programs, these efforts would create an opportunity to develop an olive oil program at Sunnylands, and allow for a reduction or even elimination of the use of fruiting suppressants that prevent olive development.
For the past several months, Sunnylands staff has prepared the trees for harvest. The olive fruit is now ripening and ready for picking. Once the olives are pressed and bottled, Sunnylands olive oil will be available for purchase in the Sunnylands store.
Since olives must be taken from harvest to press within 24 hours, Sunnylands is opening the program to members of the community to assist with the process. The harvest program will begin at 6:30 am, Saturday, September 13, 2014, and continue until the work is completed. The olive trees are located on the grounds of the historic estate.
This is a FREE, reservation-required program. Families, community groups, master gardeners, and novice olive pickers are encouraged to participate. Guests of all ages are welcome, although no pets are allowed.
Participants, working in groups, side-by-side with Sunnylands staff, will pick the fruit from cut branches. Therefore, no climbing is required. Cool, comfortable clothes, garden gloves, hats, sunscreen, and water bottles are suggested. Photos for Instagram, Facebook, and Twitter are encouraged. #Sunnylandsoliveharvest
To register, please email education@sunnylands.org or call 760-202-2234 or 760-202-2264 and leave your name, phone number, and email address and include the number in your group. All information is necessary to complete your registration. You will receive an email confirmation with further details, including how to enter Sunnylands on that morning.
Many thanks to everyone for your enthusiasm for this event! We are at capacity for the olive harvest, and registration for the program is now closed. We look forward to seeing you at future Sunnylands events.