Celebrating its newest exhibition, Sunnylands offers free access to the historic estate on Family Day
Tuesday, October 31, 2017
Rancho Mirage, California
Guests at Sunnylands' next Family Day will get a rare opportunity to enter the grounds of the historic Annenberg estate for free to see the spectacular bronze column that inspired Sunnylands' newest art exhibition, Carved Narrative: Los Hermanos Chávez Morado.
The column, stretching 20 feet high, is a half-scale replica of the world-famous El Paraguas fountain found at the National Museum of Anthropology in Mexico City.  Both columns were created by José and Tomás Chávez Morado, brothers from Guanajuato, Mexico, who were among an elite group of artists who helped modern architects reshape their nation's capital ahead of the 1968 Olympics.
Carved Narrative: Los Hermanos Chávez Morado brings more of the brothers' works to Rancho Mirage nearly 50 years after their column was installed as the signature element of the Sunnylands entry court. Sixteen paintings by José and 21 sculptures by Tomás are on display at Sunnylands Center & Gardens. The exhibition is free to the public from 8:30 am to 4 pm, Thursday through Sunday until June 3, 2018.
In celebration of the exhibition, the public is invited to a Family Day on Sunday, Nov. 12, that explores artistic traditions from various regions of Mexico.  Hands-on activities and programs include art-making, games, and folk artist demonstrations.  The public may participate in the creation of a community mural with local artist Luiz Castro, and a performance by Conjunto Tenocelomeh will highlight son jarocho, folk music from southern Veracruz that mixes Spanish, indigenous, and African musical styles.
Throughout the day, guests who are at least 10 years old will be able to board shuttles for a quick trip behind the pink walls of Sunnylands, access that usually requires a tour ticket, to view the column in front of Walter and Leonore Annenberg's midcentury modern home. The column is adorned with carved relief symbols that tell the story of Mexico, from its pre-Hispanic past to the 20th century.  (Entry into the house will not be permitted.)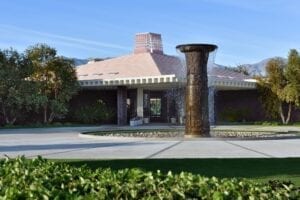 Family Day activities, all free, take place from 9:30 am to 2 pm on Sunday, Nov. 12, at Sunnylands Center & Gardens, 37977 Bob Hope Drive in Rancho Mirage.