Sunnylands Series: Exhibition Talk with Anne Rowe
Past Event
The Sunnylands Speaker Series, in partnership with the Rancho Mirage Public Library, returns for a new season on Friday, January 17 at the Rancho Mirage Public Library.
How did Sunnylands connect Herb Alpert, one of America's most famous musicians, with Canada's foremost family of First Nations' woodcarvers? Through art. Anne Rowe, director of collections and exhibitions at Sunnylands (photo below), details the backstory of how she produced the exhibition Reach for the Sky: Tradition + Inspiration, which features the artworks of Alpert and Kwakiutl carvers Henry, Stanley, and Jason Hunt. For Rowe, it started in 2009, when she encountered a monumental, 30-foot totem pole on the fifth hole of the Sunnylands golf course and thought, "Who could have carved this?"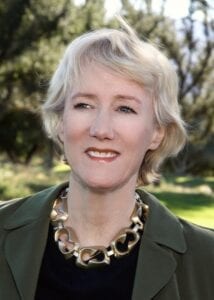 This discussion will be held at the Rancho Mirage Public Library on Friday, January 17 from 2 to 3 pm. This event does not take place at Sunnylands Center & Gardens.
Rancho Mirage Public Library
71100 Highway 111
Rancho Mirage, CA 92270
This event is open to the public and is free of charge.
For more information, please contact our education department at 760.202.2234 or education@sunnylands.org