Music in the Gardens: The Louie Bluies
STARTS AT 03/05/2023 11:00 am
Sunnylands presents its annual Music in the Gardens concert series, happening every Sunday in March with a different musical act each week. The series begins with a performance by The Louis Bluies on Sunday, March 5, from 11 am to 1 pm. Full schedule below. Free parking and attendance. Reservations not required.
The public is invited to stroll in the gardens or bring a lawn chair and have a picnic on the Great Lawn while enjoying a live musical performance.
2023 Music in the Gardens schedule
March 5: The Louie Bluies
March 12: Dave Blackburn & Robin Adler-Sunday
March 19: The Lentones
March 26: Greg Jones Presents "A Tribute to Genius": The Music of Ray Charles
Water and sun protection are recommended. Guests may bring blankets and folding chairs. No seating is provided. While guests are invited to bring food and picnics to Sunnylands, large coolers, ice chests, grills, and alcohol are not permitted. No large shade structures or items that puncture the lawn are permitted. Carpooling is encouraged.
March 5 musical act: The Louie Bluies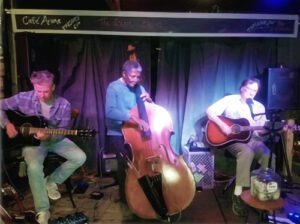 Named after exemplary blues artist "Louie Bluie" (aka Howard Armstrong), The Louie Bluies return to Sunnylands with an extremely eclectic catalogue of songs from blues to ragtime, country to jazz, and a little bit of jam music to round it out. The Bluies are composed of Joey Latimer, Marshall Hawkins, and Don Reed.
For more information, contact the Education Department at education@sunnylands.org.