Music in the Gardens: The Lentones
STARTS AT 03/19/2023 11:00 am
Sunnylands presents its annual Music in the Gardens concert series, happening every Sunday in March with a different musical act each week. The series continues with a performance by The Lentones on Sunday, March 19, from 11 am to 1 pm. Full schedule below. Free parking and attendance. Reservations not required.
The public is invited to stroll in the gardens or bring a lawn chair and have a picnic on the Great Lawn while enjoying a live musical performance.
2023 Music in the Gardens schedule
March 5: The Louie Bluies
March 12: Dave Blackburn & Robin Adler-Sunday
March 19: The Lentones
March 26: Greg Jones Presents "A Tribute to Genius": The Music of Ray Charles
Water and sun protection are recommended. Guests may bring blankets and folding chairs. No seating is provided. While guests are invited to bring food and picnics to Sunnylands, large coolers, ice chests, grills, and alcohol are not permitted. No large shade structures or items that puncture the lawn are permitted. Carpooling is encouraged.
March 19 musical act: The Lentones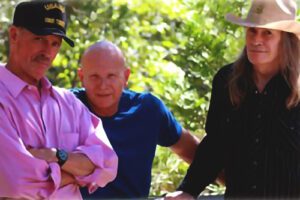 The Lentones return to Sunnylands after a six-year hiatus with an original sound that blends country, swing, and blues. Led by front man Lenny Hansel, the Lentones are composed of a group of well-traveled and versed musicians, including bassist Gilbert Hansen and percussionist Rodger Reeder.
For more information, contact the Education Department at education@sunnylands.org.