Music in the Gardens: Dave Blackburn & Robin Adler
Past Event
Sunnylands presents its free Music in the Gardens concert series, happening every Sunday in March with a different musical act each week. The series continues with a performance by Dave Blackburn and Robin Adler on Sunday, March 12, from 11 am to 1 pm. Full schedule below. Free parking and attendance. Reservations/tickets not required.
Parking for this event is often at a premium, and Sunnylands will close its gates for safety reasons when parking reaches its capacity.  We encourage guests to carpool or take a ride-sharing service when attending this event.
The public is invited to stroll in the gardens or bring a lawn chair and have a picnic on the Great Lawn while enjoying a live musical performance.
2023 Music in the Gardens schedule
March 5: The Louie Bluies
March 12: Dave Blackburn & Robin Adler-Sunday
March 19: The Lentones
March 26: Greg Jones Presents "A Tribute to Genius": The Music of Ray Charles
Water and sun protection are recommended. Guests may bring blankets and folding chairs. No seating is provided. While guests are invited to bring food and picnics to Sunnylands, large coolers, ice chests, grills, and alcohol are not permitted. No large shade structures or items that puncture the lawn are permitted. Carpooling is encouraged. Please see our Plan Your Visit page for visiting rules and guidelines.
March 12 musical act: Dave Blackburn & Robin Adler-Sunday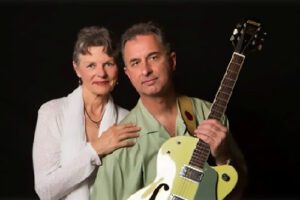 Dave Blackburn and Robin Adler last performed at Sunnylands in 2017 with their musical group, Mutts of the Planet. As lifelong Joni Mitchell fans, this guitar and vocal duo will be playing some her hits while ranging from the Great American Songbook, British rock, and Bossa Nova, along with their own compositions.
For more information, contact the Education Department at education@sunnylands.org.