Into the Field: Birding Hike at Whitewater Preserve
Past Event
Join an expert birder for a bird-watching field trip to the Whitewater Preserve. Participants will explore the two large ponds and campground areas to look for birds such as the western screech owl, the common yellowthroat, juncos, roadrunners, and flycatchers. The group will walk along the Whitewater River trail to where the Pacific Crest Trail crosses the property. Bird sightings on this walk may include rock wrens, hummingbirds, bushtits, scrub jays, cedar waxwings with the possibility of the barn owl or merlin. Peregrine falcons and bighorn sheep are often seen at the Preserve.
This event does not take place at Sunnylands Center & Gardens. A waiver is required for all off-site activities. That waiver can be found HERE and will be collected when the group meets at the preserve at 8 am. The walk will conclude at 11 am.
Participants will meet at the Whitewater Preserve:
9160 Whitewater Canyon Rd.
Whitewater, CA 92282
Closed-toe shoes, hat, sunscreen, and water are essential. Binoculars, cameras, and snacks are optional. Guests may bring a lunch. Please dress comfortably.
Fee: $25 per participant. 20 participants max.
The event is subject to cancellation due to low enrollment (if there are less than 3 guests).
You may purchase tickets HERE.
Reservations for this event will not be accepted after 12/08/2019 at 4:30 pm.
Leading this hike will be Kurt Leuschner.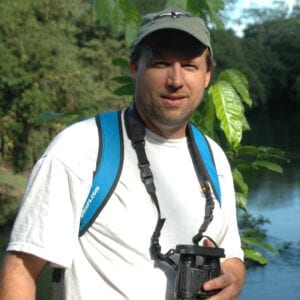 Kurt Leuschner is a Professor of Natural Resources at College of the Desert where he teaches courses on Conservation, Entomology, Field Ornithology, Native Plants, and GPS Navigation.  He has a Bachelor's degree in Zoology from UC Santa Barbara and a Master's in Wildlife Ecology from the University of Florida.  Kurt has extensive experience abroad including a year at the University of Nairobi, a semester studying Tropical Biology in Costa Rica, two years in the Peace Corps working in Tanzania's Wildlife Division, Master's research in the Kibale Forest of Uganda, and two years running a hotel and horse-riding school in the Bavarian Alps of Germany.
Kurt continues to take groups on photographic safaris to Africa, New Zealand, the Galapagos, and various locations in the southwestern United States.  Kurt is very active locally – volunteering for the Mt. San Jacinto State Park, the Living Desert, the BLM, the Anza-Borrego Desert Natural History Association, and the National Audubon Society.
He is the founder of the Desert Cities Bird Club, on the Board of Directors of Western Field Ornithologists, and is past President of the Natural Science Collaborative.  His most recent publications are the Palms to Pines Birding and Nature Trail map and brochure and a Field Guide to Desert Golf Course Wildlife.
Kurt also teaches weekend courses and workshops on birdwatching, insects, GPS, and backyard habitats for UCR Extension, the Desert Institute, the Desert Studies Center, and the Living Desert. His latest research project involves the sound recording of the various subspecies of Western Scrub-Jay.
For information, please contact our education department at education@sunnylands.org or call 760.202.2234