Into the Field: Birding Hike at Whitewater Preserve
Past Event
Join an expert birder for a bird-watching field trip to the Whitewater Preserve. Participants will explore the two large ponds and campground areas to look for birds, such as the western screech owl, the common yellowthroat, juncos, roadrunners, and flycatchers. The group will walk along the Whitewater River trail to where the Pacific Crest Trail crosses the property. Bird sightings on this walk may include rock wrens, hummingbirds, bushtits, scrub jays, cedar waxwings, with the possibility of the barn owl or merlin. Peregrine falcons and bighorn sheep are often seen at the Preserve.
This event does not take place at Sunnylands Center & Gardens. A waiver is required for all off-site activities. That waiver can be found HERE and will be collected when the group meets at the preserve at 8 am. The walk will conclude at 11 am.
Participants will meet at the Whitewater Preserve:
9160 Whitewater Canyon Road
Whitewater, CA 92282
Closed-toe shoes, hat, sunscreen, and water are essential. Binoculars, cameras, and snacks are optional. Guests may bring a lunch. Please dress comfortably.
Fee: $25 per participant. 20 participants max.
The event is subject to cancellation due to low enrollment (if there are less than 3 guests).
You may purchase tickets HERE.
Reservations for this event will not be accepted after 3/15/20 at 4:30 pm.
Leading this hike will be Mark Leggett.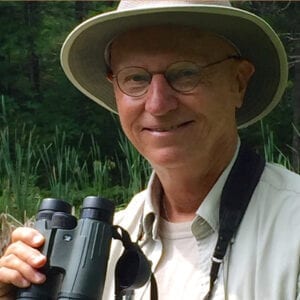 Hawaii is home for Mark Leggett. On the Islands, he developed an early interest in birds. He honed his skills in Indiana, where he was a long-time public library administrator. While retired in Sarasota, Florida, Mark was very active in birding and the local Audubon chapter. He re-retired to the California desert several years ago and leads bird walks at Whitewater Preserve and Coachella Valley Preserve. Mark has been fortunate to bird in most of the U.S. as well as a number of other countries. Nuthatches and woodpeckers are particular favorites.
For information, please contact our education department at education@sunnylands.org or call 760.202.2234