Into the Field: Borrego Springs Swainson's Hawk Watch
Past Event
The Swainson's Hawk Migration through Borrego Springs is a spectacle not to be missed. These 19-inch tall hawks with a wingspan of over four feet, travel in flocks in the spring. The town of Borrego Springs in Anza-Borrego Desert State Park (the largest state park in California) is a stopping point on their journey. Hawks spend the night in the area and, in the morning, lift off to fly further north. Local hawk watchers and counters are familiar with their haunts.
This event does not take place at Sunnylands Center & Gardens. A waiver is required for all off-site activities. The waiver can be found HERE and will be collected when the group meets at Sunnylands Center & Gardens.
Participants will meet in the overflow parking lot of Sunnylands Center & Gardens at 7:30 am on the day of the hike.
The caravan will leave Sunnylands for the hour-and-a-half drive to Borrego Springs traveling along the west side of the Salton Sea and through some of the most fascinating geology in the area. Once in town, the group will touch base with the locals and go to the spot where the hawks are predicted to lift off. As with any birdwatching activity, there is no guarantee what will happen, but historically this week has seen the largest concentrations of hawks. There could be several hundred to over one thousand. Usually, all of the hawks that spent the night have lifted off and leave the area by about 11 am. Afterwards, the group may enjoy lunch in town or head back to Sunnylands.
Close-toed shoes, hat, sunscreen, and water are essential. Binoculars, cameras, and snacks are optional.
Participants may bring a lunch; there are picnic tables at the preserve.
Sunnylands Center & Gardens will be closed to the public on the date of this program. As a result, no restrooms or facilities will be available.
Fee: $25 per participant. 20 participants max.
Subject to cancellation due to low enrollment (if there are less than 3 guests).
You may purchase tickets HERE.
Reservations for this event will not be accepted after 3/13/20 at 4:30 pm.
Leading the walk will be Frank Sterrett.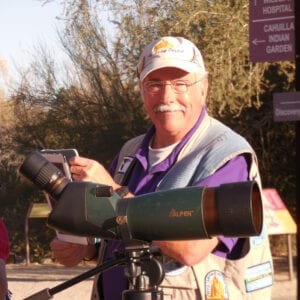 Frank has been birding for close to 60 years. During that time, he has been a college student-curator of ornithology, a college lab assistant in ornithology, a licensed bird bander, and a participant in Breeding Bird Surveys and Christmas Bird Counts. He was an elementary schoolteacher in Rhode Island for 30 years. Before retiring in 2004, and especially since, Sterrett has had the privilege to travel extensively, from Maine to Florida, Alaska to Southern California, as well as Churchill, in Manitoba, Canada, to the Texas coast. An Arctic trip to Norway took him 600 miles from the North Pole. In addition to leading bird walks at Sunnylands, he volunteers and leads walks at The Living Desert, Coachella Valley Preserve, and Whitewater Preserve. Even though he has retired from classroom teaching, Frank cannot contain his enthusiasm for birds and sharing that enthusiasm with everyone around him. His emails always end with the signature, "Have binocs; will travel;" and a quote from Simon Barnes: "I do not go birdwatching. I am [always] birdwatching."
For information, please contact our education department at education@sunnylands.org or call 760.202.2234