Into the Field: Bird Walk at Coachella Valley Preserve
Past Event
Join an expert birder for a bird-watching field trip to Thousand Palms Oasis in the Coachella Valley Preserve, 10 miles from Sunnylands Center & Gardens. Participants will hike through a beautiful oasis of California Fan Palms, traverse the open desert, and end up at another gorgeous oasis. The hike will be just over a mile each way. Depending on the temperature, the birder may add a quarter mile to the hike and go up a gentle slope for the views from Vista Point. The hike will end at the Palm House visitors' center.
This event does not take place at Sunnylands Center & Gardens. A waiver is required for all off-site activities. The waiver can be found HERE and will be collected when the group meets at the preserve at 8 am. The walk will conclude at 11 am.
Participants will meet at the Coachella Valley Preserve:
29200 Thousand Palms Canyon Rd.
Thousand Palms, CA 92276
This is an easy hike with some spots of loose sand. Closed-toe shoes, a hat, sunscreen, and water are essential. Binoculars, cameras, and snacks are optional. Guests may bring a lunch. Please dress comfortably.
Fee: $25 per participant. 20 participants max.
Subject to cancellation due to low enrollment (if there are less than 3 guests).
You may purchase tickets HERE.
Reservations for this event will not be accepted after 1/19/2020 at 4:30 pm.
Leading the walk is Frank Sterrett. Frank has been birding for close to 60 years. During that time he has been a college student-curator of ornithology, a college lab assistant in ornithology, a licensed bird bander, and a participant in Breeding Bird Surveys and Christmas Bird Counts. He was an elementary schoolteacher in Rhode Island for 30 years. Before retiring in 2004, and especially since, Sterrett has had the privilege to travel extensively, from Maine to Florida, Alaska to Southern California, as well as Churchill, in Manitoba, Canada, to the Texas coast. An Arctic trip to Norway took him 600 miles from the North Pole. In addition to leading bird walks at Sunnylands, he volunteers and leads walks at The Living Desert, Coachella Valley Preserve, and Whitewater Preserve. Even though he has retired from classroom teaching, Frank cannot contain his enthusiasm for birds and sharing that enthusiasm with everyone around him. His emails always end with the signature, "Have binocs; will travel;" and a quote from Simon Barnes: "I do not go birdwatching. I am [always] birdwatching."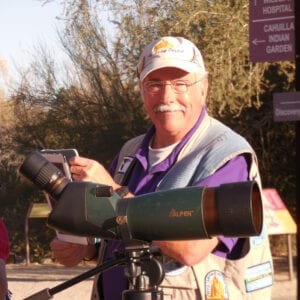 For information, please contact our education department at education@sunnylands.org or call 760.202.2234