Drop-in Workshop: Paper Catrina and Catrín Hats
Past Event
Take part in the celebration of Coachella Valley Days of Los Muertos at Sunnylands and create your own paper Catrina or Catrín hat to wear and take home.
Free for all ages. Reservations not required. This workshop is available in the Center & Gardens studio from 3 to 7 pm on Friday, November 4, as part of our special evening programming for CV Days of Los Muertos.
La Catrina, also known as "dapper skeleton," or "elegant skull," is one of the most recognizable symbols of Día de los Muertos tradition.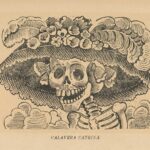 Created by Mexican illustrator José Guadalupe Posada, La Catrina is depicted as a female skeleton wearing a fancy European-style hat, a commentary on the obsession with European aristocratic traditions in pre-revolutionary Mexico. Her male counterpart, El Catrín, also donned aristocratic attire.