Discussion: Our Civics—Safeguarding Democracy
Past Event
The Annenberg Foundation Trust at Sunnylands will host a discussion, "Our Civics: Safeguarding Democracy," at the Sunnylands Center on January 30, 2023, from 5 to 7 pm.
We are delighted to host two speakers, John Bridgeland, founder and executive chair of More Perfect and former White House official from both the Barack Obama and George W. Bush administrations, and James Arroyo, director of the Ditchley Foundation in the United Kingdom.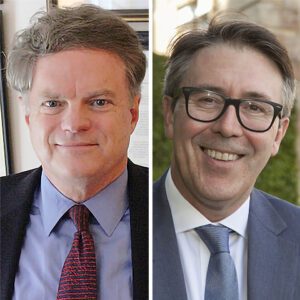 Photo: John Bridgeland (left) James Arroyo (right)
John will speak about the shared connection and importance of civic education, national service, and other Sustainable Democracy Goals for the United States. The More Perfect campaign is an historic partnership among 11 Presidential Centers, the American Academy of Arts and Sciences, the Corporation for Public Broadcasting, the Karsh Institute of Democracy at the University of Virginia, and more than 100 organizations to align around five Sustainable Democracy Goals.
James will talk about the prospects for democratic renewal in the U.K, covering the impact of the U.K. leaving the European Union and the tumultuous politics of the last few years. Ditchley works for the renewed resilience of democracies globally by convening conversations across political and other siloes. It has also been called the spiritual home of the U.S.-U.K. special relationship and its home, the beautiful Ditchley Park, was the secret wartime base for Winston Churchill.
Moderated by Sunnylands President David J. Lane, this discussion is open to the public and will be held at Sunnylands Center & Gardens. A $10 registration fee is required due to limited seating. Parking is free.
For registration details, please click or tap the yellow button below.
Sunnylands Center & Gardens is located at 37977 Bob Hope Drive, Rancho Mirage, CA 92270.
For more information, please contact our Education Department at 760.202.2254 or education@sunnylands.org