Peaceful Landscape
A landscape view of the Sunnylands estate, displaying one of the man-made lakes on the property and the Annenbergs' winter home, designed by A. Quincy Jones and completed in 1966.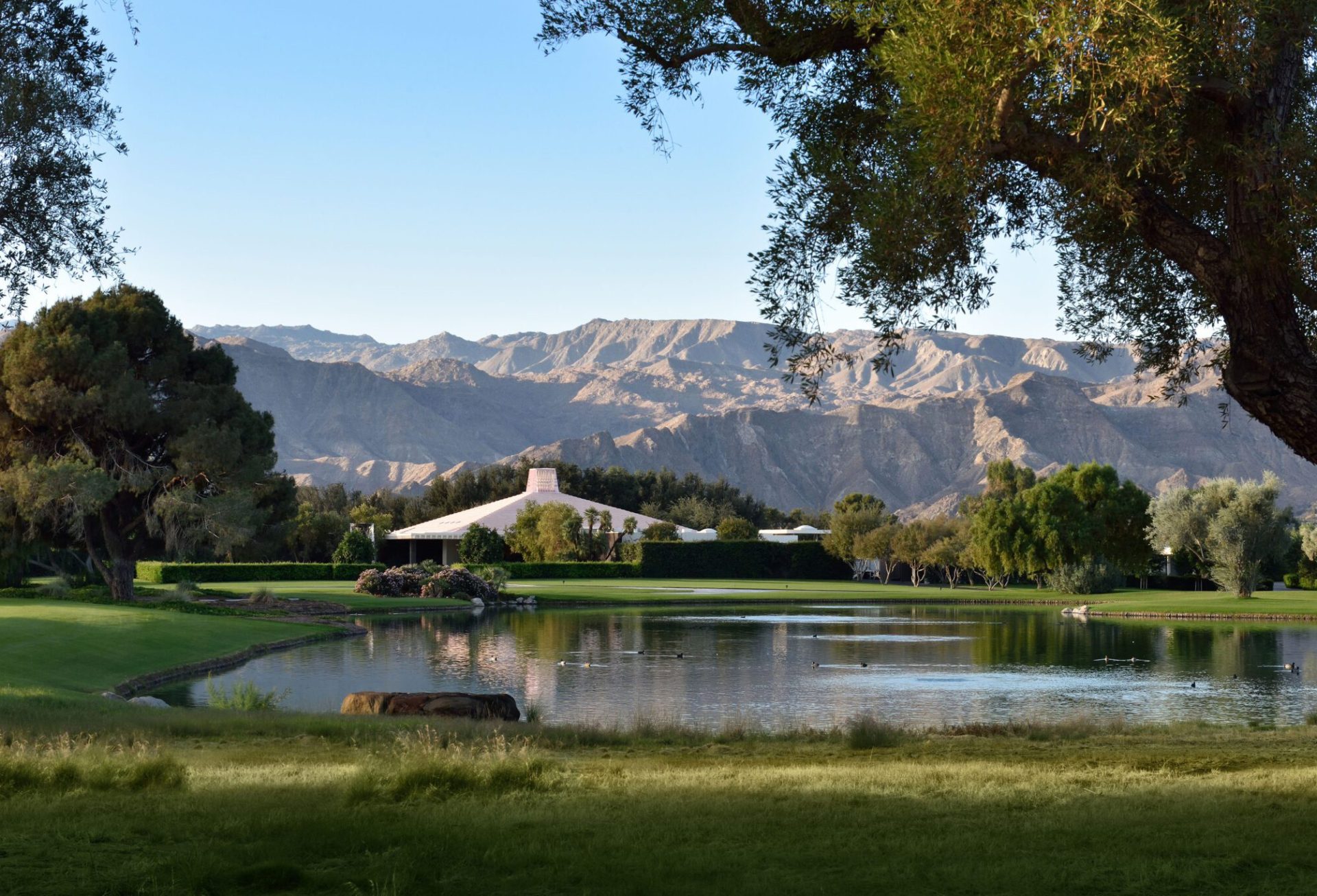 Entry Court
Examples of the Mesoamerican theme at Sunnylands can be seen in this exterior view of the home, including the pink pyramidal roof, lava stone-tiled walls, and the Mexican column.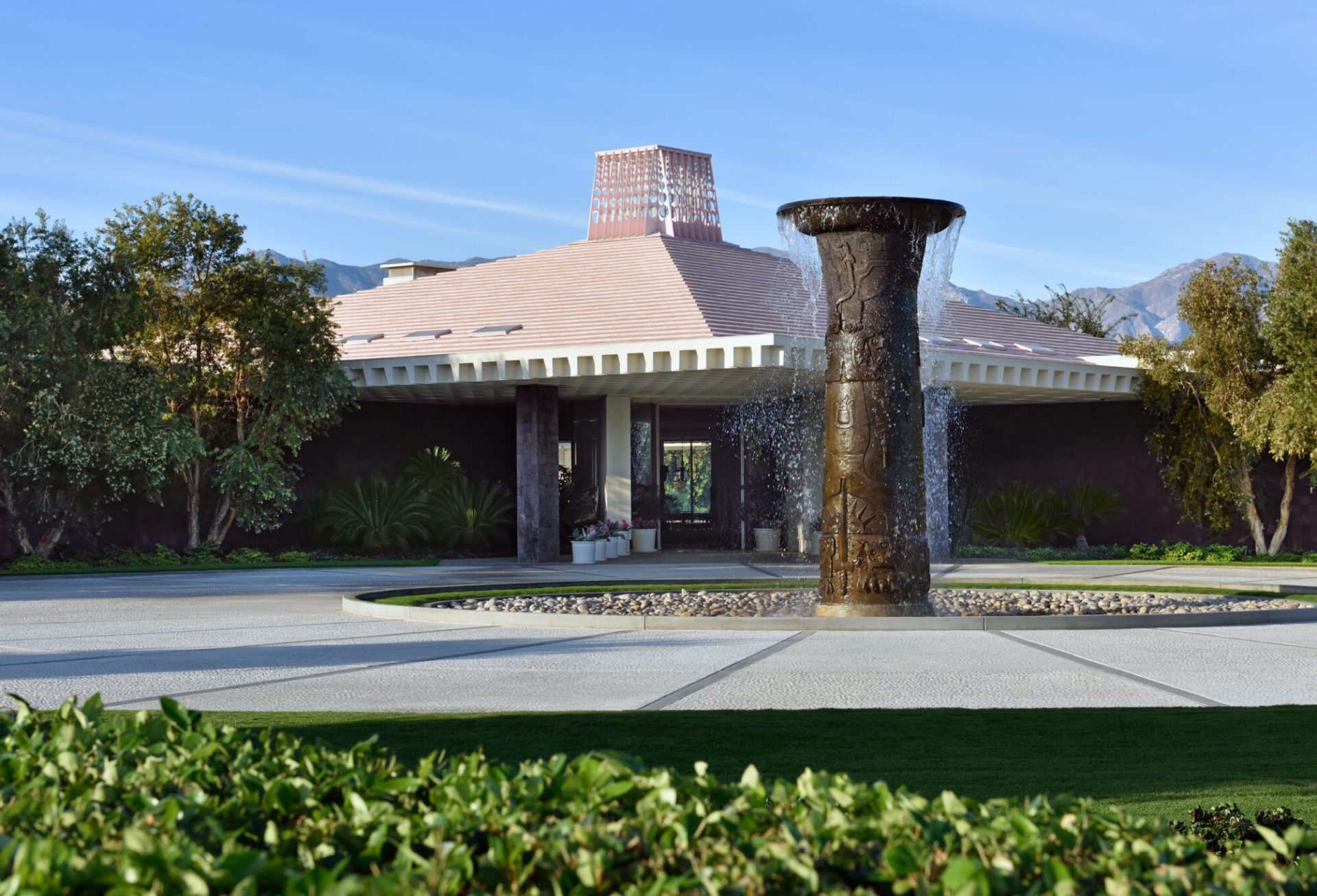 Mausoleum
The Annenbergs' mausoleum by architect Alfred H. Cook was completed in 2001. Like the main house, the mausoleum features a pyramidal roof, an egg-crate coffered ceiling, and Portuguese rose marble flooring.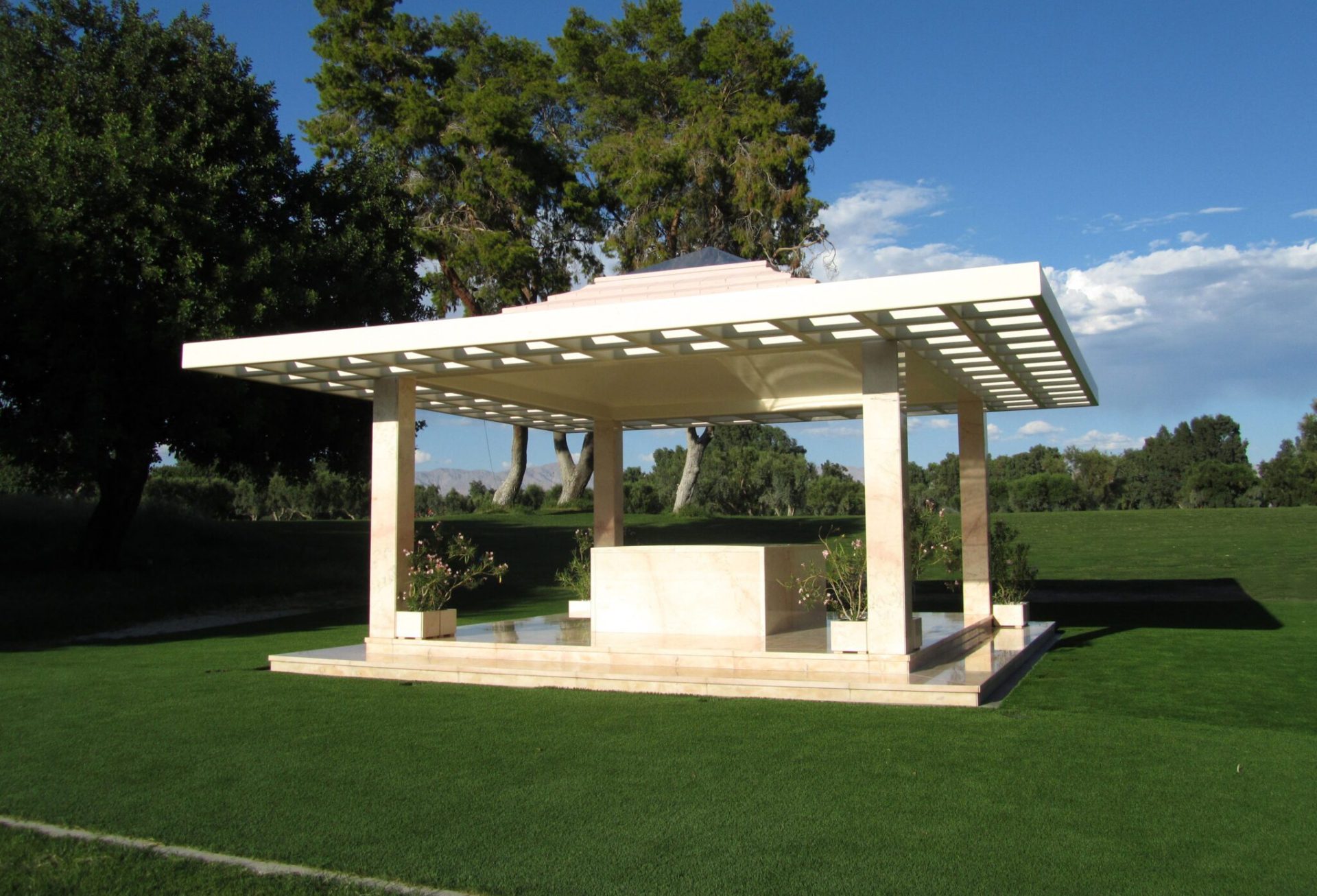 Chinese Pavilion
The Chinese Pavilion, also known as Walter's Folly, was designed by architect Harry Saunders in 1976. The Annenbergs and their guests often had lunch there while playing golf at Sunnylands.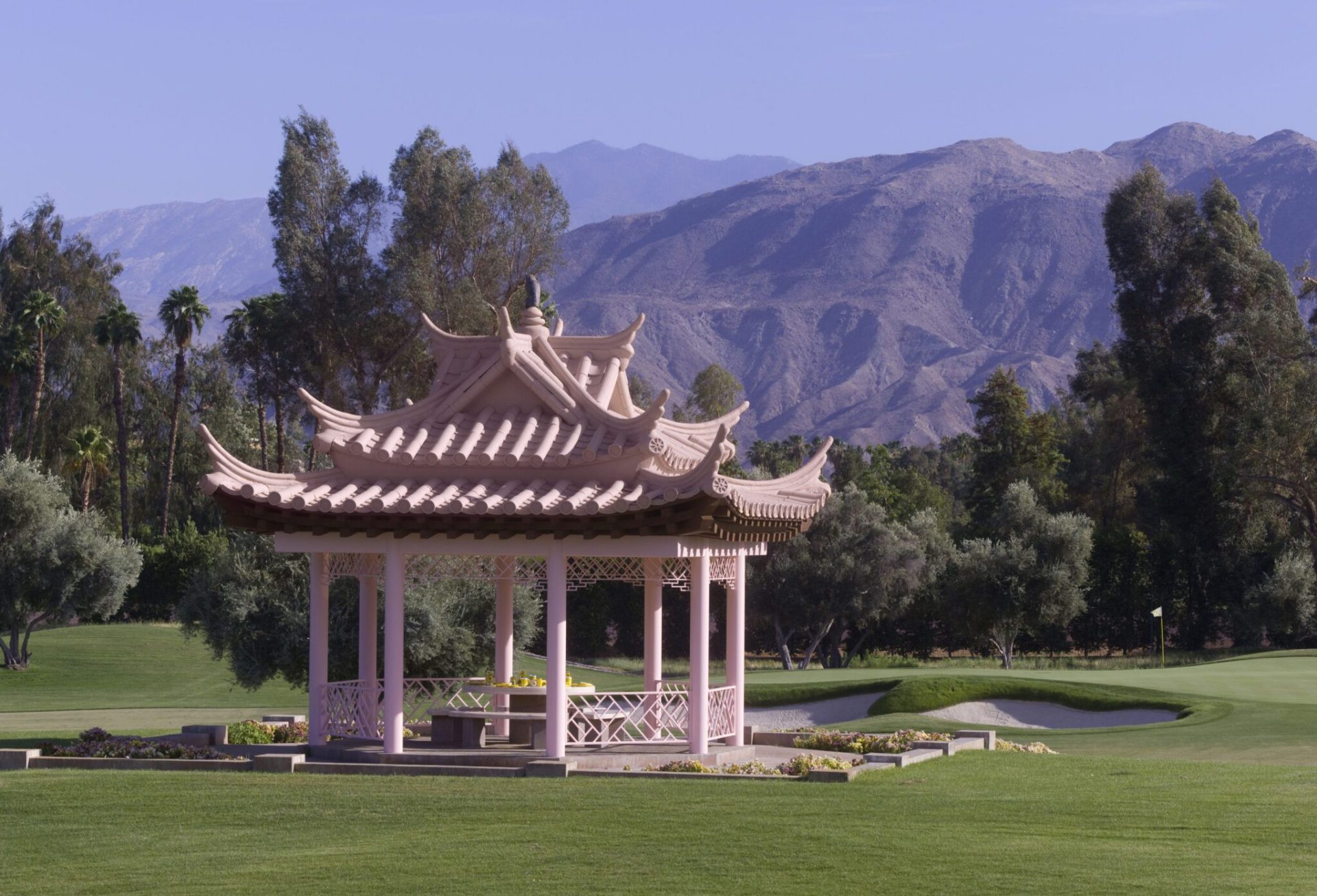 Totem Pole
This 30-foot-tall totem pole on the fifth fairway of the Annenberg golf course was designed by First Nations artist Henry Hunt, a member of the Kwakiutl tribe of Fort Rupert, British Columbia.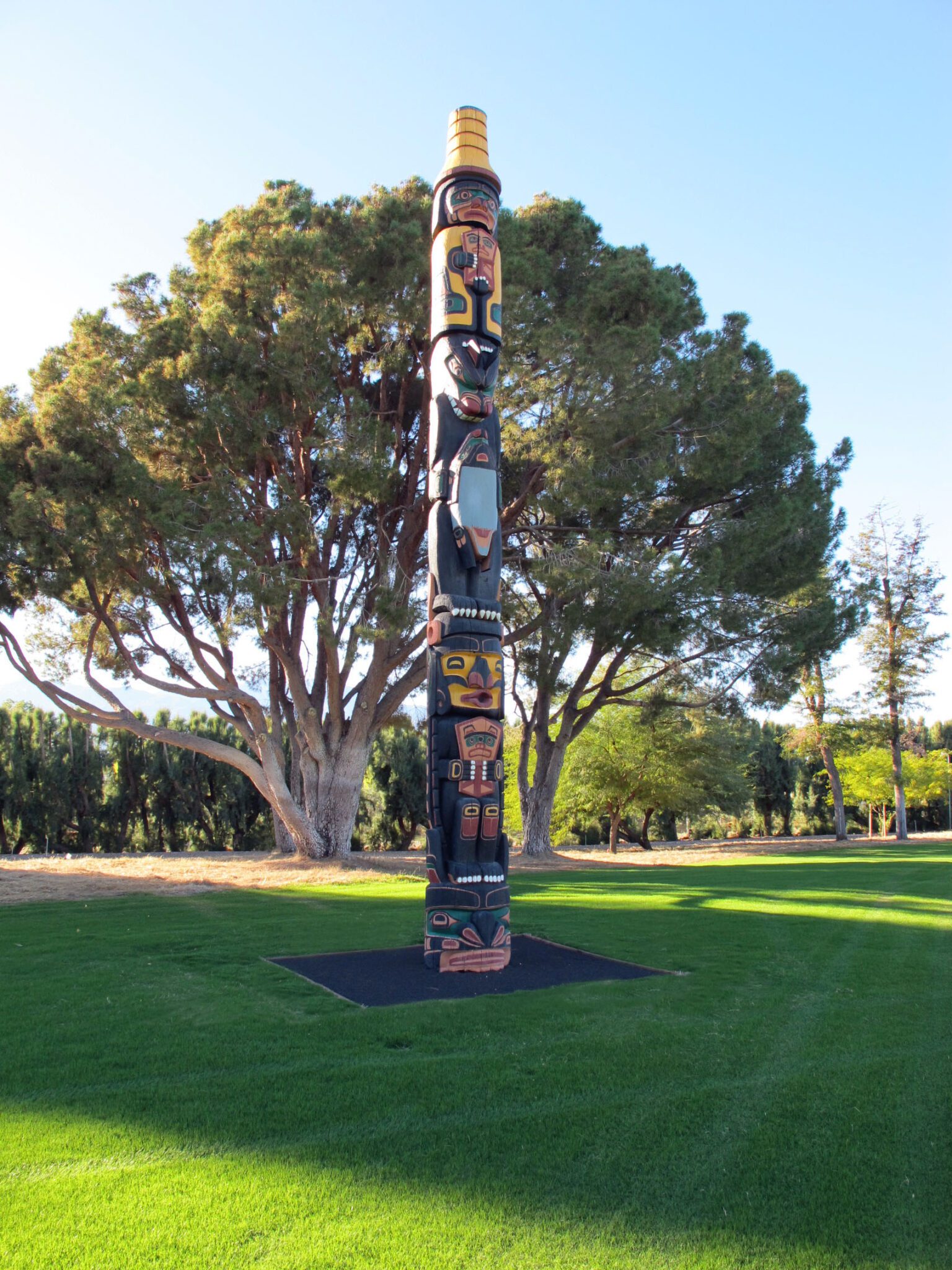 Retreat Pavilion
A 2014 addition to the property, the Retreat Pavilion, designed by Frederick Fisher and Partners, is one of the areas where retreat guests convene for meetings.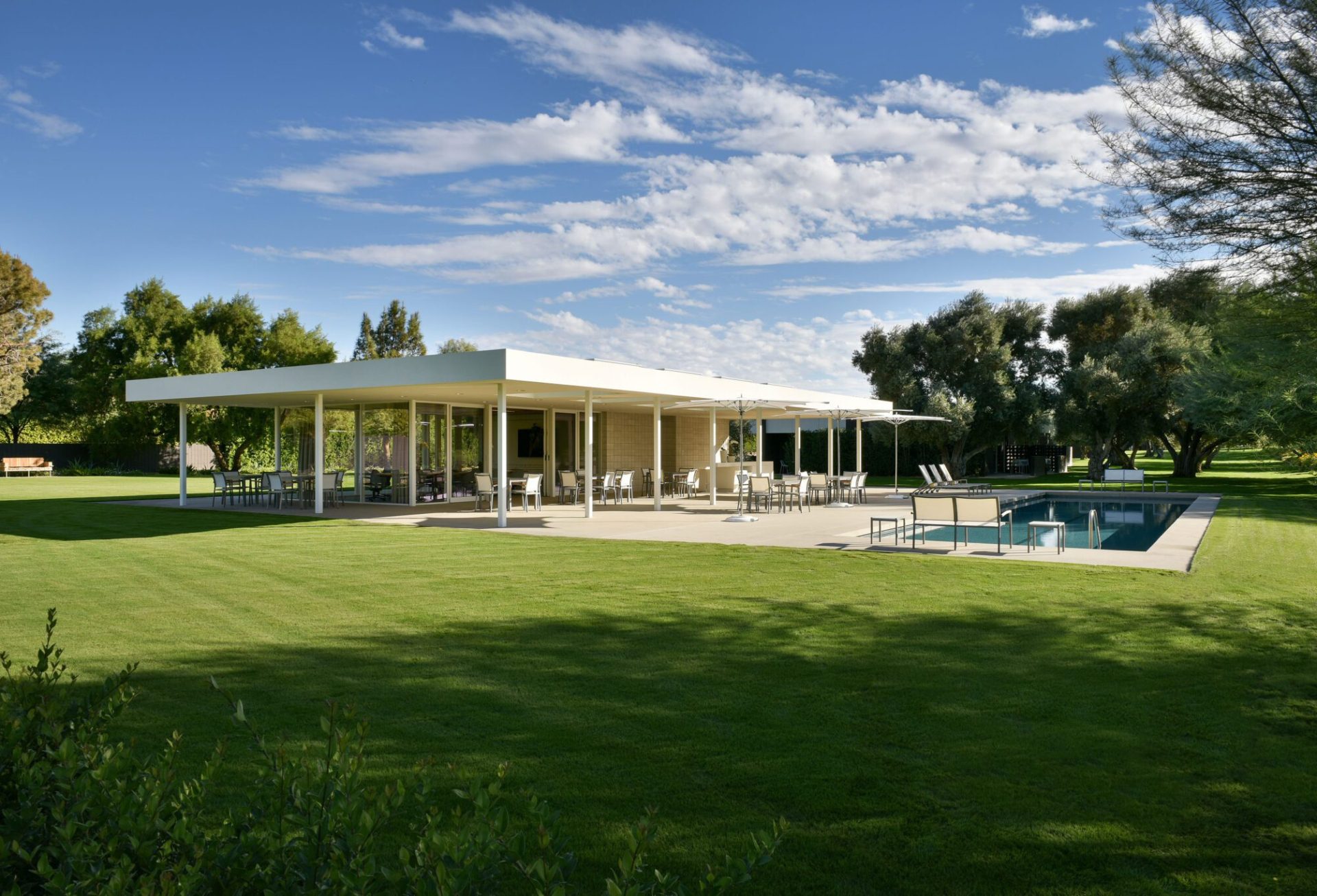 Golf Course
A view of the nine-hole golf course, designed by Dick Wilson, where the Annenbergs and their guests, who ranged from famous golfers, entertainers, British royalty, and politicians, enjoyed rounds of golf.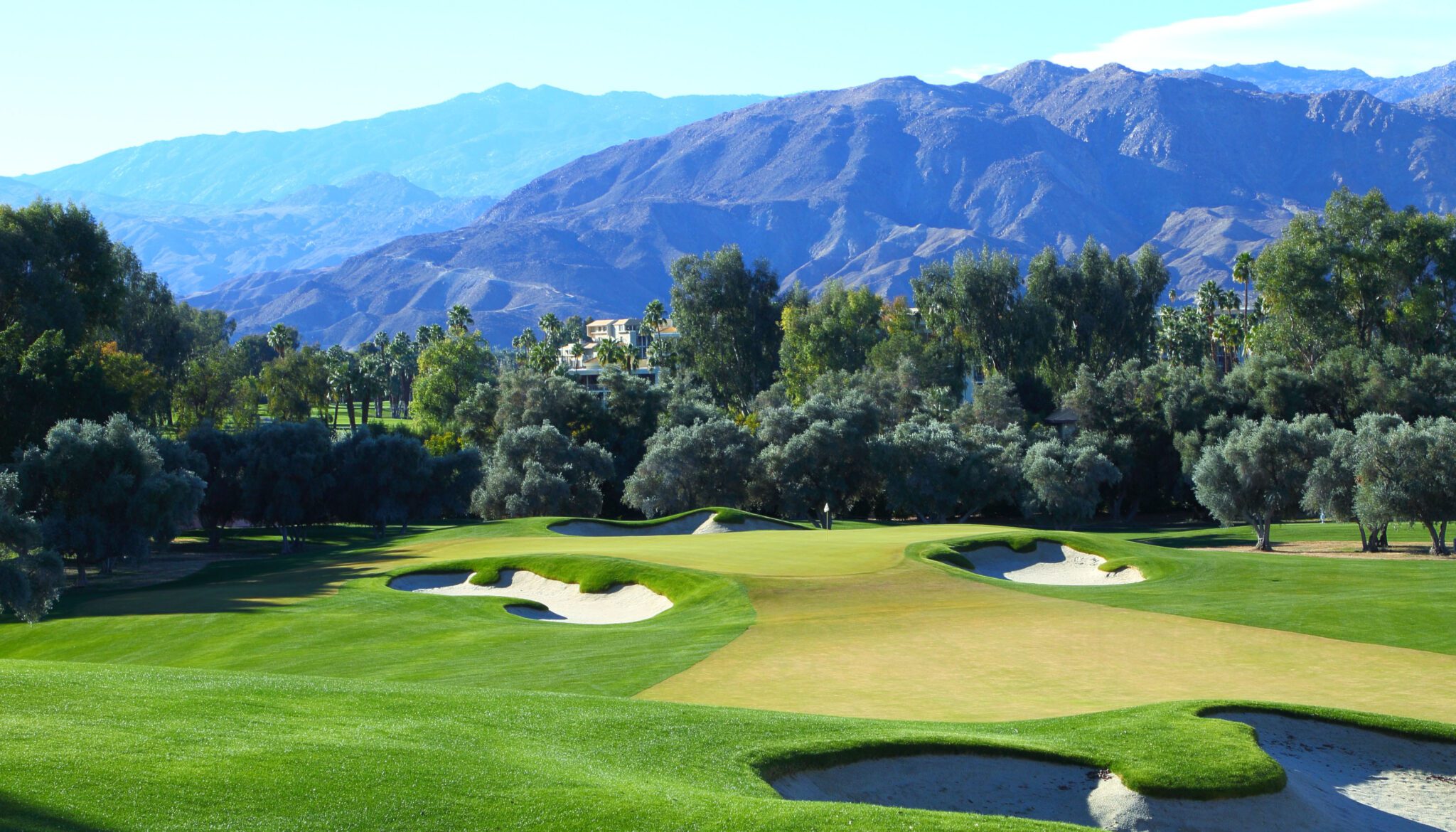 Atrium
Inside the historic house, guests are welcomed by the atrium, centered by the sculpture, "Eve," by Auguste Rodin, known as the father of modern sculpture.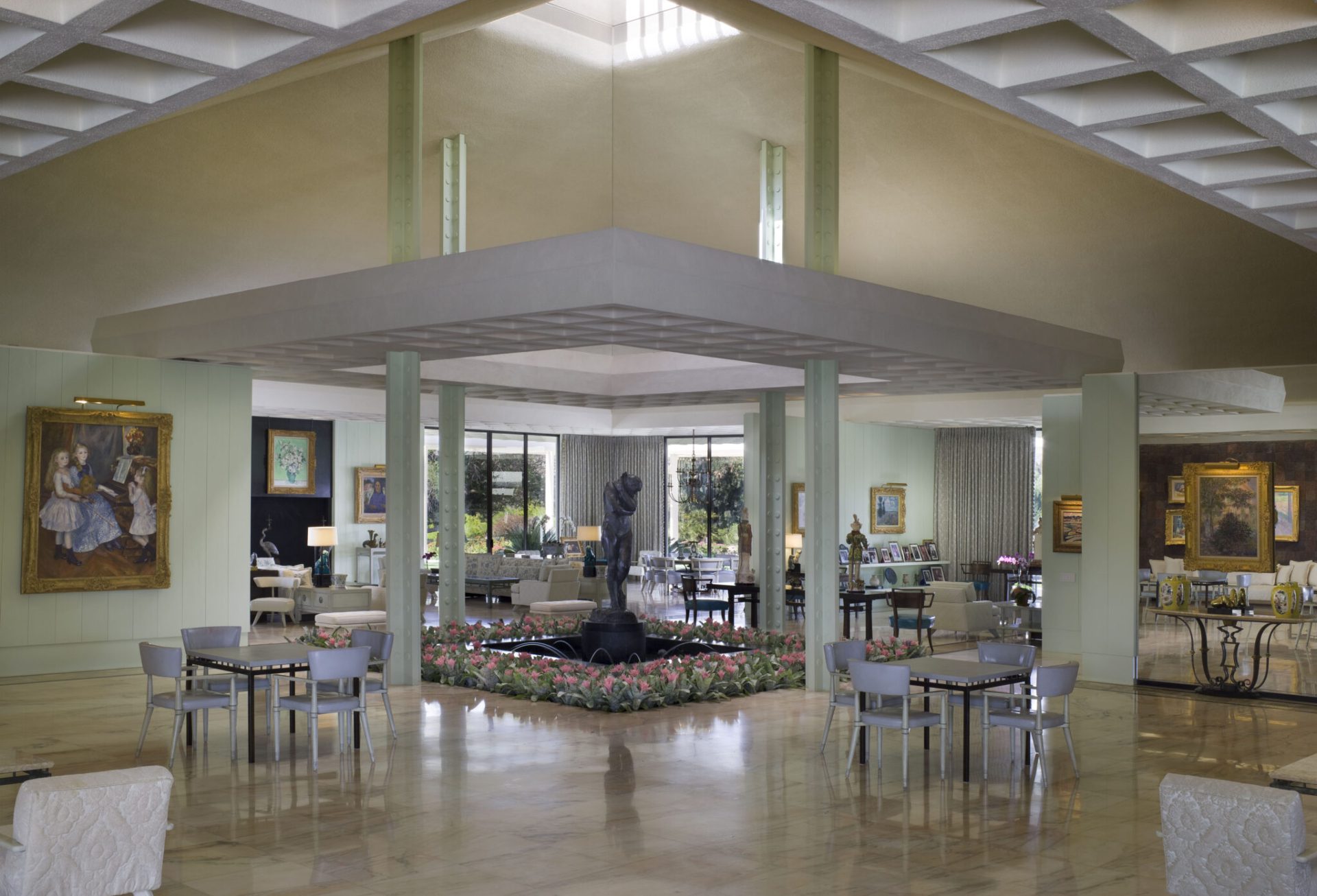 Room of Memories
The Annenbergs displayed photographs, autographed books, and other memorabilia acquired during their lifetimes in the Room of Memories. For a better look, see the 3-D tour of this room on our website.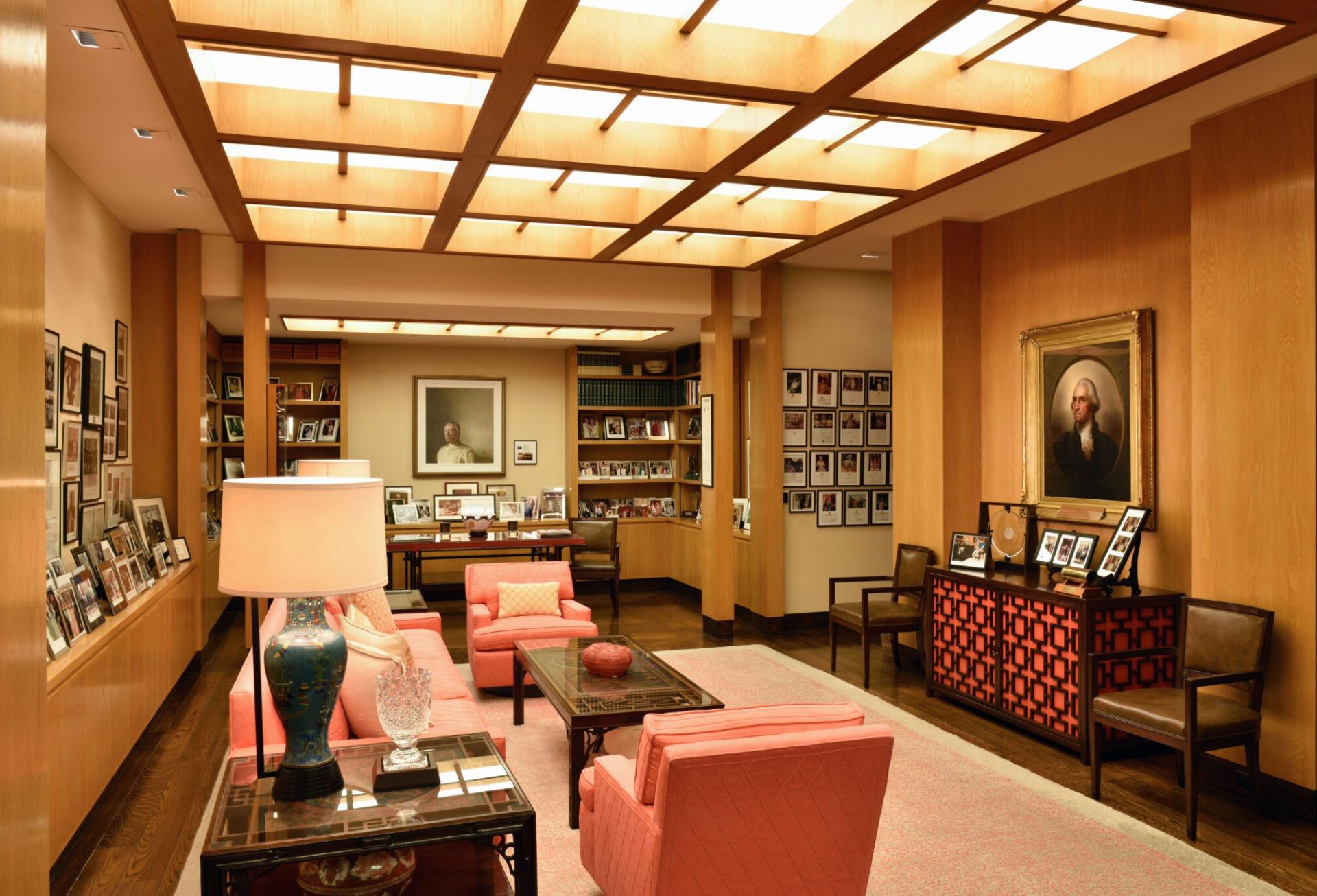 Annenberg Bedroom
The Annenberg bedroom is adorned with yellow furnishings, one of Leonore Annenberg's favorite colors.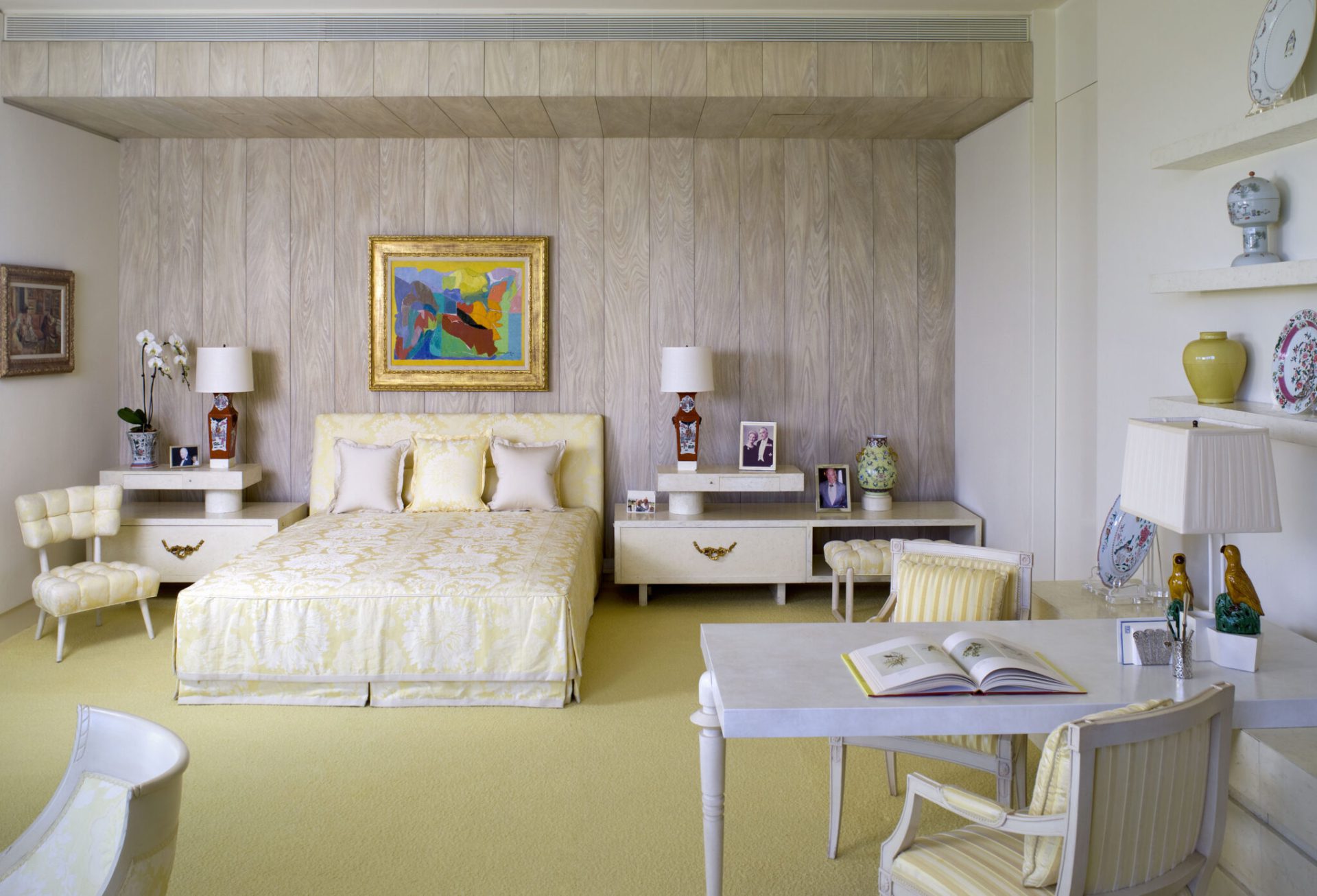 Formal Dining Room
The Formal Dining Room has hosted many notable gatherings, including President George H.W. Bush and Prime Minister Toshiki Kaifu of Japan for an official State Dinner in 1991.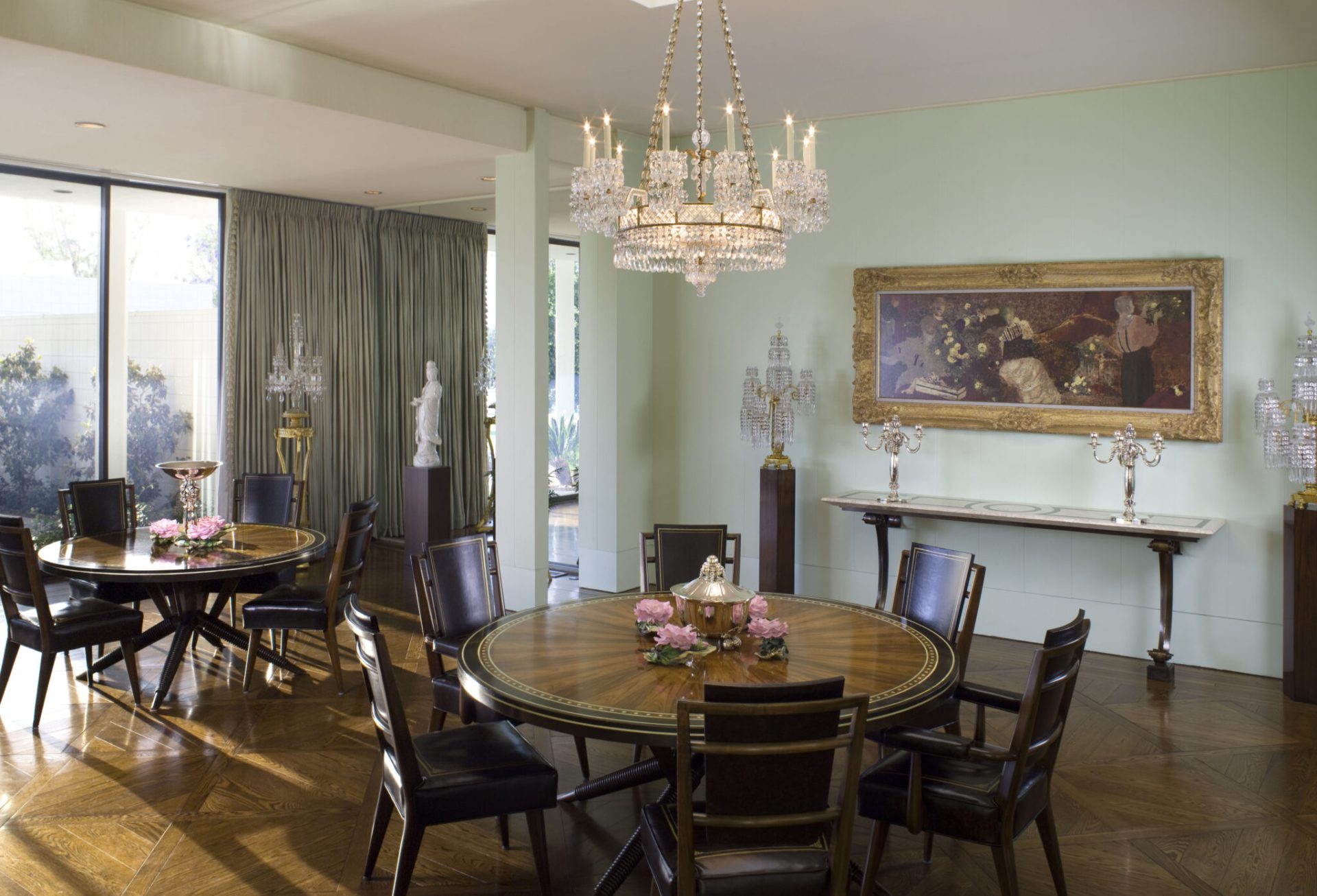 Game Room
The Game Room is where the Annenbergs gathered with family and friends to have lunch and play games. A built-in home entertainment system also created a perfect place to enjoy first-run films.