Zesty Lemon Squares
Monday, November 24, 2014
EASY, ELEGANT, AND YELLOW—ZESTY LEMON SQUARES WILL BECOME A FAMILY FAVORITE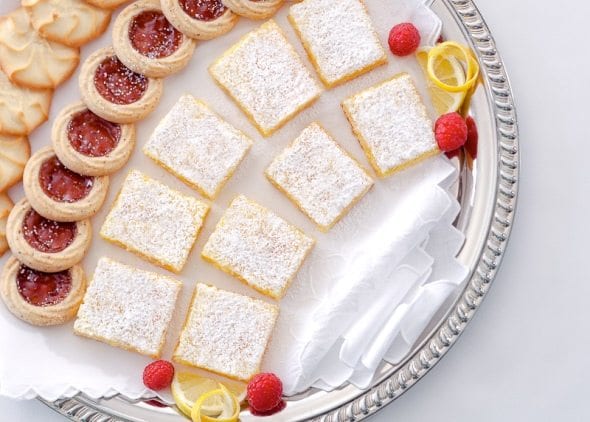 Served with ice cream or fruit, these lemon squares are perfect for holiday lunches and dinners. They were a favorite at the Annenberg table and were always cut to be bite size.
This is just one of fifteen recipes taken from the Annenberg family cookbook. For others, see A Taste of Sunnylands: Fifteen Recipes from the Annenberg Family Cookbook in the Sunnylands Gift Shop.
Ingredients
2 cups all-purpose flour plus 6 tablespoons (divided)
1/2 cup confectioners' sugar plus additional for sifting over tops of the baked squares
1 cup unsalted butter, softened
2 cups granulated sugar
4 large eggs
6 tablespoons lemon juice
1 1/2 tablespoons grated lemon peel, loosely packed
Preparation
Sift together 2 cups flour and 1/2 cup confectioners' sugar. Add to softened butter in large bowl, beating well. Press mixture into bottom of 13″ x 9″ baking pan lined with non-stick aluminum foil. Bake at 350 for 20 minutes.
Meanwhile, stir together granulated sugar and remaining 6 tablespoons flour. Beat eggs well in large bowl. Gradually whisk in sugar-flour mixture, blending well. Whisk in lemon juice and peel. Pour mixture over baked crust. Return to oven and bake 25 minutes longer or until lightly browned. Cool completely.
Remove from pan by holding the sides of the aluminum foil. Cut into 1 1/2- to 2-inch squares. Sift additional confectioners' sugar over tops of lemon squares.