NPR focuses attention on retreat topic: Ensuring the integrity of science
Wednesday, March 11, 2015
How the scientific community can safeguard its high credibility when faced with challenges – such as the need for corrections or retractions, the interpretations of journalists, problems with peer review and replicating results – was the focus of a Sunnylands retreat early in 2015. Jointly convened with the National Academy of Sciences, the retreat brought together 13 leading scientists to consider ways to ensure the integrity of science.
According to NPR, "Over the last several years Americans have become increasingly skeptical of scientific findings, especially when it comes to hot button issues like climate change, vaccines and genetically modified food."
This issue was discussed at length on the March 4, 2015 segment of NPR's The Diane Rehm Show. Sunnylands Program Director Kathleen Hall Jamieson, director of the Annenberg Policy Center at the University of Pennsylvania, was a featured guest along with Joel Achenbach science reporter at The Washington Post and author of National Geographic magazine's March cover story, "The War on Science," and Dr. Marcia McNutt, editor-in-chief of the journal Science and former director of the U.S. Geologic Survey.
Answering a question from a caller, Jamieson said the "scientific process is an attempt to protect from human foibles" and the scientific community is concerned about factors that enhance mistrust. She announced a meeting of life scientists at the National Academy of Sciences on May 5 and 6 that is open to the public. That discussion is to be how to understand the constraints and how to enhance trust in science.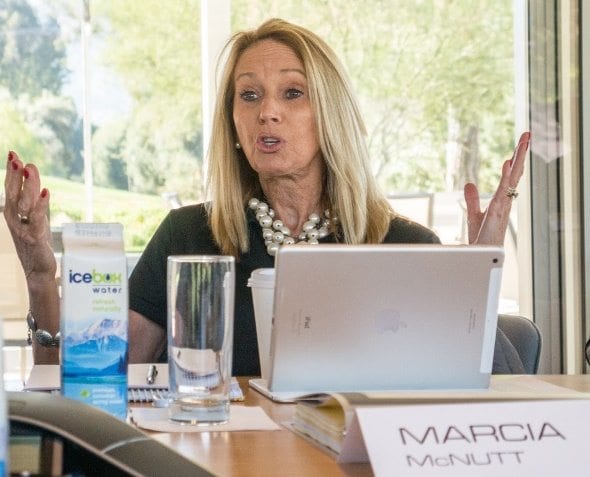 Read more about this retreat.