U.S., Chinese executives make the case for clean energy investment at Climate Leaders Summit
Wednesday, September 16, 2015
Los Angeles, CA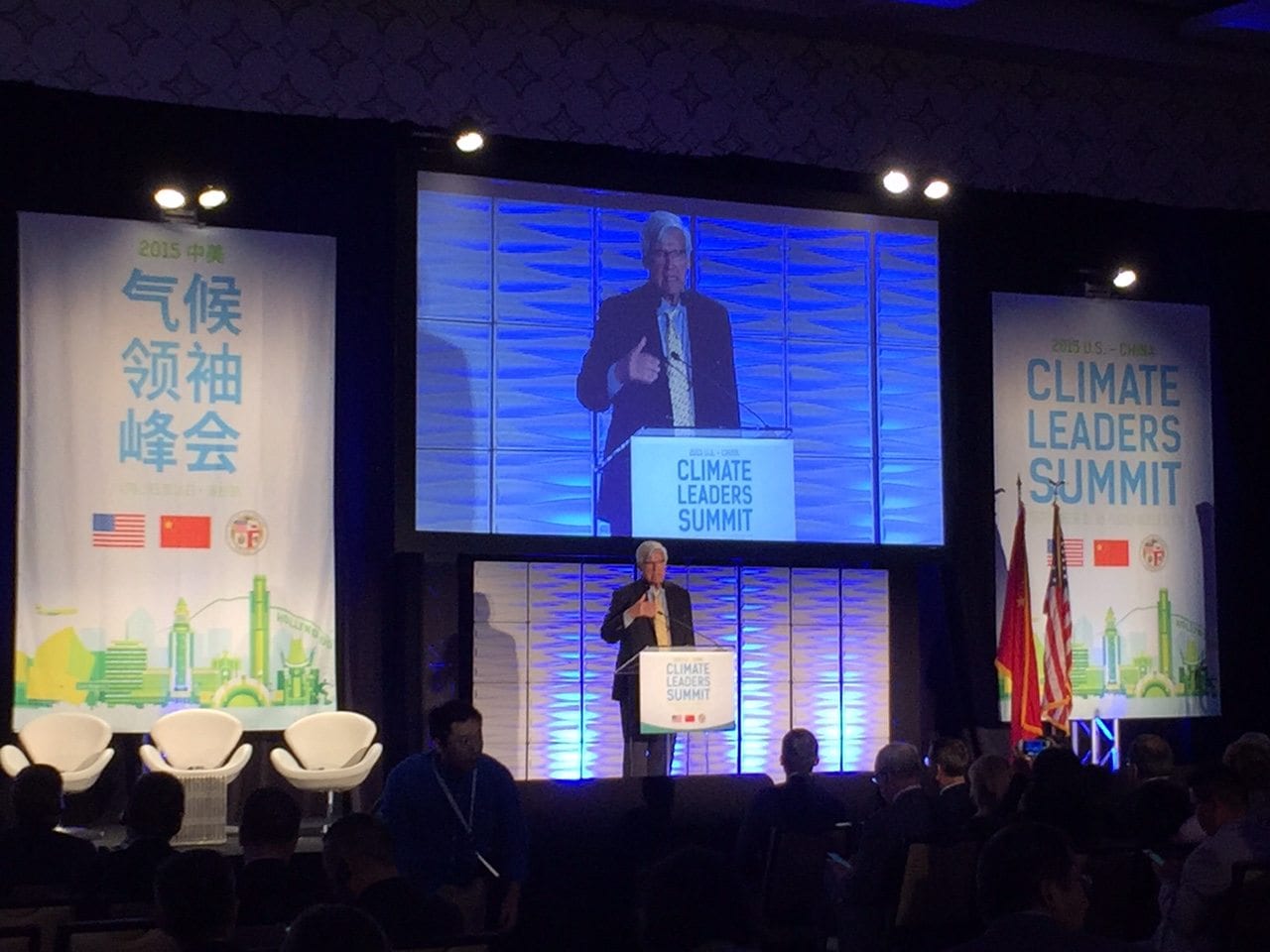 LOS ANGELES, CA, Wednesday, September 16, 2015 — A half dozen top executives in the banking, finance and energy industries in the United States and China said Wednesday their companies are heavily invested in developing ways to meet the world's growing demand for clean-energy products and resources.
"The market for clean, renewable energy … is and will be the biggest market we can invest in," said Gene Sykes, co-head of global mergers and acquisitions at Goldman Sachs.
Sykes was one of three U.S. executives and three Chinese executives to take part in the business leader roundtable at the two-day U.S.-China Climate Leaders Summit at the JW Marriott in Los Angeles, where U.S. mayors and governors joined provincial leaders from China in signing landmark agreements aimed at combatting climate change.
In opening the conference's second day, Los Angeles Mayor Eric Garcetti acknowledged that the event had its origins in the historic "shirtsleeves summit" at Sunnylands in June 2013, when U.S. President Barack Obama and Chinese President Xi Jinping first announced a joint effort to counter climate change with a collaboration on reducing hydrofluorocarbons.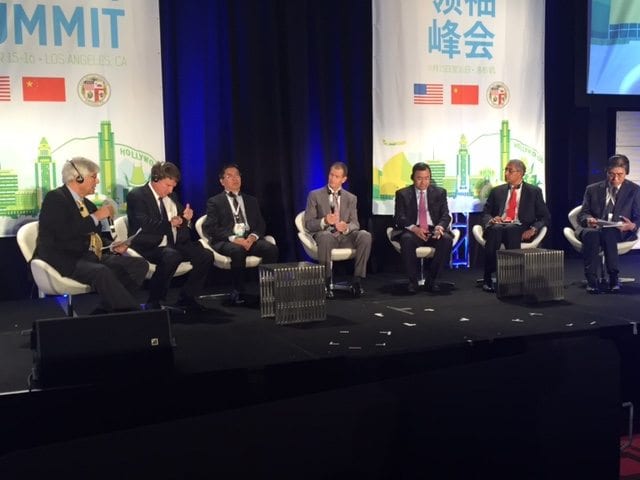 Geoffrey Cowan, president of The Annenberg Foundation Trust at Sunnylands (2010-2016), moderated the Business Leader Roundtable, which focused on the efforts industry in the two countries are making to reduce their carbon footprint and to provide cleaner fuel sources and products for consumers.
"Businesses are uniquely positioned to understand the downside risks of climate change and the upside potential that can be realized by addressing it," Cowan said in opening the panel discussion.
Guo Yong of Sichuan Energy Industry Investment Group Co. said efforts by companies in the United States and China to reduce their carbon footprints can serve as a model for other countries; while Purna Saggurti, managing director of global corporate and investment banking at Bank of America, said clients are craving investment opportunities in clean-energy products.
Other panelists included Hugh Martin, CEO of Sensity Systems, a high-tech LED lighting company; Wu Daohong of Beijing Shenwu Thermal Energy Tech Co., and Li Xiao of BOE Technology Group Co.
When asked by Cowan how government can help private industries addressing climate change, the business executives had a number of responses, including offering tax incentives and promoting international trade. Martin said the Chinese government is ahead of the curve by providing analysts who can crunch data to help find solutions to real-world problems.
Earlier in the summit, leaders of various Chinese cities and provinces, along with California Gov. Jerry Brown, Connecticut Gov. Dan Malloy, Houston Mayor Annise Parker and others, committed to historic efforts to control climate change, including:
-The formulation by some Chiniese cities of a new "Alliance of Peak Pioneer Cities." Cities and provinces in the alliance have established, for the first time, peak years for carbon dioxide emissions that are earlier than the national peak goal of 2030.
-A commitment by the state of California to reduce greenhouse emissions by 80 to 90 percent of 1990 levels by 2050 and a pledge by the city of Seattle to become carbon-neutral by 2050.
-A cooperative agreement between the cities of Shenzhen, Guangdong and Los Angeles to share best practices and lessons learned in reducing emissions, particularly in the construction of green buildings.
Brian Deese, President Obama's senior advisor on climate change, told The New York Times that actions being taken by cities, states and provinces could add momentum to achieving national goals. "This year, having made those commitments, needs to be a year of implementation as our two countries demonstrate commitment to implement those goals with concrete steps," he said.