Sunnylands Spotlight: Rodin's Eve
The Annenbergs were known for their love of art. Much of their collection—including works by French Impressionist painters such as Monet, Manet, Renoir, Cezanne, and Van Gogh; intricate English silver-gilt; and antique Chinese cloisonné—traveled with them to Sunnylands each winter from Inwood, their home in Pennsylvania. On a tour of the historic house, visitors see framed Picassos, Manets and Gaugins lining the walls—or rather, high-quality reproductions of the pieces. Following Walter Annenberg's death in 2002, the original paintings were moved one last time to the Metropolitan Museum of Art in New York City, where they remain on display today. It was Mrs. Annenberg who worked with the Met to reproduce and frame them so she might continue to enjoy them.
But much of the Annenberg's extensive art collection remains at Sunnylands, including a piece of art that's had a far stranger journey than a jaunt between Pennsylvania and California: Auguste Rodin's sculpture Eve. Today, she stands in the atrium at Sunnylands surrounded by water and bromeliads, greeting guests as they enter the front doors. But Eve's journey began in a much more unexpected place: The Gates of Hell.
Rodin's first attempt at sculpting Eve dates from 1881. She was to be part of a larger piece inspired by Dante's Inferno called The Gates of Hell. Two sculptures of Adam and Eve were meant to stand flanking the gates.
Rodin would continue perfecting The Gates of Hell for over thirty years, but liked his Eve enough to order two bronze casts made and exhibited in Paris in 1899, where they were widely admired by patrons and critics alike. The Eve that stands in the atrium at Sunnylands is the deuxième éprouve, or second casting, of the sculpture. It was originally purchased by French painter and art critic Henri Duhem. Duhem placed the statue in his garden in the north of France, a fitting place, he thought, for a woman famous for being kicked out of hers.
The sculpture remained standing in Duhem's garden until the outbreak of World War I. Unfortunately, Duhem's once-tranquil garden in Douai was located right on the edge of the infamous Western Front. Fearing the statue would be stolen, or even worse, melted down for ammunition by German invaders, Duhem buried Eve in the garden. The sculpture survived the fighting and occupation and remained untouched underground until at least 1918. A photograph of French soldiers disinterring the statue after World War I ended became a symbol of France's revival.
Now, Eve serves as symbol of hospitality and tranquility, a fitting monument to the Annenbergs wishes that Sunnylands be used as a place to facilitate world peace.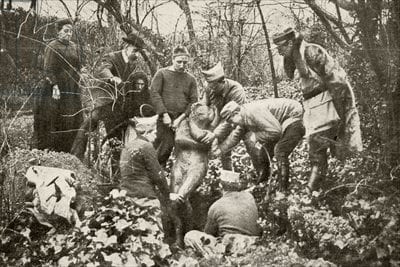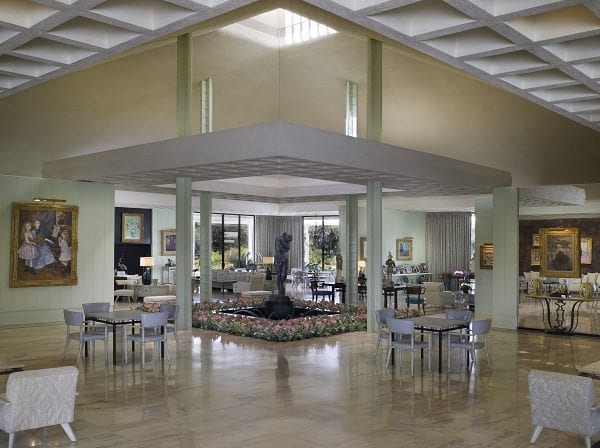 Watch: Conservation work on Rodin's Eve in the summer of 2013