Sunnylands Spotlight: Keeping the Greens Green
Keeping the golf course at Sunnylands green involves unique challenges. On one hand, the course gets far less wear and tear than commercial courses in the Coachella Valley. But retreats are sometimes held in the summer season, a time of year when the golf course's cold-weather rye grass begins to die and Bermuda grass, which can withstand higher temperatures, grows in. For a limited time, this can make a patchy surface that would neither look nor play well. With some advance planning by the grounds crew, when President Obama stepped out on the links in June, the grass was green and ready to be played. "That was a big victory for the grounds," says Sunnylands Superintendent Drew Kerr.
Another challenge faced by the Sunnylands team is making the course as environmentally friendly as possible. When the estate transitioned from a private home to a center for high level retreats, significant updates were made to make the course greener–environmentally speaking. At that time, more than one-third of the turf was replaced with mulch and drought-resistant ornamental grasses. The aging irrigation system was replaced by a new, more efficient one that uses half the amount of water and energy as the original, which was installed in the 1960s. And 'green waste' – trimmings from grass and the more than 6,000 trees on the property–is composted and used as fertilizer and weed barriers.
As visitors come to Sunnylands this year, they will no doubt take in the spectacular views without noticing specific improvements the grounds crew has been laboring on all summer. They have trimmed more than 500 trees, laid a mile-and-a-half of more efficient irrigation tubing in the Gardens, aerated the golf course, and are trying out a water-saving measure on the putting greens: planting a new grass variant called ultradwarf Bermuda that can be painted green in the winter when it's normally dormant.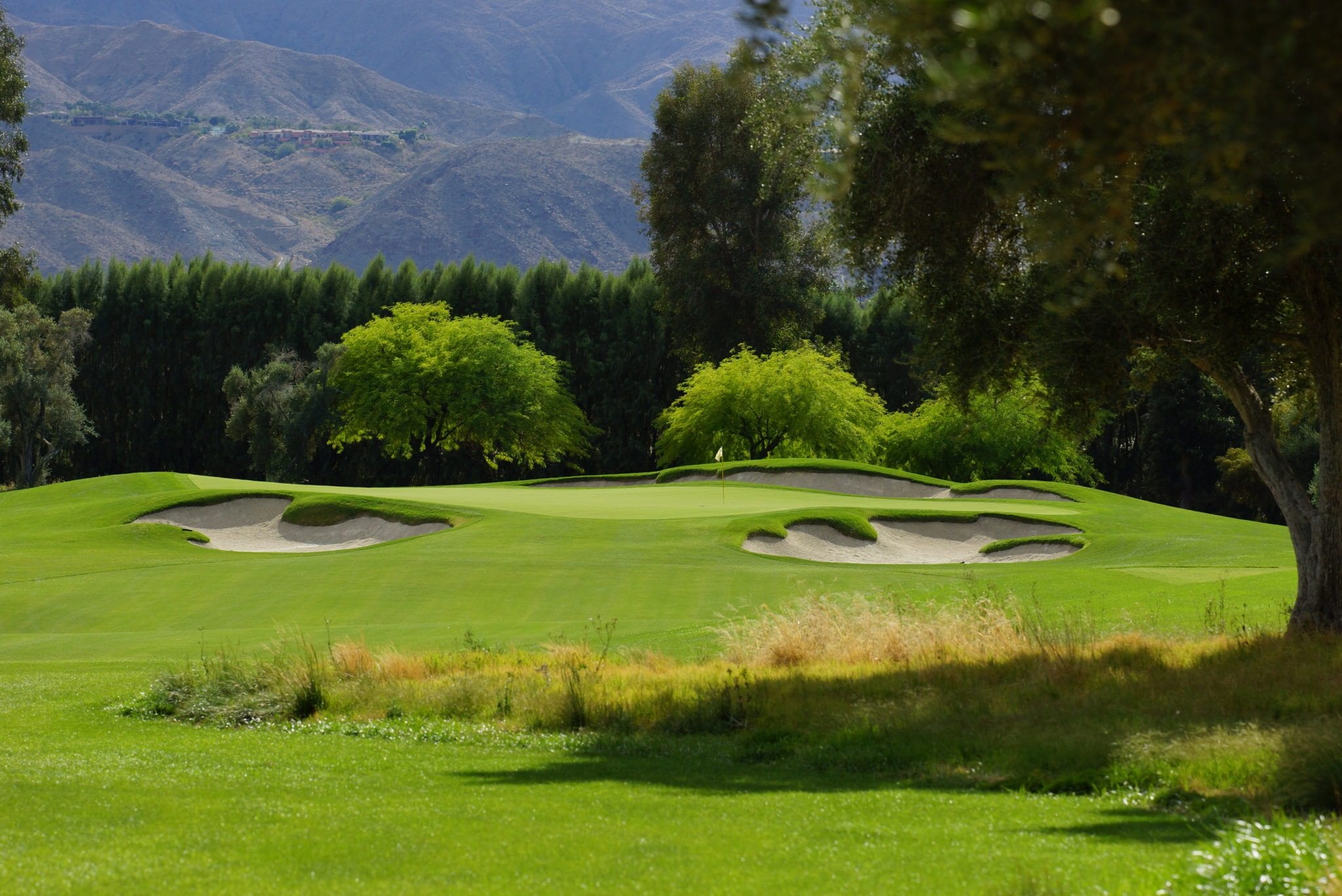 Watch: the restoration of Sunnylands's golf course.

Sunnylands Golf Course Renovation from Annenberg Retreat @ Sunnylands on Vimeo.