Sunnylands releases line-up for Music in the Gardens concert series
Friday, February 24, 2017
Rancho Mirage, California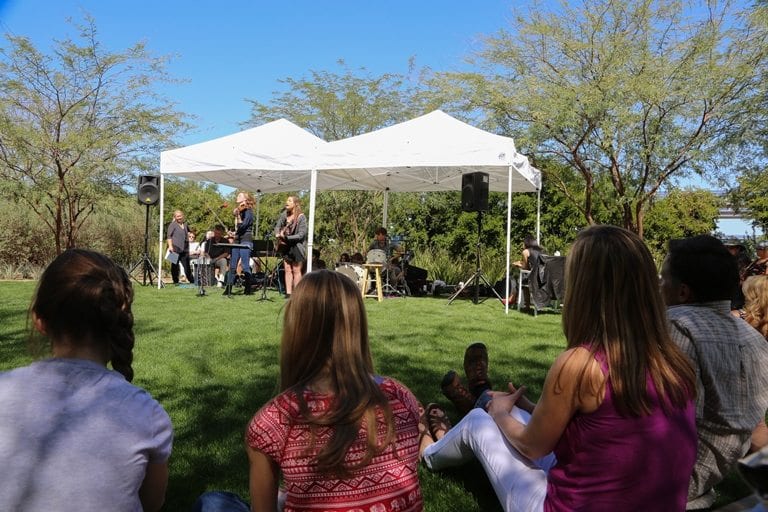 Sunnylands Center & Gardens reprises its popular Music in the Gardens concert series with a free musical act each Sunday in March from 11 a.m. to 1 p.m. The public is invited to stroll in the Gardens or bring a lawn chair and have a picnic on the Great Lawn while enjoying the performances.
The line-up this season includes:
 March 5 – Mutts of the Planet: San Diego vocalist Robin Adler and her husband, instrumentalist and music producer Dave Blackburn, have assembled a band that celebrates the music of singing legend Joni Mitchell, along with selections from the Great American Songbook, British rock, bossa nova, and their own compositions.
 March 12 – Songwriters Showcase: This mid-day concert features performers Deborah Liv Johnson, known for the eclectic nature of her songwriting and deft guitar and vocal skills; and Dennis Roger Reed, who has played as a solo artist and with bluegrass, folk, rock, and blues bands for more than two decades. Musician Don Reed will join Rogers on guitar, mandolin, lap steel and more.
 March 19 – Jazzgrass: Idyllwild resident Barnaby Finch assembled Jazzgrass in 1999 to honor the newer and more progressive side of bluegrass. Multi-instrumentalist Don Reed is a featured member of the group. Others include Sam Zorn (fiddle), Bill Saitta (bass), Jeff Olson (drums).
 March 26–Barry Baughn Blues Band: Barry Baughn and his band are well-known throughout the Southern California blues circuit and beyond. Baughn is the lead guitarist, vocalist, and sometime songwriter for the band.
Concert guests are invited to bring food and picnics, but large coolers, ice chests, grills, and alcohol are not permitted. Seating is not provided. Guests may bring their own chairs. No reservations are required.
Sunnylands Center & Gardens is located at 37977 Bob Hope Drive in Rancho Mirage.