Monarch Monitors
Wednesday, April 14, 2021
UPDATE:
As of April 2021, Monarch Butterflies may no longer be tagged, farmed, or wild captured  in California.
While Sunnylands does not farm Monarch Butterflies, we had been participating in a tagging program as part of the Southwest Monarch Study. The new protocols have ended this practice in California, due to the extreme drop in the Monarch Butterfly population in the state, from 20,000 in 2019 to 2,000 in 2020.
Our Monarch Monitor program will continue to count and document the Monarchs through egg counts, larvae/chrysalis counts, and reporting adult sightings to the Southwest Monarch Study. In addition, we continue to grow both nectaring plants species and the larval host, desert milkweed, onsite.
Please email any inquiries on programming related to the Monarch Butterfly status, habitat building, and milkweed (Asclepius spp.) propagation to education@sunnylands.org.
Monarch Program
Sunnylands Center & Gardens is participating in an on-going butterfly tagging program in partnership with the Southwest Monarch Study (SWMS), a non-profit organization in Arizona that studies the migration patterns of monarch butterflies in the Southwest region. Members of the Sunnylands team are conducting a net, tag, and release program in the Gardens. The data collected will be shared with SWMS for future research. Understanding monarch migration patterns is crucial to the understanding of this butterfly species, especially at Sunnylands where there is a large population of monarch butterflies.
The program began on August 31, 2012 when Director of Education and Environmental Programs Michaeleen Gallagher, Environmental Coordinator Kelly Reynolds, and Education Assistants Kacey Donner and Danielle Sombati spent the morning netting, tagging, and recording information on monarch butterflies found at Sunnylands Gardens. Captured butterflies are tagged with a small sticker that does not inhibit or hurt the butterfly. The effort tracks the butterfly's migration. If butterflies tagged at Sunnylands show up at other locations, SWMS will notify Sunnylands and add the findings to their current data. The goal of this program is to track the monarch's journey throughout the Southwest and determine how the butterflies interact with other migrating populations.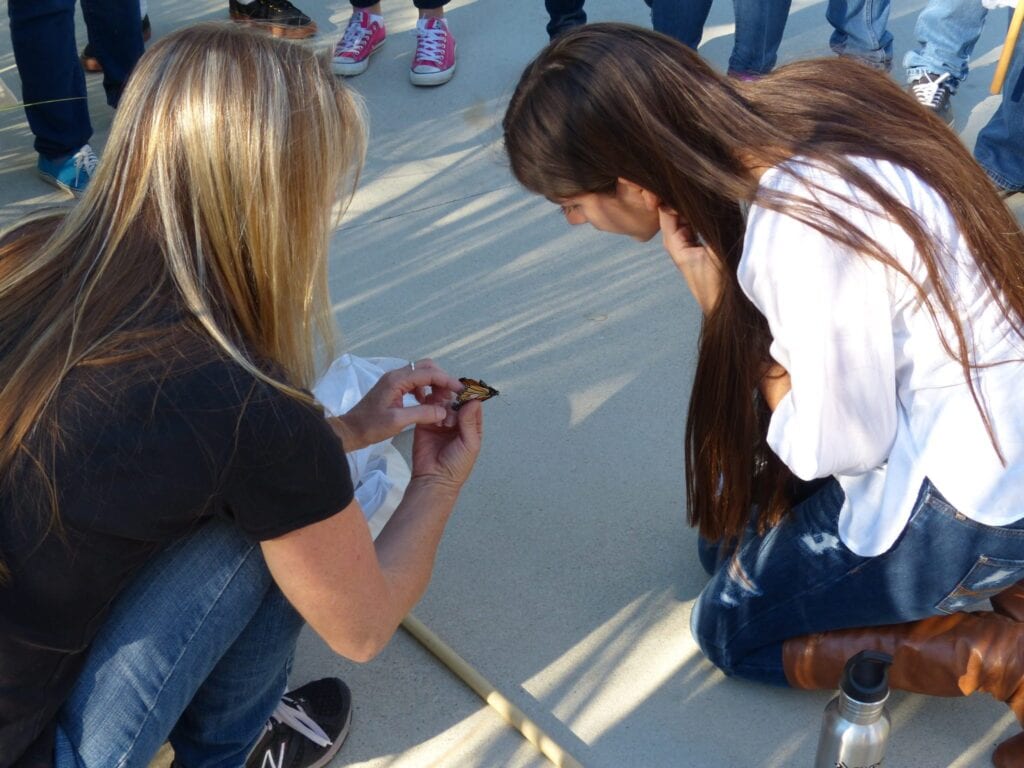 In an effort to educate the public about the conservation program, Sunnylands staff members invited girls golf teams from desert area high schools to take part in tagging butterflies when the teams visited Sunnylands on September 18, 2012. The students, who came from Cathedral City, Coachella, Indio, La Quinta, Palm Desert, Palm Springs, and Xavier Prep, were led through the Gardens capturing monarchs and learning about the importance of the butterfly tagging program.
The Sunnylands Southwest Monarch Program is just one of the new programs taking place at Sunnylands Center & Gardens.