Sunnylands Moment: Walter Annenberg Announces the $500 million Annenberg Challenge for American K-12 Public School System
Friday, December 27, 2013
As Walter Annenberg famously said, "few things are as essential as education."
In 1993, this belief led Ambassador Annenberg to announce his plans for a $500 million challenge grant, designed to support education reform in school districts throughout the U.S. President Bill Clinton hosted the ceremony at the White House and said, "This extraordinary act of generosity and civic concern is a wonderful Christmas present to America's children and a reaffirmation of the importance of the public education." He continued, "Mr. Annenberg's gift makes us stronger as a nation and, for that, we owe him a large debt of gratitude."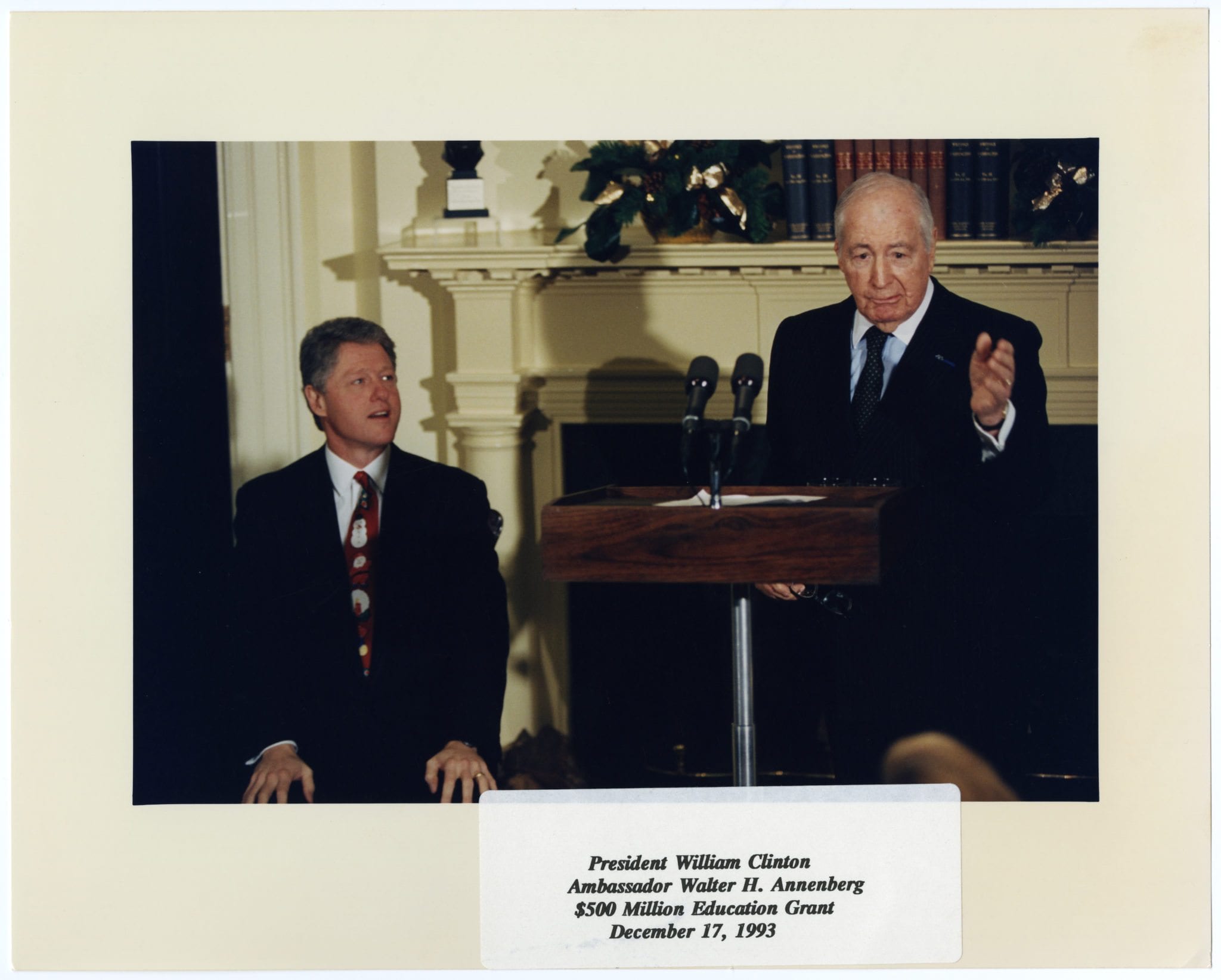 "I do not believe that [The] Annenberg Foundation's $500 million challenge grant over five years will do the whole job. This is a challenge to the nation," said Ambassador Annenberg at the ceremony. "At this point I can't see any other way to guarantee our nation's future."
The grant was designed to support education reform in school districts throughout the U.S. Ambassador Annenberg's grant was matched by donations from non-profits across the country.
In response to Ambassador Annenberg's call for the U.S. education support, more than 1,600 businesses, foundations, colleges, universities, and individuals gave $600 million — more than matching the Annenberg Foundation's challenge. Among the non-profits that rose to the Annenberg Challenge were the Urban Atlanta Coalition Compact with a $1.5 million donation, the Boston Plan for Excellence with $10 million, the Center for Arts Education in New York with $12 million, and the Bay Area School Reform Collaboration, and the New York Networks for School Reform with $25 million each.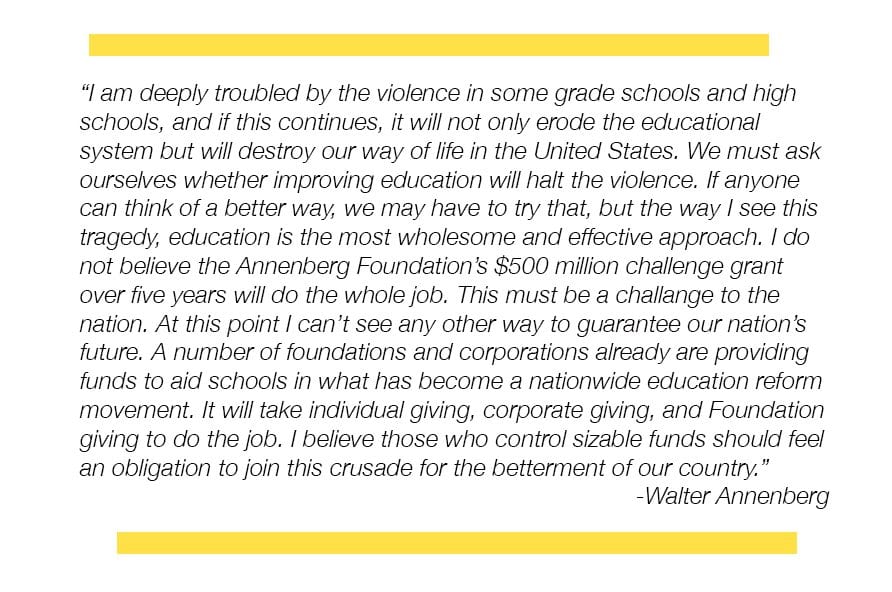 The grant was distributed across thirty-five states through eighteen locally designed challenge projects over a period of five years. Funds went to urban school districts in New York, Los Angeles, Philadelphia, Houston, Chicago, Boston, and the Bay Area, as well as rural districts in several states.
The Annenberg Challenge also funded school reform organizations including the National Institute for School Reform at Brown University (renamed the Annenberg National Institute for School Reform), the American Schools Development Corporation, and the Education Commission of the States.
Ultimately the challenge grant funds spread to 24,000 public schools, reaching more than 1.5 million students and 80,000 teachers. The gift was Ambassador Annenberg's largest single donation to education, but it certainly wasn't his only one. Among the schools and programs he and the Annenberg Foundation contributed funds to were Harvard University, United Negro College Fund, and the Peddie School, which he attended in New Jersey. He also gifted $120 million each to the University of Pennsylvania and the University of Southern California for schools of communication, both of which are named after him.