Sunnylands hosts 30th anniversary segment of KPCC's AirTalk with Larry Mantle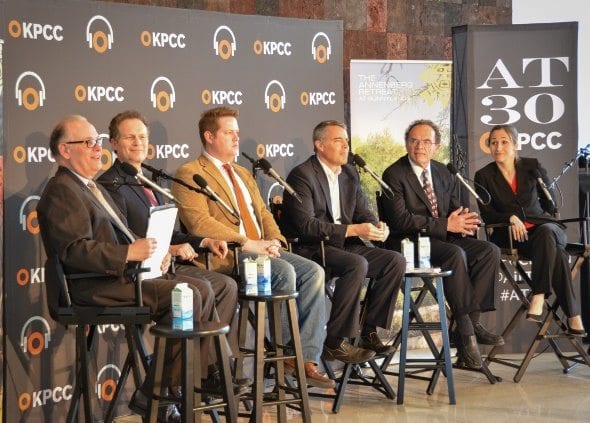 About 150 people gathered at Sunnylands Center & Gardens on March 2 for a live airing of KPCC's venerable news talk show AirTalk. The event was part of Southern California Public Radio's months-long celebration of Larry Mantle's 30 years as host.
"For how many of you is this your first visit to Sunnylands?" Mantle asked the audience. About half the audience raised their hands. "The staff here has been just a delight for our great team to deal with. Sunnylands is the 200-acre estate of TV Guide founder and philanthropist Walter Annenberg and his wife, Leonore. The Annenbergs entertained Hollywood's biggest stars, royalty, and American presidents. President Obama was just here two weeks ago.
"Though the Annenbergs are no longer living, the family converted Sunnylands into a nonprofit center for civic conversations, and that's exactly what we're using it for today. In fact, this is the first-ever live broadcast to come from Sunnylands in its history, so you're part of history, too," Mantle told the audience at the beginning of the show.
The panelists were Ruben Barrales, president and CEO of Grow Elect; Pete Peterson, director of the Davenport Institute at Pepperdine University who ran as a Republican for California Secretary of State last year; Jack Pitney, Crocker Professor of Politics at Claremont McKenna College; and Mindy Romero, director of the California Civic Engagement Project at the University of California, Davis.
Charles Moran, chairman of the California chapter of the Log Cabin Republicans, a gay and lesbian organization that was officially recognized by the California Republican Party the day before the broadcast, was a surprise panelist.
"As a Republican and somebody who works within the party structure, the party would not be where it is today … if we did not have Walter and Leonore Annenberg as part of this," said Moran. "You don't know where you're going unless you know where you came from, and the impact that the Annenbergs had and continue to have on the Republican Party is remarkable and a lot of what happened occurred here at Sunnylands."
Several local elected officials were in attendance, including Dana Hobart, mayor pro tem of the city of Rancho Mirage; Doug Hansen, Indian Wells city councilman; and Lupe Ramos Watson, mayor of Indio. Leonore Annenberg's daughter, Sunnylands trustee Diane Deshong, also was in attendance.
One member of the audience, Nick Klinger of Palm Springs, said the event was insightful. This was his first visit to Sunnylands. "It's a great venue," said Klinger. "I'm so glad I got a chance to come here and just experience all of the contributions to the Coachella Valley, and it's good to see everything in an event setting. I'll definitely be back."
Mantle said he couldn't have been happier with the event.
"I thought the panel that our producers put together were just terrific and really gave a sense of the California Republican Party," he said. "When my staff said, 'We're looking at collaborating with Sunnylands on an event,' I said, 'Sounds great.' This is my first visit. Loved it. Beautiful place."
The next event celebrating the 30th anniversary of AirTalk will be held Wednesday, April 1, at the Crawford Family Forum in Pasadena. Southern California Public Radio (SCPR) operates 89.3 KPCC-FM in Los Angeles and Orange County, 89.1 KUOR-FM in the Inland Empire and 90.3 KVLA in the Coachella Valley.
With Mantle moderating, an expert panel discussed the topic, "The future of the California Republican Party." Hear the KPCC broadcast on the station's website. Desert Sun reporter Jesse Marx covered the event.