Sunnylands extends its condolences to the royal family on the death of Prince Philip
The trustees, president, and staff of The Annenberg Foundation Trust at Sunnylands extend their deepest condolences to the royal family and the citizens of the United Kingdom on the death of Prince Philip.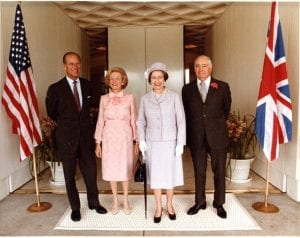 Ambassador and Mrs. Annenberg created a lasting friendship with Prince Philip and the British royal family over the course of a lifetime. Their first meeting was in London, when Walter Annenberg was appointed the U.S. Ambassador to the Court of St. James's under President Nixon.
The arrangement proved to be a success in political and personal relations. In 1983, the Annenbergs invited Her Majesty, Queen Elizabeth II, and Prince Philip to visit Sunnylands while the royal couple was on their 10-day tour of California.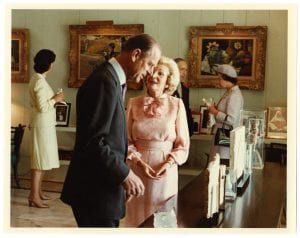 It was one of the rare occasions that the royal couple visited a private home. The event displayed the strong friendship between the two couples.
During the visit to Sunnylands, Queen Elizabeth II and Prince Philip attended a luncheon held in their honor. They were greeted by Ambassador and Mrs. Annenberg with a guest list that included former President Gerald Ford and top-level diplomats. They gathered in the Room of Memories surrounded by the legacy of the Annenbergs, including many of the photos and memorabilia from London.
Prince Philip signed the guest book simply, "Philip," showcasing a casual side of the Duke of Edinburgh and a personal friendship with the Annenbergs.
Sunnylands is proud to have Prince Philip as part of its legacy of friendship with the royal family.