Six Designers Reimagine Fashions Worn by Walter & Lee Annenberg
Wednesday, March 13, 2013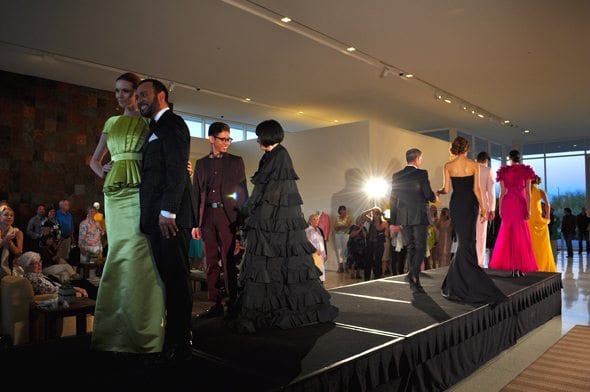 Six fashion designers showed their latest designs as inspired by clothes worn decades ago by Walter and Lee Annenberg. The fashion show, cosponsored with Palm Springs Life, at Sunnylands Center & Gardens was attended by more than 300 people. It was a preview of a May 19 free event scheduled to take place during Fashion Week at the tent on El Paseo.
Choosing gowns by Oscar de la Renta and Pierre Balmain and suits worn by Walter Annenberg, the designers, who included two Project Runway contestants, showed gowns, capes, suits, and dresses that reflected the color, style, and elegance seen in the fashions culled from the Sunnylands collection.
Michael Costello, of Project Runway fame, chose a bright yellow gown designed by Balmain that Lee Annenberg wore as inspiration. His new creation is a skin-baring, body hugging, silk gown accented with a gold belt at the waist.
Walter Annenberg's custom-made pink silk suit from Wanamaker's in Philadelphia was interpreted by Anthony Franco, who is known for a made-to-measure menswear line, that he started in 2007, after spending four years styling and designing for Outkast.
Paul Hernandez, a debut graduate of FIDM in Los Angeles, was the youngest designer participating in the event. His two-piece evening ensemble — dress and cape — echoed Mrs. Annenberg's black velvet Balmain dress she wore in the 1970s for a portrait session with photographer Cecil Beaton.
Llyod Klein, a Parisian couturier, reimagined the morning suit that Ambassador Annenberg wore for his inauguration as the Ambassador to the Court of St. James's in 1969 into a magnificent strapless gown.
Another Project Runway star, Nick Verreos, used Mrs. Annenberg's green silk Oscar de la Renta gown that she wore in 2004. He used the same apple green for a gown with cap sleeves and peplum waist.
Fe Zandi, whose store on El Paseo in Palm Desert is a favorite of women throughout the Coachella Valley, used a red and white dress that had layered sleeves for her inspiration.