President Nixon Retreats to Sunnylands on Day of Pardon by President Ford, September 1974
Monday, September 8, 2014
President Richard Nixon resigned from his presidency on August 9, 1974 under the pressures of the Watergate scandal. The former President and his wife, Patricia, left the White House to seclude themselves in their San Clemente home in California for time away and reflection.
"The way I tried to deal with Watergate was the wrong way," Mr. Nixon was quoted as saying in a New York Times report. "I regret the pain and anguish my mistakes over Watergate have caused the nation and Presidency."
The Nixons stayed in San Clemente until September 8 when President Gerald Ford granted Nixon a "free, full, and absolute pardon." The Nixons, his Secret Service detail and his military aide Lieutenant Colonel Jack Brennan traveled to Sunnylands where they stayed for five days.
"When you're down you find out who your real friends are," President Nixon wrote to Ambassador and Mrs. Annenberg in the Sunnylands guestbook. "We shall always be grateful for your kindness and your loyal friendship."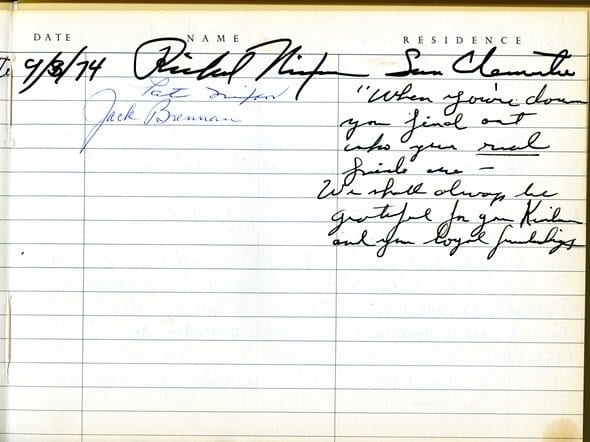 During his time at Sunnylands in September 1974, President Nixon sought emergency medical assistance for a potentially life threatening condition. The episode is recounted in the memoir, Healing Richard Nixon: A Doctor's Memoir by Dr. John C. Lungren. A few weeks later, he was hospitalized to treat chronic phlebitis, a condition which developed during one of his last international trips as President.
Walter Annenberg met Richard Nixon when he was Vice President at a dinner party hosted by Walter's mother, Sadie. Mr. Annenberg and then-Vice President Nixon began a decades-long friendship that included frequent visits to Sunnylands.
As President-elect, Mr. Nixon visited the Annenbergs at Sunnylands in 1968 and returned to attend luncheons, formal events and dinners, and birthday parties. President Nixon also announced Walter Annenberg's appointment as the U.S. Ambassador to the Court of St. James's in 1969 at Sunnylands.
Over the course of the years, Ambassador and Mrs. Annenberg often offered their home to friends as a private sanctuary. For President Nixon, Sunnylands provided an ideal place to rest and regroup after his resignation from the White House.