Muralist describes her passion for telling stories 'on the walls' in Dia de los Muertos talk at Sunnylands
Saturday, October 31, 2015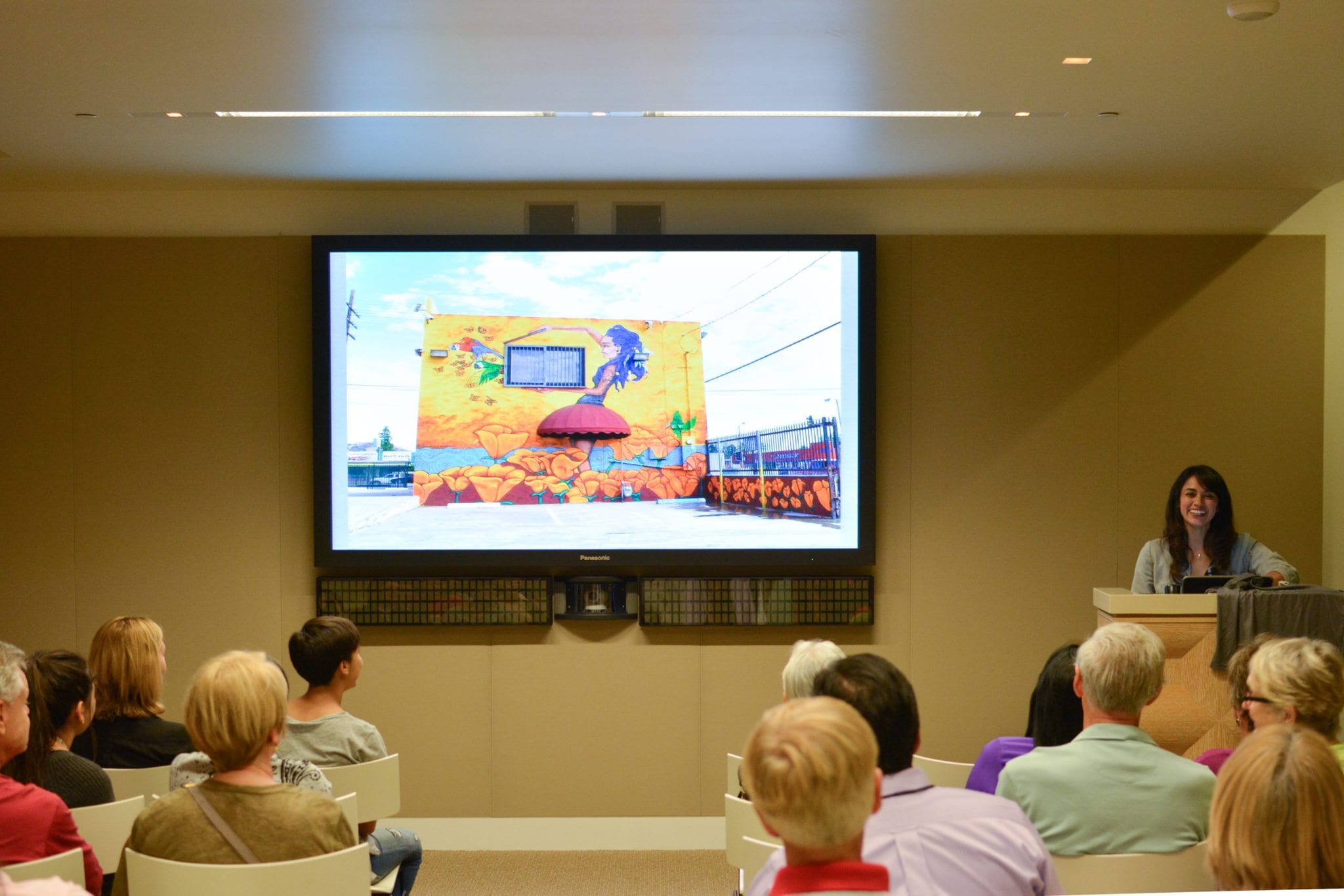 October 31, 2015 — She is from Pacoima, a small city in the San Fernando Valley that even she described as bland, but the murals that Kristy Sandoval has created there (and elsewhere) are big and bold.
Sandoval started designing and painting murals in her hometown to engage the youngsters of her community, to turn "graffiti art into mural art," and "to get the voice of the youth heard," she told an audience of roughly 35 people at Sunnylands Center & Gardens. The artist spoke at Sunnylands on Oct. 29 as part of CV Days of Los Muertos, a string of events staged throughout the Coachella Valley in observation of Dia de los Muertos, the artistic Mexican holiday honoring the dead. Sandoval designed the t-shirt and poster for Run con Los Muertos, a festive 5k run that took place Oct. 30 in Coachella.
The power of mural art, Sandoval said in her presentation at Sunnylands, is to "tell the story on the walls." In her case, the story that emerges is one of the daughter of Mexican immigrants who at times uses art to comment on the multicultural aspects of her life. Her mural, "Decolonized," is a case in point. Painted on a 25-foot-tall building in Pacoima, the artwork shows a young Latina standing in a field of California poppies releasing parrots from a cage. Sandoval has transformed an awning above a door of the building into the woman's skirt. A barred window serves as the cage from which the birds are freed.
The birds represent the freedom to migrate, without the need for passports, Sandoval said. "We should be free to migrate. It's a human right."
Sandoval has painted murals in other locals – even as far away at Turkey – but the public can readily see her work as part of Pacoima's Mural Mile.