Michael Feinstein delivers gifts of music, history at Sunnylands events
During 50th anniversary appearances, American Songbook ambassador imparts lessons to teens and adults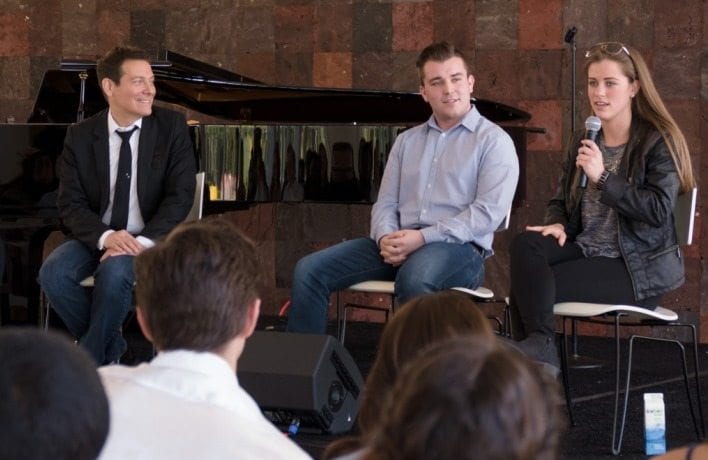 Michael Feinstein is known as the Ambassador of the Great American Songbook. His renditions of 20th century classics – songs by George Gershwin, Irving Berlin, Cole Porter and others – have drawn legions of fans and international acclaim.
What is less well known is that Feinstein passes his love of American standards to a new generation each year through his Songbook Academy. At this intensive, weeklong boot camp in Indiana, teenage singers work with music industry professionals to improve their skills through performances of Broadway, jazz and popular songs.
Both aspects of the Emmy-nominated performer and teacher were clearly on display during a pair of activities March 14 to mark the 50th anniversary of Sunnylands. On more than one occasion, Feinstein, a piano player and singer, had been hired to entertain guests following the legendary New Year's Eve celebrations that the late Walter and Leonore Annenberg hosted at their Midcentury Modern estate in Rancho Mirage, Calif. The home was completed in March 1966.
Anniversary celebrations during the 2015-16 season concentrated on several aspects of the Annenbergs' legacy. The opening of a new exhibition, Asian Artists in Crystal: Steuben Glass at Sunnylands, highlighted the Annenbergs' lives as diplomats. A reception honoring Eisenhower Medical Center's 45 years of service to the Coachella Valley spotlighted the Annenbergs' philanthropic works.
But Feinstein's appearances at Sunnylands Center & Gardens and the Rancho Mirage Public Library celebrated the Annenbergs' connection to music and show business. The guest lists for their parties were often a who's who of singers, actors and comedians, from Jimmy Stewart and Gregory Peck, to Dinah Shore and Bob Hope.
At Sunnylands Center, Feinstein conducted a morning master class for singers from Rancho Mirage and Shadow Hills high schools. He was then the star attraction of the Sunnylands Speaker Series at the Rancho Mirage Public Library. Geoffrey Cowan, then-president of The Annenberg Foundation Trust at Sunnylands, introduced Feinstein. "I always knew Michael was a great artist and a great performer, but to see him this morning in the role of teacher was an inspiration," Cowan told an overflow audience of more than 400 people at the library.
Feinstein delighted the crowd with stories about the rise of Frank Sinatra – the Annenberg neighbor and larger-than-life singer who was one of Feinstein's musical inspirations.
As popular music progressed in the 1930s and early 1940s, Sinatra's swinging style displaced the mellow, low-key approach of Bing Crosby. Feinstein told the library audience that Crosby once remarked jokingly, "a singer like Frank Sinatra comes along once in a lifetime. Why did he have to come along in mine?"
Feinstein's master class for Coachella Valley high school students was equally entertaining for the 50 or more teen singers who came to Sunnylands for a coaching session with the five-time Grammy nominee. In all, eight students sang, accompanied by a pianist in the Great Room, and then stood for critiques from Julia Goodwin and Lucas DeBard, two recent winners of Feinstein's Great American Songbook Youth Ambassador Award, and from Feinstein himself.
The pay-off was almost immediate. William Webster's interpretation of the Sinatra hit "Come Fly With Me" was transformed after Feinstein advised the Rancho Mirage High School student to move to the beat of music – a toe tap or a finger snap – to adopt some Sinatra swagger into his performance.
When Webster's classmate, Sunny Rolfs, sang Cole Porter's "I Get a Kick Out of You," Feinstein advised her to picture that certain someone in her mind as she sang the song. On a second attempt, Rolfs' entire facial expressions changed. The audience appeared to have more belief in her performance as her interpretation of the lyrics were more heartfelt.
At times, with Feinstein's deep knowledge of popular music, the master class became a history lesson. Feinstein advised one student that the song "Anything Goes" debuted in 1934, not 1962 – that was the year of the off-Broadway revival of the musical by the same name. Another was told that the title of her song from the musical South Pacific was "A Wonderful Guy," not the full lyric, "I'm in love with a wonderful guy," as the student had found it listed on the Internet.
Michaeleen Gallagher, director of education and environmental programs at Sunnylands, said one of the goals of programming at Sunnylands is to carry on the educational mission of the Annenbergs by bringing unique educational opportunities to local students. "The Michael Feinstein master class is one of the many collaborations we work on with area high schools that include education in art, environment, history and health," she said. "It is quite an experience to see these students suddenly aware of additional opportunities that they may not have realized were available to them."
Kaylon McGee, choral director at Indio's Shadow Hills High School, said the master class underscored lessons her students had heard before, but this time they were coming from an artist renowned in the music industry. "From that perspective, it was a really good event for them to hear from others in the business," she said.
Andrew Eisenmann, the vocal instructor at the Helene Galen Performing Arts Center at Rancho Mirage High School, said his students never had the opportunity to take a master class in which they were asked to perform, let alone get pointers from the likes of Michael Feinstein.
"He is the world's authority on the American song," Eisenmann said. "There is no one better in the world than him."
A day after the class, Eisenmann said one of his students told him Feinstein had encouraged him to apply to the Songbook Academy. "By this boy's life being changed, it will flow to all of his circle, which is the choir kids," the teacher said. "His excitement goes from kid to kid like wildfire. It's now all the talk."