Knighthood Conferred on Dreier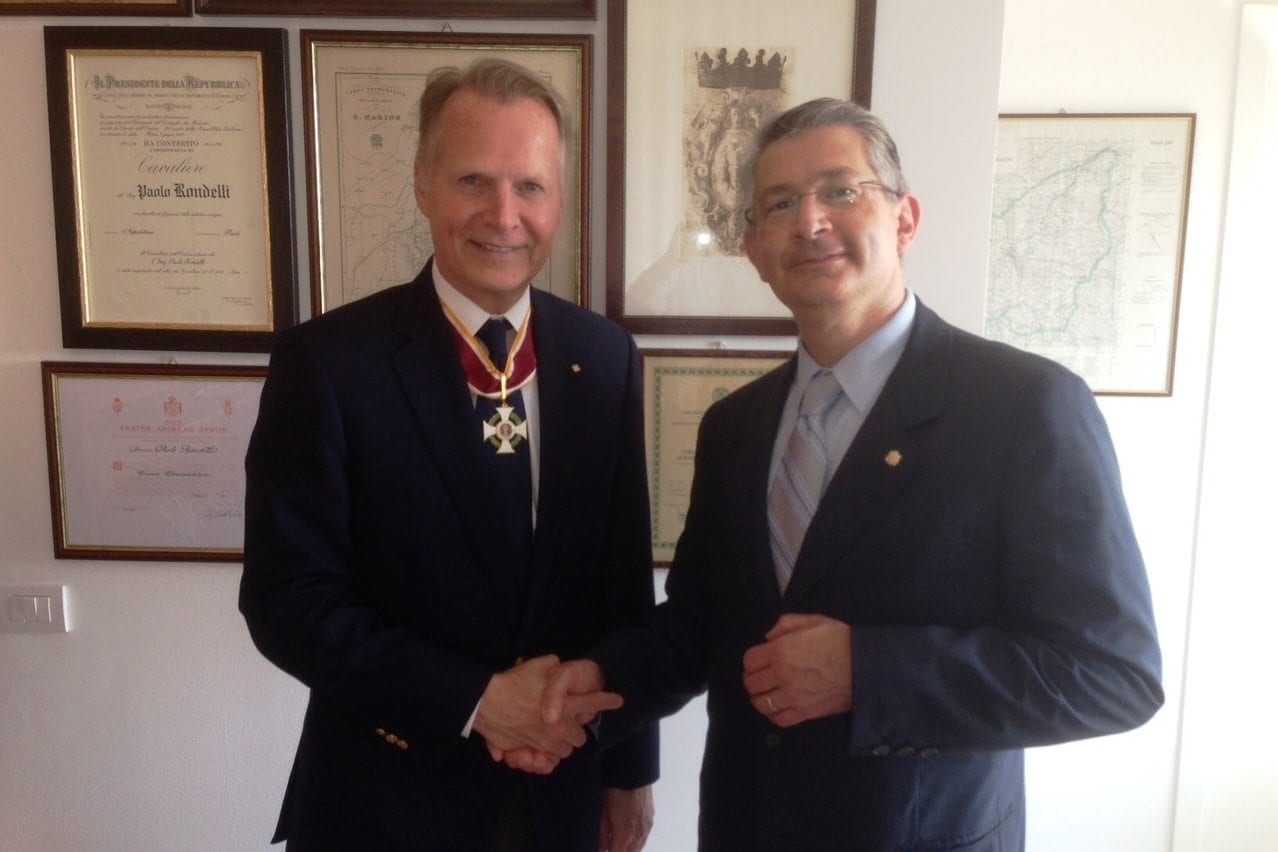 On June 27, in a televised ceremony in Palazzo Begni in the Republic of San Marino, Secretary of State for Foreign Affairs Pasquale Valentini conferred on David Dreier the Order of Saint Agatha, in the grade of Knight Commander. Dreier joins Sophia Loren and UN Secretary General Ban Ki-Moon as the most recent recipients of San Marino's highest honor. The Secretary of State noted Dreier's ongoing commitment, as Chairman of the Annenberg-Dreier Commission at Sunnylands, to promoting free exchanges between nations.
In remarks to the Captains Regent, San Marino's co-heads of state, Dreier praised the values of freedom and self-governance San Marino represents. The country, which dates its independence from 301 AD, is the oldest republic in the world. Dreier recognized San Marino's close cooperation with the United States in such key areas as financial transparency and the struggle against extremist violence.
Later in the day the Director of San Marino's State Archives showed Dreier a letter sent by Abraham Lincoln in May 1861 to San Marino's Captains Regent, accepting San Marino's offer of honorary citizenship. In the letter, Lincoln wrote: "Although your dominion is small, your State is nevertheless one of the most honored, in all history. It has by its experience demonstrated the truth, so full of encouragement to the friends of Humanity that Government founded on Republican principles is capable of being so administered as to be secure and enduring."
Lincoln went on to comment on the civil war America had just entered: "You have kindly adverted to the trial through which this Republic is now passing. It is one of deep import. It involves the question whether a Representative republic, extended and aggrandized so much as to be safe against foreign enemies can save itself from the dangers of domestic faction. I have faith in a good result."