Janice Lyle shares magic of Sunnylands with design and history buffs in Washington, DC
Thursday, March 9, 2017
Washington, D.C.
Sunnylands was featured in the Great Homes and Gardens series at the Hillwood Estate, Museum & Gardens in Washington, D.C. in February.
Janice Lyle, director of Sunnylands Center & Gardens, brought a little California sunshine into a brisk winter evening with a lecture and presentation that included photographs from the new book, Sunnylands: America's Midcentury Masterpiece. Before a sold-out audience, she shared stories about the history and renovation of Sunnylands, as well as the practices now used to preserve the fragile fabrics, interior furnishings, art collection, and cultural landscape of the estate.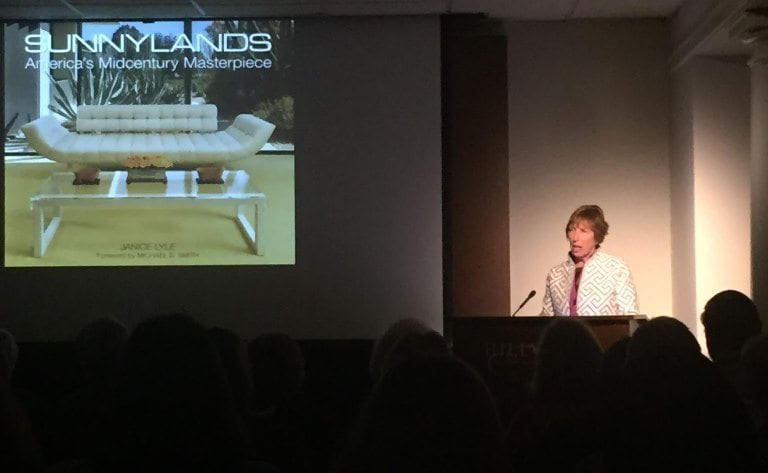 Sunnylands is a historic site that was the winter home of Ambassadors Walter and Leonore Annenberg from 1966 until 2009. The estate reflects the vision of its owners and design team—architect A. Quincy Jones, interior designer William Haines, and golf course designer Dick Wilson. The midcentury modern estate has been transformed into a high-level retreat and an historic site open for public tours.
Lyle discussed the dual (and at times dueling) missions of The Annenberg Foundation Trust at Sunnylands to both preserve the historical and physical integrity of the estate, while also actively putting it to use as a convening place for retreats and presidential summits and as an educational site for public tours.
The lecture was followed by a book signing.