Indo-Pacific Security Dialogue
What happens in the Indo-Pacific affects the world. Two-thirds of the global economy flows through the region. National interests shape global diplomatic narratives. And new domains for regional competition or potential conflict, such as cyber and space, play out within the global commons. Sustaining the Indo-Pacific's stability and prosperity will animate international geopolitics for decades.  
On May 15-17, 2023, The Annenberg Foundation Trust at Sunnylands and the Hoover Institution at Stanford University partnered to convene their second Indo-Pacific Security Dialogue. Building on prior discussions in December 2021, the dialogue seeks to help operationalize what the Biden administration's October 2022 National Security Strategy characterizes as "a consequential new period of American foreign policy that will demand more of the United States in the Indo-Pacific than has been asked of us since the Second World War."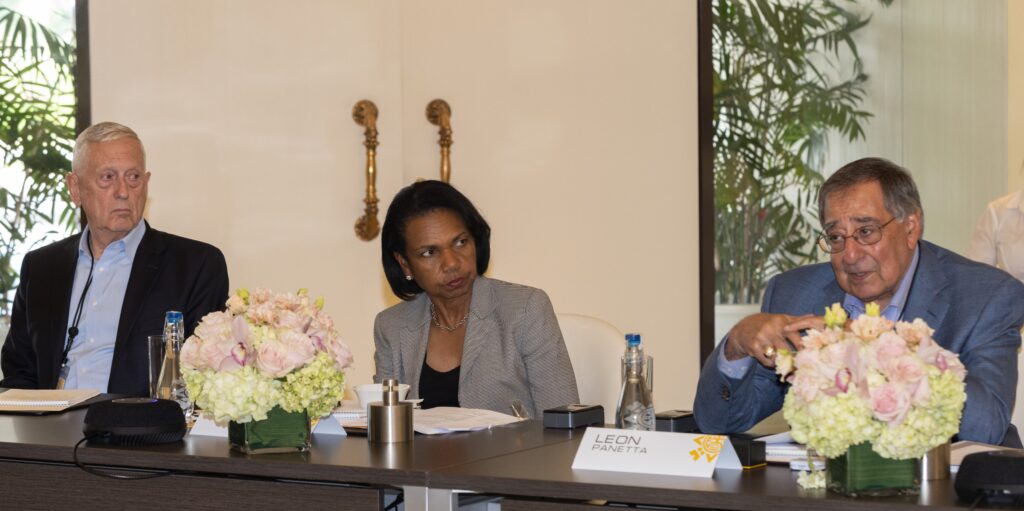 At the historic Sunnylands estate in Rancho Mirage, California, former U.S. Secretary of State Condoleezza Rice (now the director of the Hoover Institution), former U.S. Secretaries of Defense General Jim Mattis (USMC, ret.) and Leon Panetta, and Sunnylands President Ambassador David Lane (ret.) welcomed over a dozen senior military and diplomatic representatives from Australia, India, Japan, the United Kingdom, and the United States for two and a half days of open and unscripted discussion on successfully implementing the elevated regional responsibilities that each of these partners has assumed.  
Noting "impressive alignment on the issues," Ambassador Lane in his opening comments framed the conversation as building on the challenges diagnosed in the inaugural Sunnylands December 2021 Indo-Pacific Security Dialogue—sentiments that have become widely-reflected in official perspectives across the region.  
Australia's April 2023 Defense Strategic Review, for example, states that the Indo-Pacific faces "increasing competition that operates on multiple levels—economic, military, strategic and diplomatic—all interwoven and all framed by an intense contest of values and narratives." Japan's December 2022 National Security Strategy, which aims to double defense spending within five years, describes the advent of a "defining era" for the international community, arguing, "globalization and interdependence alone cannot serve as a guarantor for peace and development across the globe. … we are in an era where confrontation and cooperation are intricately intertwined." British Prime Minster Rishi Sunak in his introduction to the March 2023 U.K. Integrated Review Refresh writes of an "epoch-defining challenge to the type of international order we want to see, both in terms of security and values," for which "our approach must evolve." And Indian Foreign Minister S. Jaishankar in comments to U.S. Secretary of Defense Lloyd Austin in September of 2022 observed, "The global situation has become far more challenging for a variety of reasons. In particular, it's important that the stability, security, and prosperity of the Indo-Pacific should be secured, which is best done amongst others." 
The dialogue hosts reflected on the potential for deeper cooperation across diplomatic, economic, and military aspects of deterrence to promote regional stability, and participants listened intently to each other's ideas on how to make their mutual partnerships operationally more effective in a less safe world. "Each of these countries here has become important to the peace and prosperity of the region, and we are even more important when we are together" observed Secretary Rice in her opening remarks, noting the defining ethos for the dialogue. "We are prosperous and secure together."