From the Sunnylands kitchen: Zesty Lemon Squares
Wednesday, April 30, 2014
Ingredients:
2 cups all-purpose flour
6 teaspoons all-purpose flour (divided)
1/2 cup confectioners sugar
1 cup confectioners sugar (to be sifted over top of baked squares)
1 cup unsalted butter, softened
2 cups granulated sugar
4 large eggs
6 tablespoons lemon juice
1 1/2 tablespoons grated lemon peel, loosely packed
Sift together 2 cups flour and 1/2 cup confectioner's sugar. Add to softened butter in large bowl, beating well. Press mixture into bottom of 13 x 9 inch baking pan lined with non-stick aluminium foil. Bake at 350°F for 20 minutes.
Meanwhile, stir together granulated sugar and remaining 6 teaspoons flour. Beat eggs well in large bowl. Gradually whisk in sugar-flower mixture, blending well. Whisk in lemon juice and peel. Pour mixture over baked crust. Return to oven and bake 25 minutes longer or until lightly browned. Cool completely.
Remove from pan by holding the sides of the aluminium foil. Cut into 11/2 to 2 inch squares. Sift additional confectioners' sugar over tops of lemon squares.
This recipe is included in the new Sunnylands cookbook, A Taste of Sunnylands: Fifteen Recipes from the Annenberg Cook Book, now available for purchase at the Sunnylands gift shop.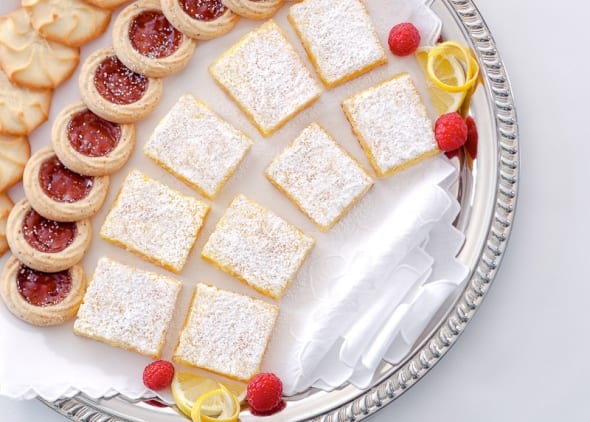 The Annenbergs had a long history of gracious entertaining. A meal at Sunnylands could be a formal dinner in the French style, eaten in the dining room on their Flora Danica china, or it could be a lunch al fresco on the patio after a round of golf on a spring morning. These lemon squares are the perfect compliment to a spring picnic, or a mother's day brunch.