Exhibition, Speakers, Catalogue Focus on Rising Seas and Strategies for Adaptation
Thursday, January 8, 2015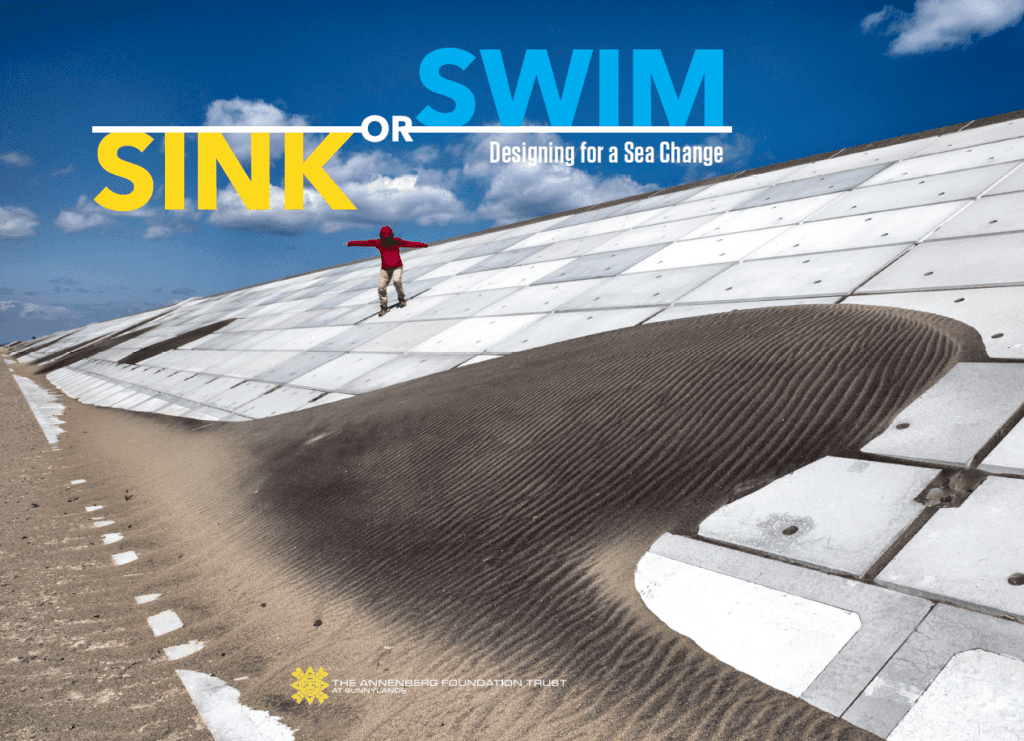 At a retreat in October 2014, Sunnylands and its partners Prince Albert II of Monaco Foundation and Scripps Institution of Oceanography addressed two of the most pressing issues impacting our planet: rising sea levels and ocean acidification. Now, to extend that effort and raise public awareness of ways people around the world are adapting to these changes, The Annenberg Retreat at Sunnylands and the Annenberg Space for Photography are collaborating on a series of activities.
In this first-time partnership, each organization has taken on a different role. A major photographic exhibition Sink or Swim: Designing for a Sea Change, featuring historic and commissioned photographs showing how people in various storm-tossed locales are adapting–including innovative design solutions–opened in December 2014 at the Annenberg Space for Photography in Los Angeles and will remain on display until May 3, 2015. The exhibition was curated by architecture writer, radio host, and executive producer of KCRW's "DnA: Design and Architecture" Frances Anderton. A small selection of photographs from the exhibition are on display at Sunnylands Center & Gardens through June 2015.
As noted by Geoffrey Cowan, president of The Annenberg Foundation Trust at Sunnylands (2010-2016), "Art. . . provides us with tools to expand our imagination, to visualize the unthinkable, and to start thinking about the barely possible. It can inspire us to create an array of new responses, to imagine fresh possibilities, and to reinvent the future."
Among the photographers featured in the exhibition and at Sunnylands Center is Stephen Wilkes, known for his dramatic photos of New Orleans after Hurricane Katrina. Wilkes will speak at 2:00 pm, February 10, 2015 at the Rancho Mirage Public Library as part of the Sunnylands Speaker Series. He will share his philosophy on creating visuals that tell this story in a unique way and that leave a lasting impression and memory. The photographer documented Hurricane Katrina and will share that work as well as the photographs of Hurricane Sandy taken for Time magazine. He will speak, too, about his most recent work, commissioned by the Annenberg Space for Photography, when he was asked to revisit New Orleans nine years after Katrina, and Oakwood Beach Staten Island, one year after Sandy.
The accompanying exhibition catalogue, published by Sunnylands Press, is for sale in the Sunnylands Gift Shop and at the Annenberg Space for Photography's Skylight Studios retail gallery in Los Angeles. Along with an extensive essay by Frances Anderton and full-color images of many of the photographs in the exhibition, the catalogue contains a reflection on the Sunnylands retreat by Geoffrey Cowan, forewards by HSH Prince Albert II of Monaco and Wallis Annenberg, and a short essay by Margaret Leinen, director of Scripps Institution of Oceanography and Vice Chancellor for Marine Sciences at UC San Diego.
Another Sunnylands Speaker Series event will draw attention to communicating about climate change. On March 24 at 2:00 pm, Dr. Jon Krosnick, a world-recognized expert on the psychology of attitudes, will discuss how language affects public thinking, especially on the topic of climate change. Dr. Krosnick, a professor at Stanford University, has partnered with major national news organizations to study what Americans think about climate change, how communications affect their beliefs, and how language choices can influence public thinking.
Sunnylands Speaker Series events are held at the Rancho Mirage Public Library, 71-100 Highway 111, Rancho Mirage, CA 92270. They are free and open to the public. No reservations or tickets are required although seating is limited.