Reflecting on the Legacy of Dr. Martin Luther King
Sunday, January 6, 2019
Rancho Mirage, California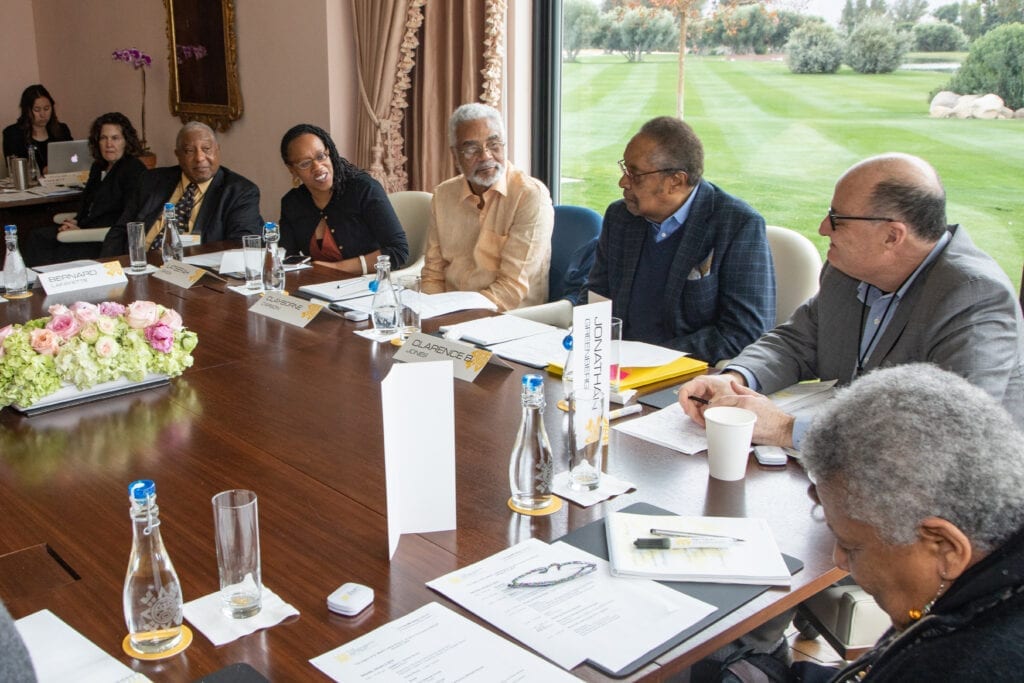 Just days before Martin Luther King, Jr. would have turned 90, members of the slain civil rights leader's inner circle and others who fought to end to racial segregation in the 1960's convened for four days of talks at Sunnylands.
"The purpose was to reflect on and examine the important lessons of the non-violent movement that did so much to change America and the world," said Sunnylands President David J. Lane.
As co-founder of the Gandhi King Institute for Nonviolence and Social Justice at the University of San Francisco, Dr. Clarence B. Jones partnered with The Annenberg Retreat at Sunnylands to reunite some of the luminaries of the civil rights movement, along with noted historians and scholars. Jones was King's personal attorney and speechwriter who helped draft the famous "I Have a Dream" speech.
Other participants of the Jan. 3-6 retreat included Andrew Young, the former United Nations ambassador; Joan Baez, the renowned folk singer and activist; Minnijean Brown-Trickey, one of the "Little Rock Nine" who integrated Central High School in Little Rock, Ark., in 1957; and Taylor Branch, the Pulitzer Prize-winning historian.

The group of 18 retreat participants also wanted to pass on their wisdom to a new generation. Some participated in videotaped interviews about their experiences fighting alongside King in the segregated South. They also conversed with a number of social activists who are waging campaigns today on a range of issues, from the expansion of voting rights to combating gun violence, who joined them in dialogue at the Sunnylands gathering.
May Boeve and Natalia Cardona, leaders of 350.org, a grassroots organization focused on climate change, said in a blog post after the event that they "welcomed the opportunity to have some time to discuss with and learn from Reverend King's team and a cadre of social movement leaders of today."
After the convening in Rancho Mirage, some of the retreat participants issued a statement, titled "A Call to Conscience on the 90thBirthday of Martin Luther King, Jr.," urging a renewed push of nonviolent activism. "Nonviolence is the heart and soul of our movement because we are united in a struggle against violence in all its forms," the statement said.
(The statement and the video, Traveling with Dr. King, are linked below.)
The retreat participants were:
Joan Baez – singer, songwriter, activist
Taylor Branch – author, historian
Minnijean Brown-Trickey – activist for minority rights
Jonathan Capehart – journalist
Clayborne Carson – historian, professor
Gerald L. Durley – pastor emeritus, Providence Missionary Baptist Church
Paul Fitzgerald – president, University of San Francisco
David Goodman – president, Andrew Goodman Foundation
Jonathan D. Greenberg – executive director and co-founder, Gandhi King Institute for Nonviolence and Social Justice
Susannah Heschel – scholar/professor, Dartmouth College
T. Johnson – civil rights leader
Clarence B. Jones – president and co-founder, Gandhi King Institute for Nonviolence and Social Justice
Bernard Lafayette – civil rights activist and organizer
David Lane – president, The Annenberg Foundation Trust at Sunnylands
Bob Moses – educator and civil rights activist
Janet Moses – physician and civil rights activist
Lateefah Simon – president, Akonadi Foundation
Andrew Young – politician, diplomat, activist