As a new season begins, construction is underway on employee campus; overflow lot complete
Wednesday, September 21, 2016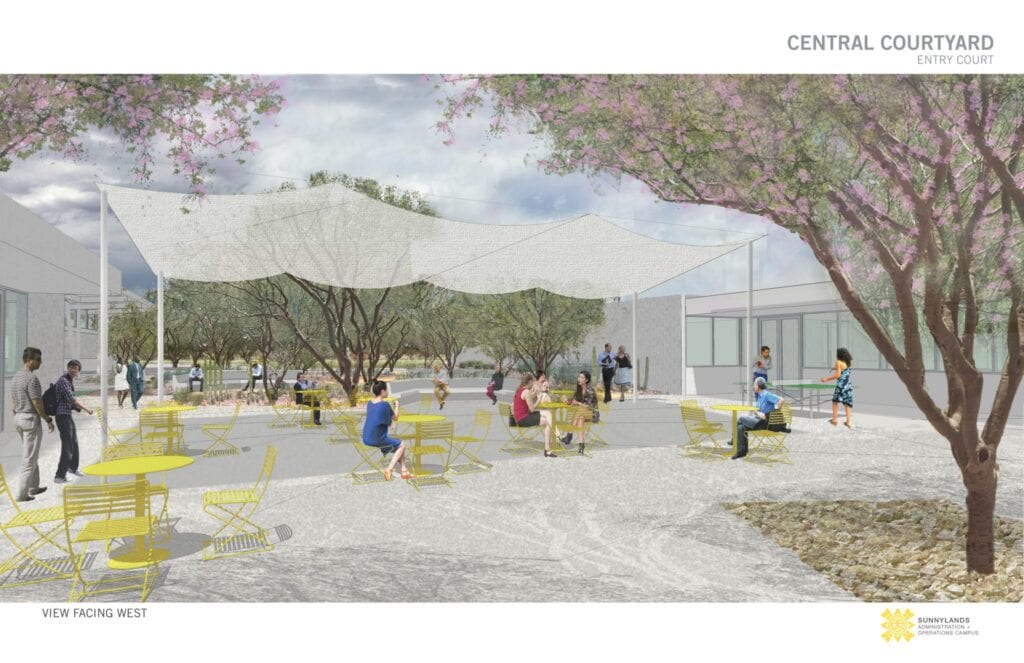 Visitors to Sunnylands this season will notice construction is underway on a project that will consolidate the majority of the organization's Rancho Mirage employees into buildings just west of the Center & Gardens.
Cement block components of the new administration and maintenance buildings have been erected and can partially be seen from the Gardens and passersby on Bob Hope Drive. The project is expected to be completed in late spring next year, with staff taking up occupancy over the summer of 2017.
Since 2009, when the process of converting Sunnylands from a private residence to a public venue began, employees have worked in various locations and structures on and off the estate. The new buildings will allow Sunnylands to streamline operations, enhance educational and environmental programs, and house the bulk of its employees in a single location away from residential neighborhoods.
When completed, the new buildings will not be accessible to the general public. But, on land immediately north of the Center & Gardens, a new overflow parking lot has been completed to increase parking capacity. Striped and paved, the overflow lot replaces a dirt lot and provides parking for 146 cars and four buses. The Center's existing parking lot contains 89 parking spaces, five of them designed to comply with the Americans with Disabilities Act.
Visitors will be able to access the overflow lot from the main parking lot. They can then use a pedestrian path to walk from their cars to the Center. The entrance to the Center & Gardens remains the same – 37977 Bob Hope Drive.
Motorists approaching Sunnylands' entrance from the north and south also are likely to encounter orange construction zone signs. The signs have been erected by the City of Rancho Mirage to alert drivers to construction related to the widening of the intersection of Bob Hope and Frank Sinatra drives.