Read about the September 16 reopening of our gardens
Dear Friends,
As we approach our annual mid-September kickoff to the new season, I want to describe our gradual reopening of Sunnylands this year, starting with access to the gardens only.
Beginning September 16, we are inviting the public to enjoy morning walks and self-guided audio tours in our nine-acre desert art garden from 7:30 am to 12:30 pm, Wednesday through Sunday. Tours of the Annenberg home and public programs, such as Yoga and Tai Chi on the Great Lawn, are on hold until further notice.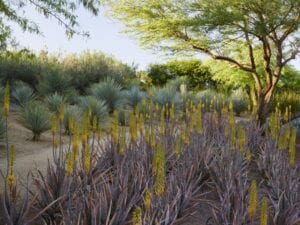 I realize this limited reopening may disappoint some of you, but we are responding to the realities of the coronavirus pandemic. California's health directives do not yet allow museums in Riverside County to open their interior spaces, but outside access is deemed safe for both our visitors and staff.
Sunnylands is revamping its operations and retrofitting the Center to allow for social distancing when indoor visits and house tours resume.
As you may know, the gardens contain 1.5 miles of walking paths and more than 70 species of native and arid-adapted plants that were chosen for their ability to thrive in a desert environment. We think it's the perfect place to get some exercise, meditate, and enjoy the beauty of Sunnylands during this time.
This season, inspirational signs will be placed throughout the gardens to help visitors explore their surroundings and consider the visual and audio relationships that they encounter there. Our 7:30 am opening time is an hour earlier than usual to encourage visits during the cooler morning hours.
Sunnylands will be requiring guests to wear face masks that cover the nose and mouth and to maintain a six-foot distance from people not in their party while in the gardens. We will monitor attendance to make sure the gardens do not become overcrowded; and outdoor hand-sanitizing stations will be available, as well as very limited access to the Center for use of the restrooms.
Guests are encouraged to bring drinking water on their visit, to wear sun block, and to dress for warm weather.
At this time, there is no access to the Sunnylands gift shop or café. However, some select gift shop items, including Sunnylands Olive Oil, will soon be available for purchase online at www.sunnylandsshop.org. Purchases may be shipped or may be picked up outside the Center during operating hours.
We look forward to a full reopening in the months to come. For now, we will be happy to see you enjoying the beauty of the gardens.
Be safe,
Janice Lyle, Ph.D.
Director, Sunnylands Center & Gardens