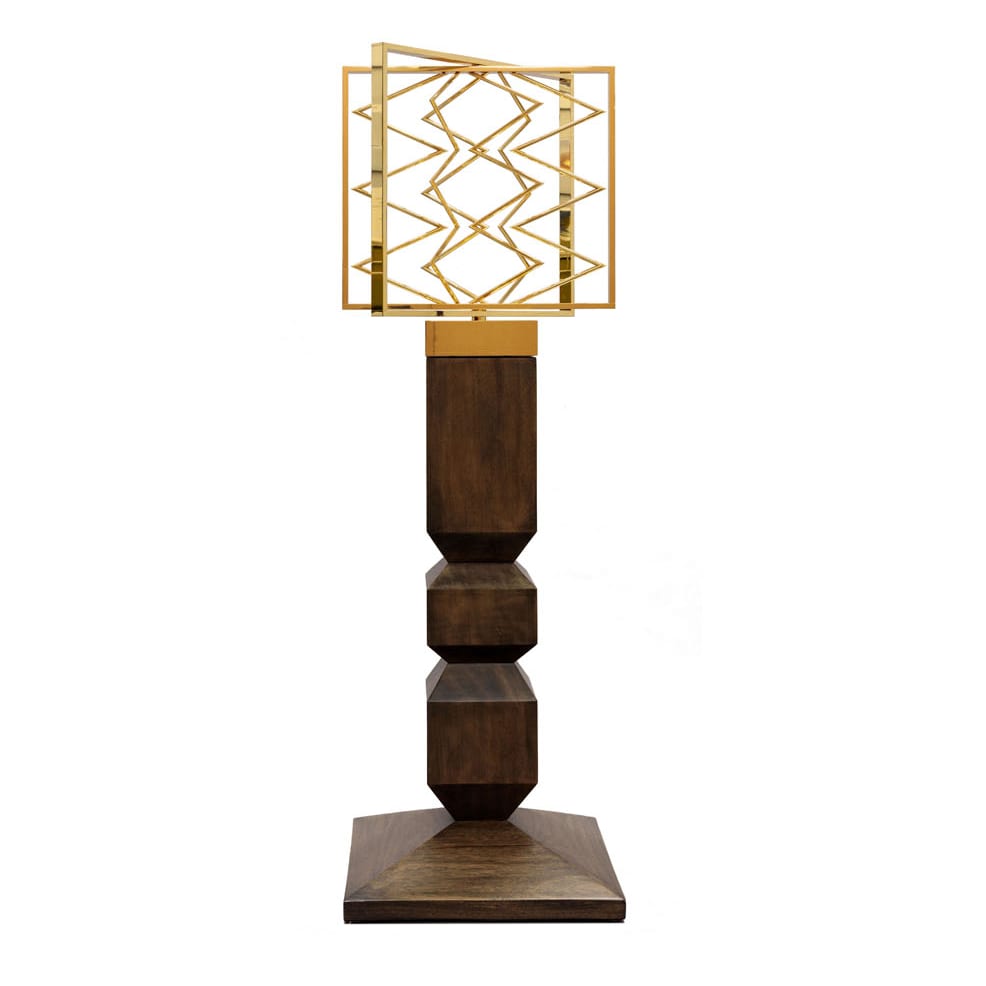 3 x 6 Double Frame Interplay
Yaacov Agam
Gold-plated brass, edition EA 0/9
1976
Countless variations in design can be created in this sculpture. It typifies the unique balance that Agam achieves in works that are intricately engineered, yet seemingly effortless and playful. The design of the pedestal base was a collaboration between Agam and the Annenbergs.
Sunnylands Collection 2009.1.88
3 x 6 Interacción de Doble Cuadro
Yaacov Agam
Latón chapado en oro, edición EA 0/9
1976
Innumerables disenos pueden ser creados en esta obra. Esta escultura ejemplifica el balance especial que Agam logra en obras de arte que están intrincadamente diseñadas, pero aparentan ser lúdicas y completadas sin mucho esfuerzo. El diseño de la base del pedestal fue una colaboración entre Agam y los Annenberg.
Colección Sunnylands 2009.1.88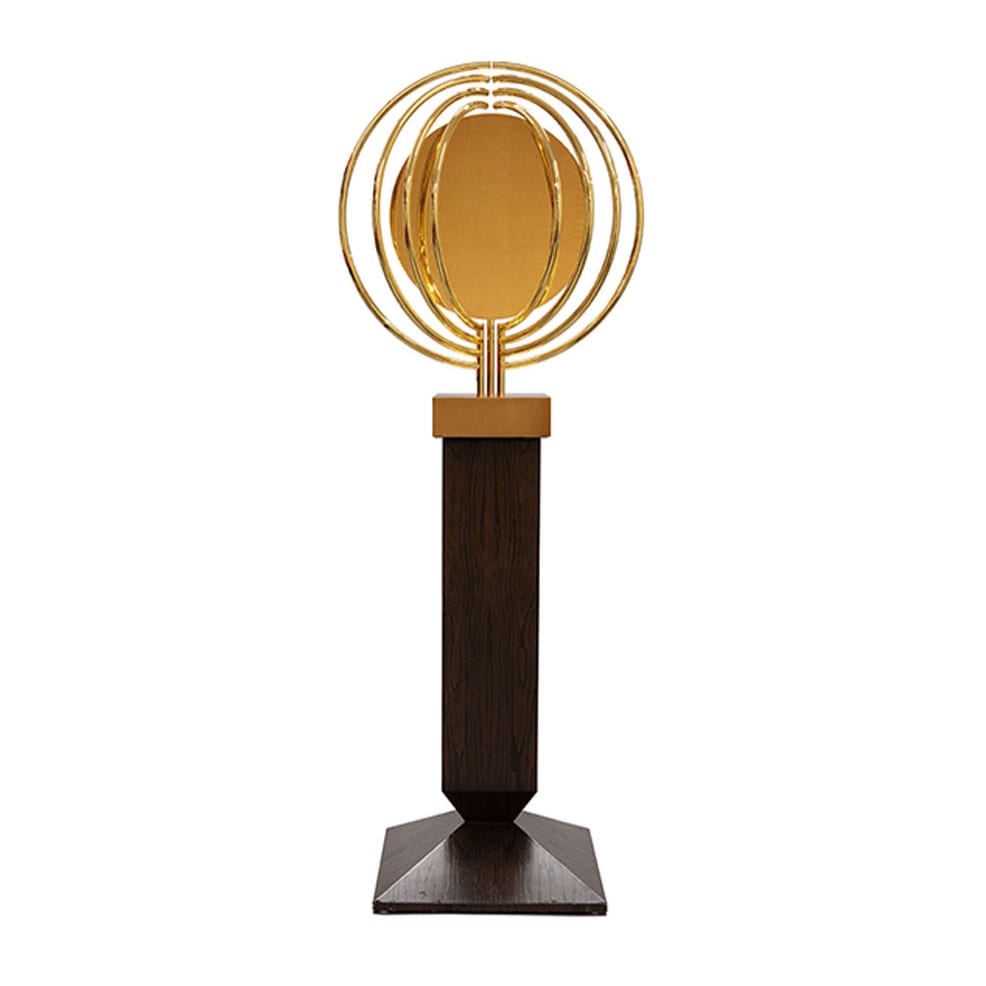 Reflecting Space
Yaacov Agam
Gold-plated, edition 3/9
1978
The elements of this transformable kinetic sculpture can be rotated to interact with the surrounding space and light. Exhibited in 1980 at the Solomon R. Guggenheim Museum in New York the Annenbergs acquired it from the exhibition. Agam and the Annenbergs collaborated on the custom designed take wood pedestal.
Sunnylands Collection 2009.1.86
Espacio Reflectante
Yaacov Agam
Latón chapado en oro, edición, edition 3/9
1978
Los elementos de esta escultura cinética transformable se pueden girar para interectuar con el espacio y la luz circundantes. Exhibida en Nueva York, los Annenberg adqurieron la obra al fin de la exhibición. Agam colaboró con los Annenberg para diseñar el pedestal de madera de teca.
Colección Sunnylands 2009.1.86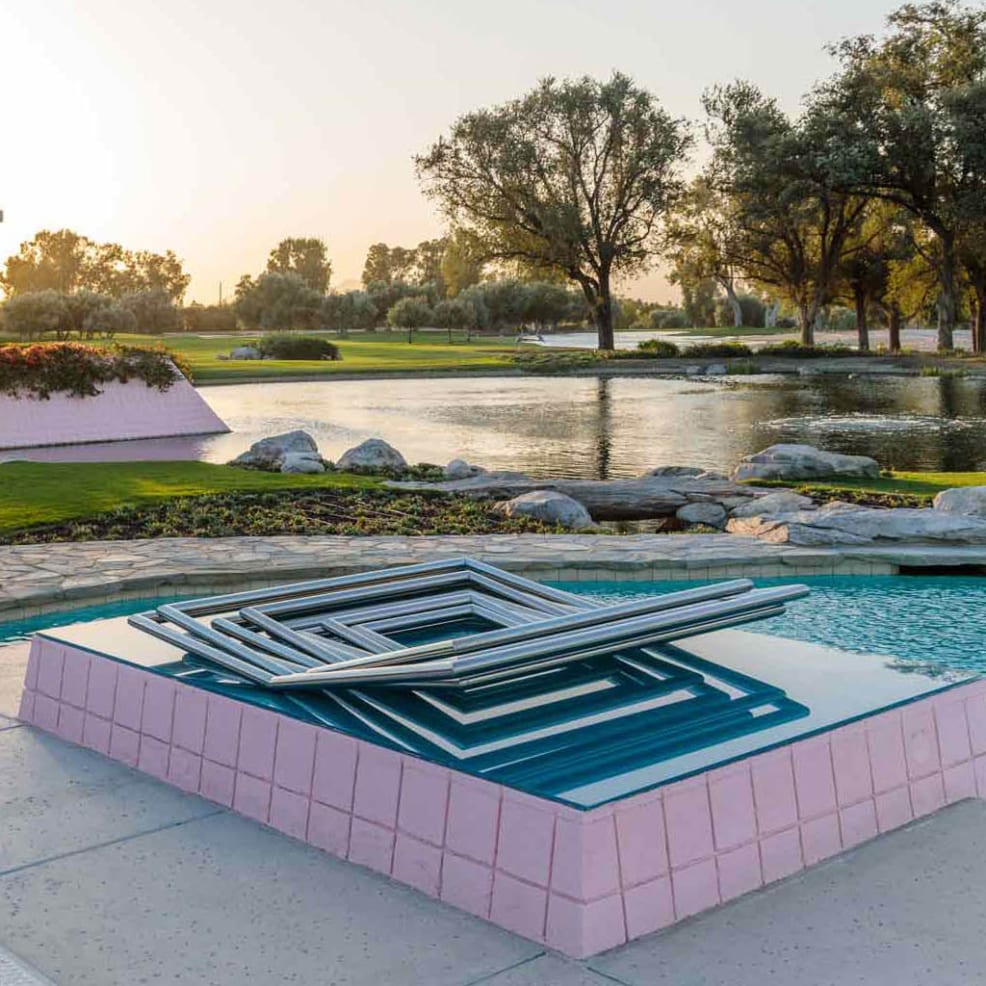 Square Waves
Yaacov Agam
Polished aluminum
1975
In 1976, the Annenbergs acquired their first Agam artwork directly from the artist at the Agam in Palm Springs exhibition held at the Palm Springs Desert (now Art) Museum. The Annenbergs chose to site Square Waves adjacent to their swimming pool, introducing a witty element to their terrace at Sunnylands.
Sunnylands Collection 2009.1.91
OLAS CUADRADAS
Yaacov Agam
Aluminio pulido
1975
En 1976, los Annenberg adquirieron su primera obra de Agam directamente del artista en la exhibición Agam en Palm Springs celebrada en el Museo del Desierto (ahora de Arte) de Palm Springs. Los Annenberg escogieron ubicar la obra adyacente a su piscina, introduciendo un elemento ingenioso en su terraza en Sunnyands.
Colección Sunnylands 2009.1.91
Image licensing © 2020 Artists Rights Society (ARS), New York / ADAGP, Paris