Sunnylands President David J. Lane joined Mumford & Sons' Ben Lovett on stage at the Global Food Security Symposium in Washington, DC to discuss advocacy and social change.
Lane and the co-founder of the British rock band shared their experiences on how artists and cultural figures – "influencers" in the modern parlance – can champion change and social good, engage youth, and inspire action around key global challenges. The symposium, held on March 21-22, is organized annually by the Chicago Council on Global Affairs.
In their talk, "Taking the Stage for Social Impact," Lane and Lovett acknowledged the challenges to advocacy in an age of information overload, such as a growing tribalization and dislocation of some societal groups. They noted that music and culture may provide a common language for understanding and discussing global challenges, such as food security, and may act as a platform for motivating people to take personal action.
They also agreed that today's youth are more globally-focused than prior generations – a potential plus for advocacy – but that mentorship is a key component for successfully engaging them.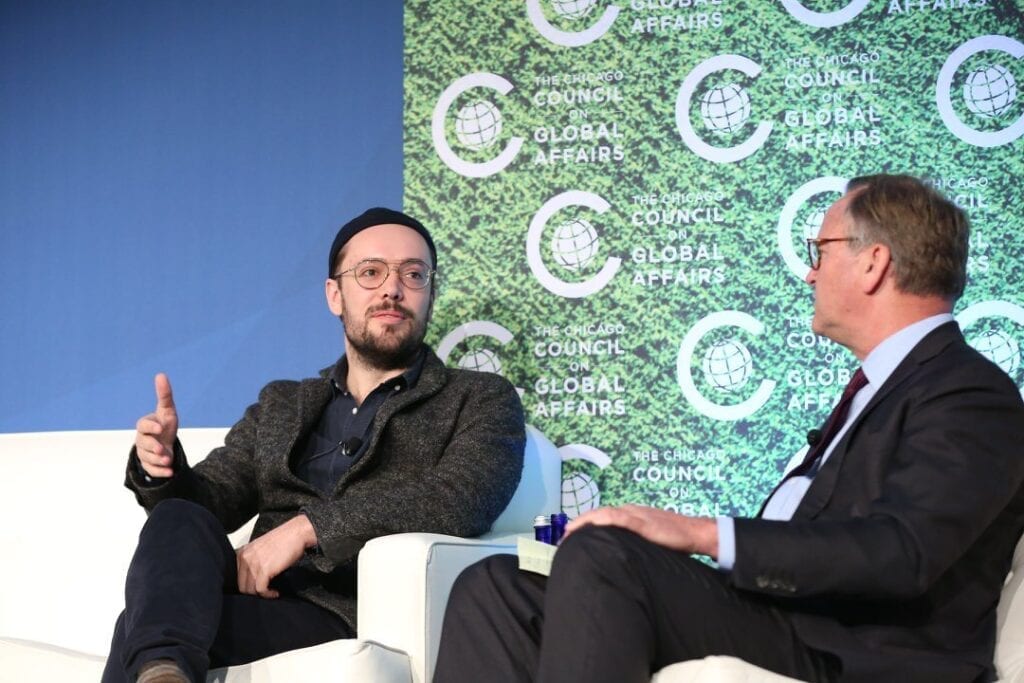 photo: Chicago Council on Global Affairs
Sunnylands was featured in the Great Homes and Gardens series at the Hillwood Estate, Museum & Gardens in Washington, D.C. in February.
Janice Lyle, director of Sunnylands Center & Gardens, brought a little California sunshine into a brisk winter evening with a lecture and presentation that included photographs from the new book, Sunnylands: America's Midcentury Masterpiece. Before a sold-out audience, she shared stories about the history and renovation of Sunnylands, as well as the practices now used to preserve the fragile fabrics, interior furnishings, art collection, and cultural landscape of the estate.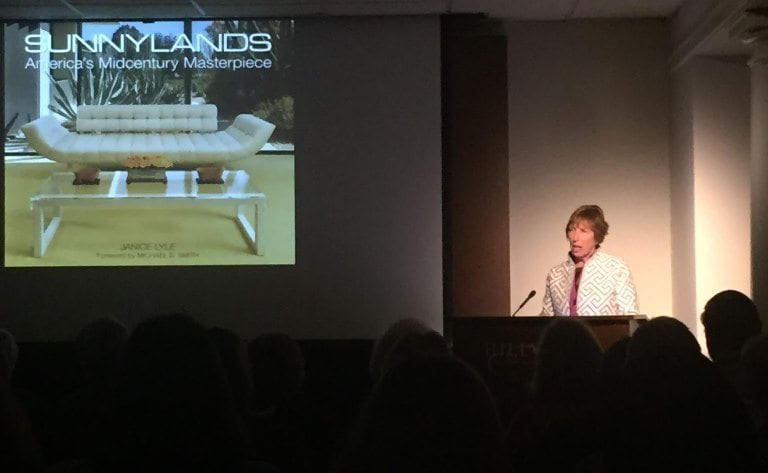 Sunnylands is a historic site that was the winter home of Ambassadors Walter and Leonore Annenberg from 1966 until 2009. The estate reflects the vision of its owners and design team—architect A. Quincy Jones, interior designer William Haines, and golf course designer Dick Wilson. The midcentury modern estate has been transformed into a high-level retreat and an historic site open for public tours.
Lyle discussed the dual (and at times dueling) missions of The Annenberg Foundation Trust at Sunnylands to both preserve the historical and physical integrity of the estate, while also actively putting it to use as a convening place for retreats and presidential summits and as an educational site for public tours.
The lecture was followed by a book signing.
In Washington, DC, on Monday, U.S. Secretary of Education Arne Duncan headlined a summit hosted by Common Sense Media and The Annenberg Retreat at Sunnylands on protecting student data in schools that use education technology. Featuring industry, education and policy heavy hitters, participants discussed the technology currently used by schools and districts, the kind of student information that is collected, the benefits and risks to collecting such data along with the role of schools and technology providers in safeguarding it.
The conversation began with pollster Joel Benenson presenting the findings of his recent student privacy poll conducted for Common Sense Media, which revealed overwhelming bipartisan support nationwide for greater protections of student data among parents and non-parents alike.
Common Sense Media's VP of Policy, Joni Lupovitz, then moderated a discussion titled, What's the Big Deal about Student Privacy? Computer engineer Tony Porterfield shared his perspective as a concerned parent, while Khaliah Barnes, Director of the Student Privacy Project at the Electronic Privacy Information Center (EPIC) outlined the vast amounts of sensitive student data that are collected by some educational providers including home addresses, academic history, and religious affiliation. Professor Joel Reidenberg, visiting professor of IT policy at Princeton, explained the results of his study on contracts between schools and ed tech providers, highlighting the pervasive lack of contractual limits on the use of student data. There was consensus from the panel on the need for greater transparency from schools and edtech providers on what data is collected, how it's collected, and how it's used.
Educators agreed. In a panel moderated by Education Week Editor Virginia Edwards, Dr. Terry Grier, superintendent of Houston Independent School District, discussed the challenges of informing parents and teachers on safe and effective data use while Jeff Mao, of the Maine Dept. of Education, talked about the difficulty of complying with privacy standards that differ from district-to-district and state-to-state.
Dalia Topelson, of Harvard Law School's Berkman Center for Internet & Society, highlighted the need for common best practices, which the Berkman Center is currently developing.
Then it was industry's turn. Edtech providers debated both the challenges and responsibilities of industry self-regulation in a discussion that touched on changing conceptions of 'educational data'. Former FTC Chairman Jon Leibowitz engaged Amplify CEO Joel Klein, Microsoft's Cameron Evans and McGraw Hill's Katherine Varker on the definition of 'educational'. All agreed that student data must be used for "educational purposes" only, but where does personalized learning end and targeted advertising begin? And as students take devices home at the end of the school day, how does one define the differences between school instruction and home learning?
U.S. Secretary of Education Arne Duncan's keynote speech was an opportunity to reiterate his support for student privacy, asserting that privacy rules are "the seat belt of this generation" and that "[p]rotecting our students' information is more than a legal requirement. It is a moral imperative." Secretary Duncan announced that his department was releasing new guidance for complying with FERPA and would continue to provide more support for schools in the coming weeks.
Following Secretary Duncan's keynote, FTC Commissioner Julie Brill advocated for baseline privacy legislation for all Americans – not just students – while emphasizing that industry players could institute better protections for students immediately, without the need for government intervention. Deputy Secretary of Education Jim Shelton also recommended the widespread adoption of industry best practices, saying "we have to get this right… [before] a very bad event happens."
The formal presentation concluded with Senator Edward J. Markey reiterating the principles of his federal student privacy bill that "we should help student scholars make the grade, not help companies make a sale" and that it's our job as a nation to "ensure we animate tech with the human values we've inherited."
View the archived webinar and follow the on-going conversation on Twitter.
For more information about Common Sense Media's School Privacy Zone initiative, visit: https://www.commonsensemedia.org/school-privacy-zone
The following post is in regards to the School Privacy Zone Summit hosted in partnership by Common Sense Media and The Annenberg Retreat at Sunnylands on February 24, 2014.