Sunnylands commemorates the anniversary with photos, memorabilia
Walter Annenberg is the only U.S. envoy knighted by Queen Elizabeth, a distinction that's emblematic of his success as the American ambassador to the United Kingdom.
This year, Sunnylands is commemorating the 50th anniversary of Walter's appointment to the Court of Saint James's in two ways. The first is a slideshow of photos culled from Annenberg scrapbooks of his years as ambassador.  Available to the public at Sunnylands Center & Gardens, the slideshow depicts events such as Walter's swearing in on April 14, 1969; the presentation of his credentials to Queen Elizabeth in London; and his signing of the Non-Proliferation Treaty in 1970.  The slideshow can also be found on the homepage of www.sunnylands.org.
The second acknowledgment of Walter's ambassadorship (1969-1974), suitably staged in the Room of Memories at Sunnylands, is a display of photos, medals, and The Star of the President, a Steuben crystal piece that Walter commissioned as a Christmas gift for President Richard Nixon in 1971. The item is on loan to Sunnylands from the Richard Nixon Presidential Library and Museum in Yorba Linda, Calif.
President Nixon kept the piece on his desk in the Oval Office. "You may be sure I shall always cherish this additional evidence of our loyal friendship and support," he wrote in a thank-you note to Walter and Leonore Annenberg. The president later commissioned acrylic reproductions of the piece to give to supporters of his 1972 re-election campaign.
Nixon appointed Walter to a prized – and weighty – ambassador's position, despite his lack of diplomatic experience. The two found they had much in common after being introduced by Walter's mother, Sadie, in the mid-1950s. In December 1968, just weeks after being elected to the White House, Nixon was staying at Sunnylands while attending a post-election gathering of the Republican Governors Association in Palm Springs. It was then, after a round of golf, that he asked Walter to become his ambassador to the United Kingdom.
Walter's tenure in London was marked by a number of achievements.  Within a year of his arrival, Walter and Leonore had famously financed a $1 million renovation of the U.S. ambassador's residence, Winfield House.  Using the same design team they had employed at Sunnylands, William Haines and Ted Graber, the update was wildly applauded for its appeal and as an investment in Anglo-American relations.  Walter was credited with encouraging the merger of British Petroleum and Standard Oil of Ohio, and he loaned 32 of his Impressionist paintings to the Tate Gallery for an exhibition that drew more than 100,000 visitors.
In all, the Annenbergs hosted nearly 500 social events during their time in London and cultivated a strong relationship with the Royal Family.  Walter and Leonore escorted Prince Charles and Princess Anne on their first trip to Washington D.C. in 1970.  Prince Charles would later visit the Annenbergs at Sunnylands, as would his mother, Queen Elizabeth, and her husband, Prince Philip.
Tickets for the historic house tours dated September 14 – 30 go on sale August 15 at 9 a.m. Pacific time.
Tickets are $48 per person and are available online only at www.sunnylands.org.
At the conclusion of the retreat on Sea Change: Developing Strategies for Rising Sea Levels and Ocean Acidification, key participants issued public statements on how to advance and provide leadership for effective sea level rise adaptation strategies and address increasing levels of acidification that imperils the vitality of the oceans.
Participants included esteemed global leaders from government, science, media, and philanthropy. Geoffrey Cowan,then-president of The Annenberg Foundation Trust at Sunnylands, announced that participants found agreement on several points and pledged continued engagement on these issues.
"We at Sunnylands are committed to convening follow-up meetings designed to explore new efforts to create state-of-the-art tools, standardized training and certification for professionals, and communication strategies to improve public understanding of the need to act," he said.
Also speaking were retreat co-conveners HSH Prince Albert II of Monaco, Dr. Margaret Leinen, director of the Scripps Institution of Oceanography at UC San Diego, and His Excellency Anote Tong, President of the Republic of Kiribati.
HSH Prince Albert called for action and a follow-up meeting to identify appropriate protocols for peoples who will be displaced by the rising oceans. This meeting has been scheduled to take place in Kirabati in approximately one year.
"The implications of climate change related to migration of large numbers of people, both within countries and across international borders, present the international community with new and daunting challenges," he said.
Dr. Leinen, said retreat participants are committed to building the adaptive capacity of communities. She emphasized the need for new mechanisms for training professionals, accurate shared information, and tools for predicting threats and costs of the rising oceans.
President Tong said that the retreat was "exciting and inspiring and gave him a degree of hope" for the future of his country, which may before the end of the century cease to exist and whose population may need to be resettled as a result of the rising oceans. He concluded by saying, this "must be a collective effort" no country can do it alone.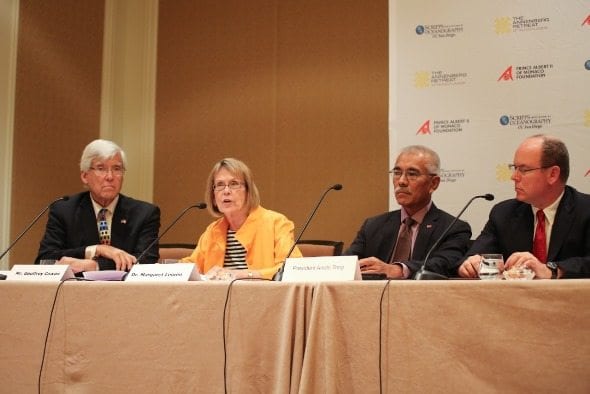 Sunnylands' leadership and service to the community was recognized at the annual Rammy Awards & Distinguished Citizens Dinner presented by the Rancho Mirage Chamber of Commerce. More than 200 government, business, and education leaders gathered to pay tribute to individuals and organizations who have made Rancho Mirage an outstanding place to live and work.
Leonore and Walter Annenberg were posthumously honored as "Citizens of the Year" for their legacy of service and philanthropy in Rancho Mirage and beyond. A video, produced with help from Sunnylands staff members Daniel Modlin, Eric Ornelas, and Ashley Santana, documents the extraordinary contributions made by the Annenbergs during their lifetimes.
Deputy Director of Communications and Public Affairs Mary Perry, pictured above, was also honored as Businesswoman of the Year for her tireless work advocating for Sunnylands and the Rancho Mirage community.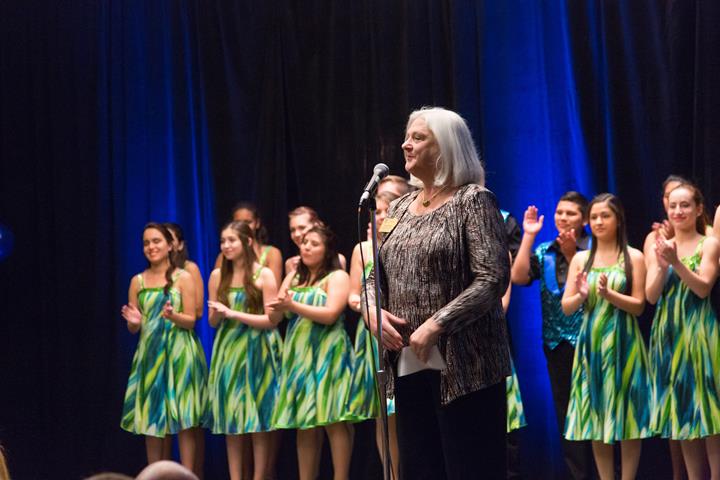 Sunnylands Trustees Diane Deshong and Howard Deshong (pictured below) accepted the award on behalf of Sunnylands.
Earlier in the evening, Rancho Mirage Mayor Richard Kite presented Sunnylands with the Recycling Award, praising the innovative work done by the entire Sunnylands team to institute sustainable practices. Director of Education & Environmental Programs Michaeleen Gallagher accepted the honor on behalf of Sunnylands.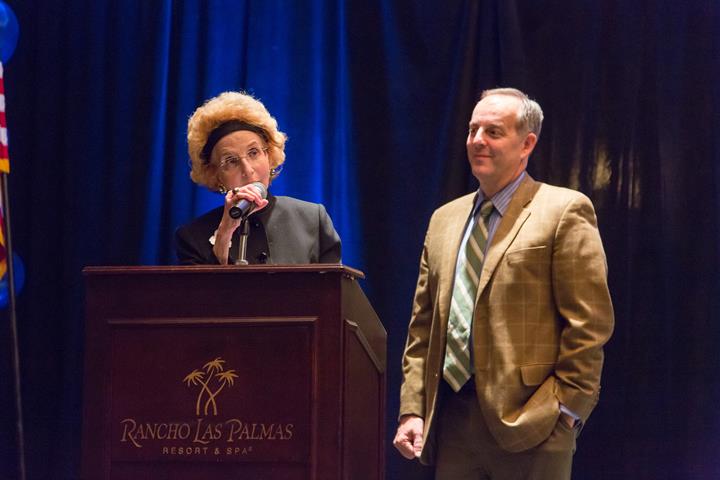 A morning of conversations with a select group of global leaders in public policy, education, and the arts will be presented by The Annenberg Retreat at Sunnylands as part of an invitation-only opening weekend planned by the organization's trustees. The event, which will begin at 9 a.m. (PST), Saturday, February 11, 2012, will be streamed live at www.sunnylands.org. It will be archived on the web site through March.
The celebratory event focuses on how personal relationships impact history and the role Sunnylands intends to play in the future, which includes facilitating world peace and international agreement.
Broadcast journalist Judy Woodruff will moderate the panels. Guest speakers include former Secretary of State George Shultz and former Secretary of Defense William Perry; Los Angeles Mayor Antonio R. Villaraigosa, musician John Legend, an advocate for music programs in the schools; Thomas Campbell, director of The Metropolitan Museum of Art; and Jeffrey Deitch, director of the Museum of Contemporary Art in Los Angeles; among others.
According to Geoffrey Cowan, president of The Annenberg Foundation Trust at Sunnylands (2010-2016), the program celebrates "the wonderful people who visited Sunnylands when it was the winter home of Walter and Leonore Annenberg and those who will visit in the future as participants at retreats."
The Annenberg Foundation Trust at Sunnylands was founded in 2001 to address important issues facing the nation and the world. The Trust established The Annenberg Retreat at Sunnylands, which will be dedicated on February 12, 2012, to serve as a sanctuary for generations of high-level national and world leaders seeking the privacy, the peace, and "the pause" needed to address the most pressing issues of the day.
See the recorded program here.